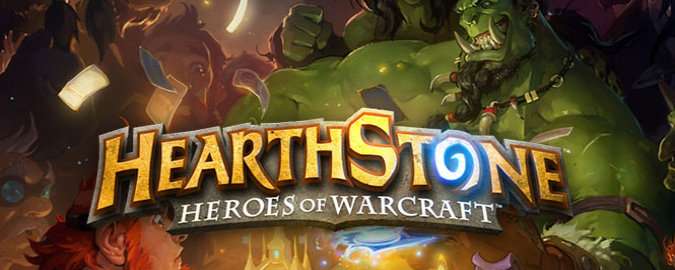 While it has been a fairly slow week of Hearthstone news, Blizzard is certainly having a bit of fun this weekend at the PAX East convention. So far, they've announced a new single-player game mode for Hearthstone, Curse of Naxxramas, and we'll have the TeSPA Collegiate Open Hearthstone Finals coming up on Saturday, which should be exciting! What else does Blizzard have in store to satiate our Hearthstone hunger?
This week in Hearthstone news...
Blizzard Announces Hearthstone Single-Player Adventure Mode
Blizzard has revealed an all new gamemode for Hearthstone today at this year's
PAX East
convention. Hearthstone will soon offer a single-player Adventure Mode, and the first adventure will be Curse of Naxxramas. Players can battle through five unique wings of Blizzard's beloved necropolis, gaining new cards by defeating challenging bosses. The first wing, The Arachnid Quarter, will be made automatically available at launch at no cost. The next four wings will see weekly releases and can be unlocked with in-game gold or real money. There will be 30 new cards, an awesome new themed game board and the wing bosses will feature unique and challenging new abilities! Blizzard has not yet set a release date or pricing point for this content.
Check out Blizzard's Curse of Naxxramas announcement on the official
Hearthstone blog
.
Hearthstone Collegiate Open Finals at PAX East
Back in March,
TeSPA
organized the
Collegiate Hearthstone Open
, in which 512 college students competed for the title of champion and a scholarship prize. Players who have made it to the final four will compete this weekend at PAX East for the winning title! In anticipation of the big event, Blizzard has interviewed the four semifinalists on their
Hearthstone blog
. You can read these brief player introductions on Blizzard's Hearthstone blog. Also, be sure to check out the finals this Saturday (4/12) on the
official Twitch PAX Stream
!
Hearthstone iPad App Store Region Bypass How-To
Can't wait to play Hearthstone on iPad, but don't live in one of the current testing regions in which it is available? Hearthstone has been released only to a limited testing market including Australia, Canada and New Zealand. However, tutorials have been popping up all over the place written by savvy users who have figured out how to download Hearthstone to their out-of-region iPad. A few simple changes to your iTunes and App Store settings and you too can be on your way to experiencing Hearthstone on a tablet, which is the
best
. Here's what you need to do:
Open the "Settings" app and click on "iTunes & App Store" from the side menu
On this screeen, click on your Apple ID (name@domain.com)
From the pop-up menu, click "View Apple ID"
In the Account pop-up, select "Country/Region"
Select "Change Country or Region," select Canada from the Store dropdown and click "Next"
Agree with the iTunes Terms & Conditions and you will be taken to the Account Billing Information screen
Select "None" as the payment option (you can add one again later, or use App Store cards for funding
Change your billing address to feature a Canadian city, province and postal code. You can google any Canadian address for this information (I chose Toronto, Ontario and M1S 7UB).
Click "Next" and you will receive an email confirming the change. You can now download Hearthstone from the App Store
Analysts Anticipate Big Earnings For Hearthstone
A recent analysis of Activision Blizzard's earnings has resulted in more than one analyst projecting very high earnings for the company due to the release of Hearthstone. You may remember last week that we mentioned a piece in which it was reported that analysts expect Activision Blizzard's free-to-play earnings to reach $100 million. Apparently, it's anticipated that at least
$30 million of this will come from Hearthstone alone
! With the upcoming expansion content, and the inevitable worldwide launch on the App Store, I'm sure we'll definitely see significant earnings from the sale of card packs, even entries, Adventure mode and other content packs. Maybe in the future we can also expect to see cosmetic upgrades for sale? So far, there are only alternate portraits and card backs which can be earned in the ranked play system (which we went over
in this article
). In addition, there is quite a lot of speculation of future content Blizzard could bring to the game (even some players who anticipate Diablo and Starcraft universe expansions) so we'll certainly have to wait and see!