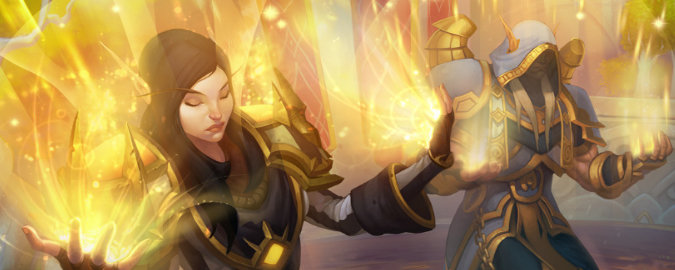 The Warlords of Draenor Alpha patch notes have been out for only a few days, but millions of players are already voicing strong opinions of the direction Blizzard is headed with the game in this coming expansion. Some class changes have received overwhelmingly positive feedback, while others have left many a player scratching their head. A few changes have even caused a substantial outcry of rage!
To see things more clearly, we've invited a handful of our class MVPs to share their opinions on the changes made to their respective class. For this patch notes analysis topic, we have requested feedback from our resident expert on the projected changes being made to the Priest class. Jhazrun and Twintop have been kind enough to share their thoughts on the upcoming Priest changes!
Jhazrun
is one of the best healer Priests in the world and he raids in
Paragon
.
Twintop
is one of the most renowned Shadow Priest theorycrafters. He runs
Shadow Orbs and Mind Spikes
(a Shadow Priest theorycrafting blog) and works on
How To Priest
.
Priest WoD Alpha Changes
+ Show
Ability Pruning
Binding Heal is no longer available to Shadow Priests.
Heal has been removed.
Greater Heal has been renamed Heal.
Inner Focus no longer provides any mana cost reduction.
Rapture has been removed.
Renew is now available only to Holy Priests.
Shadow Word: Death is now available only to Shadow Priests.
Void Shift has been removed.
Inner Fire has been removed.
Inner Will has been removed.
Hit and Expertise Removal
Divine Fury has been removed.
Spiritual Precision has been removed.
Retuning Healing Spells
See the
full patch notes
for complete details of these changes.
Crowd Control and Diminishing Returns
Dominate Mind now shares Diminishing Returns with all other Mesmerize effects.
Holy Word: Chastise now shares Diminishing Returns with all other Mesmerize effects.
Psychic Horror now shares Diminishing Returns with all other Mesmerize effects.
Psychic Scream is now a level-15 talent, replacing Psyfiend, and has a 45-second cooldown (up from 30 seconds).
Rapture no longer has any effect beyond removing the cooldown of Power Word: Shield.
Void Tendrils' Root effect now has a chance to break if the target takes sufficient damage.
Buffs and Debuffs
As part of a push to combine the different types of Haste in the game as much as possible, we merged Spell Haste and Attack Speed into just Haste, which benefits everyone.
Mind Quickening now provides a 5% increase to melee, ranged, and spell Haste to all Party and Raid members (previously they only increased spell Haste).
Instant Cast Heals
Prayer of Mending now has a 1.5-second cast time (up from instant cast).
Cascade now has a 1.5-second cast time (up from instant cast).
Divine Star now has a 1.5-second cast time (up from instant cast).
Halo now has a 1.5-second cast time (up from instant cast).
Active Mana Regeneration
Atonement is no longer triggered by Penance.
Penance now also refunds 1.1% of the Priest's maximum mana each time it deals damage.
Chakra: Chastise in addition to existing effects, now also causes Smite and Holy Fire to restore 0.75% of the Priest's maximum mana each time they are cast instead of costing mana.
Raid Utility Balance
Hymn of Hope has been removed.
Class Changes
We've made a few significant changes to Priests as well, focused mostly on reining in Discipline absorbs, improving quality of life for both healing Priest specializations, and solving single-target damage issues for Shadow.
Atonement was the original damage-to-healing conversion ability, but grew out of control during Mists of Pandaria. We decided to reduce its effectiveness, to bring it more in line with our goal of it being an option to trade significant healing for significant damage (ending up somewhere between a full healer and a full damage dealer). Another place where Discipline's absorbs were too strong was in their interaction with the level-90 Talents, especially in large Raids. Near the end of Mists of Pandaria, we uncapped the AoE healing of that Talent row; that has proven to be a mistake in Discipline's case, not because it caused the level-90 Talents themselves to heal for too much, but rather because the gigantic overhealing that that produced translated into gigantic Divine Aegis absorbs. To get back to a balanced place, we've reapplied the AoE caps to the level-90 Talents, making them consistent with all other AoE heals.
Atonement now heals for 25% less than before.
Halo and Divine Star now follow standard AoE capping rules.
For Holy Priests, our biggest concern is with the Chakras. We think that Chakras are the defining abilities of Holy Priests, but that they haven't lived up to their potential. We decided to move more of their effectiveness from their raw throughput buff (which felt like a penalty for being in the wrong chakra, rather than a bonus for being in the right Chakra) into the Holy Word spells that they grant. We also returned Renew to a normal 1.5-second global cooldown (GCD), so that Renew blanketing is still possible, but less ideal without Haste.
Chakra: Serenity now increases healing of single-target spells by 10% (down from 25%).
Holy Word: Serenity now heals for 40% more than before.
Chakra: Sanctuary now increases healing of area-of-effect spells by 10% (down from 25%).
Holy Word: Sanctuary now heals for 60% more than before.
Rapid Renewal no longer reduces the global cooldown of Renew.
Shadow Priests had one large problem toward the end of Mists of Pandaria: single-target damage. Their AoE and multi-DoT damage was some of the best around, so they still ended up competitive on most fights. But, in any fight that was mostly single-target, they felt lacking. Additionally, one of the new stats we're adding in Warlords of Draenor, Multistrike, is almost exactly what their current Mastery, Shadowy Recall, does for DoTs. So, we took these two problems and came up with a change that we think will solve both of them. The result is a new Mastery, which primarily increases single-target damage. Shadow Priests who want to focus on single-target damage can aim for Mastery in their gearing; or, when multi-dotting is more valuable, prefer other secondary stats over Mastery.
Shadow Priest's Mastery (Shadowy Recall) has been replaced with a new Mastery: Mental Anguish.

Mastery: Mental Anguish: Increases the damage of Mind Blast, Mind Spike, Mind Flay, and Mind Sear by 20%.
There are a few other miscellaneous changes. One is a quality-of-life change for healing Priests. The other is a fix for a problem with Void Tendrils, where it lasts its full duration against creatures that had no way to attack it (such as in certain Raid encounters). Note that the health reduction is to keep it where it was in health, compared to player health doubling. The third is an efficient AoE healing spell for Discipline Priests. And finally, we swapped the Level-15 and Level-60 talent rows so players are presented with core Priest themed abilities earlier in the leveling process.
Prayer of Mending from multiple Priests can now be on the same target, and can be on multiple targets from the same Priest.
Void Tendrils now have 10% of the Priest's health (down from 20%), and damage dealt to the rooted target is now also dealt to the Void Tendril itself.
Angelic Feathers, if cast on players, will always prefer the casting priest over others, then pick the player closest to the targeted location. If there are no players where it is targeted, it will still create a feather that can be picked up, as before. Additionally, when collecting multiple feathers, the duration will be extended, instead of replaced.
Holy Nova is no longer available via a Major Glyph, and is instead a Discipline specialization spell. Its mana cost has been lowered and its healing increased. It is intended as the efficient area-of-effect (AoE) healing spell for Discipline Priests.
Inner Focus: No longer provides immunity to Dispels, Interrupts, and Silences. This effect will be returning as a Major Glyph.
Cascade, Divine Star, and Halo have received additional changes based on specialization.

Discipline and Holy: The abilities now heal for 50% less, costs 67% less mana, and no longer damages enemies.
Shadow: The abilities now costs 67% less mana, but no longer heals allies.

Purify, Halo, Cascade, and Divine Star can now be cast while in Spirit of Redemption form.
Shadowfiend no longer restores mana.

Mindbender now restores 0.75% mana per hit (down from 1.75% mana).

Level-15 and Level-60 talent rows have swapped places.
1. What is your overall impression of Blizzard's changes to the Priest class?
Jhazrun (

Holy

/

Discipline

):
The most striking observation is that in the present build, Discipline doesn't exist. All of its current abilities and advantages have been systematically disassembled both directly and indirectly, presumably to be rebuilt from scratch. Anything and everything the spec will be in WoD has yet to be seen, so further commentary on it is limited for now.
On the Holy side of things, the half-measures taken with Chakra paint a concerning continuation of the spec's notorious "Lightwell syndrome": a fixation with a fundamentally unworkable mechanic that no one likes yet which seems to stick around largely unchanged from patch to patch and expansion to expansion.
Overall impression? A strange mix of upheaval and stagnation, and neither feels right.
Twintop (

Shadow

):
Blizzard has, as expected, removed much of the excess healing capability from Shadow. The abilities removed, however, are not of as much importance (Renew, Binding Heal) as the removal of healing from the Level 90 talents. In a world where offhealing is greatly reduced (and being below 100% health doesn't pose the risk of instant death), Shadow will still able to function with Prayer of Mending, Flash Heal, and Power Word: Shield.
The perks and changes to existing talents to synergize the new Level 100 talents with them are varied in both playstyle and mechanics. Coupled with the new Mastery--single target damage bonuses--Shadow should be viable and competitive in more if not most or all encounters.
2. Which changes do you think are the best and why?
Jhazrun (

Holy

/

Discipline

):
I get to bind something else in where Hymn of Hope used to be.
Twintop (

Shadow

):
The change to Shadow's Mastery from affecting DoTs to a pure single target damage increase (as well as AoE though Mind Sear) is a logical, albeit unimaginative, fix. The most difficult part about tuning Shadow's damage in MoP revolved around DoT damage and it scaling too high. With that now being a mechanic available to everyone, via multistrike, Shadow can be balanced around a base amount of single target damage and other talents (specifically the Level 100 talents) can be tuned or altered to help fill niche gaps, such as multidotting.
3. Which changes do you think are the worst and why?
Jhazrun (

Holy

/

Discipline

):
Leaving enough of the Chakra healing "bonus" for the player to feel bad about using the wrong type—yet not enough to meaningfully affect gameplay and reward skilled use—amounts to nothing but the worst of both worlds for everyone.
Moreover, killing Void Tendrils (the one way priests, as the only healers with neither a stun nor interrupt, have ever been able to contribute to mob control) just gets under my skin as disproportionately insulting.
Twintop (

Shadow

):
Though I'm sure this will be addressed, Void Shift being removed and no new Level 87 ability being added as a replacement. Even this isn't a 'bad' change, though, since Void Shift's usability was extremely limited.
Second would be Psychic Scream being made a talent, replacing Psyfiend. Maybe it can be altered via a glyph in the future, but, there are times where Psyfiend was superior to Psychic Scream due to being able to place it at a distance. Perhaps this is too strong for PvP, but a choice between the two (if neither is baseline) would be nice.
4. How would you alter any of the existing changes?
Jhazrun (

Holy

/

Discipline

):
Make up your mind with Chakra. Either we're expected to cross-cast single-target and AoE spells (in which case the healing adjustment is to be nothing but 0%. Zero. Nada. Zilch.) or we're expected NOT to (making it into actual stances with a defined spell selections).
Twintop (

Shadow

):
I would make Glyph of Silence baseline (as it stands, 2sec lower duration and all). Having the option to have a 20sec interrupt will bring us on par with every other class, but at the cost of a glyph slot makes it feel forced. An alternative Glyph of Silence could be "Increases the duration of you Silence by 2 sec. but increases its cooldown by 5sec.".
5. What changes would you like to see in WoD?
Jhazrun (

Holy

/

Discipline

):
Holy priest is still the only healer without any kind of additional critical chance benefit. If the secondary stats are to be anywhere near equal (as is stated to be the goal), now would be a good time to introduce one.
Twintop (

Shadow

):
I would make Shadowform baseline and not able to be toggled on/off. As it stand, only 2 abilities in WoD will cause you to drop Shadowform: Flash Heal and Resurrection. With healing extremely neutered as is, does the cost of an extra GCD to return to Shadowform after casting Flash Heal make sense?
Patch Notes Last Updated - 26 April 2014