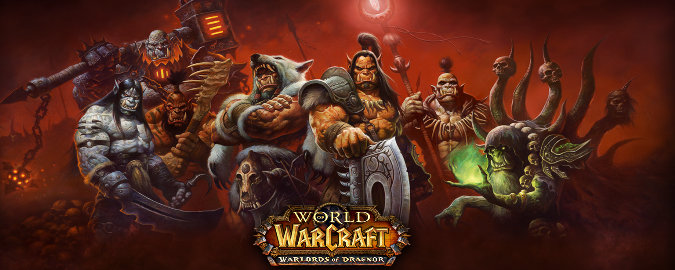 This week in World of Warcraft has been relatively quiet, with most of the post-PAX attention going towards Hearthstone and Heroes of the Storm. Nevertheless, there is still some notable news this week! The Azeroth Choppers webseries previewed last week has just aired its first episode, and a few more hotfixes have been made for the latest Mist of Pandaria live build. Our friends over at MMO-Champion have posted another huge set of data from the latest Warlords of Draenor Alpha build, including new models and garrison information. Blizzard has also spotlighted their latest World of Warcraft universe Heroes of the Storm hero, Brightwing the Faerie Dragon. Read on for the full details of this week in World of Warcraft news!
World of Warcraft Patch 5.4.7 Latest Hotfixes
Blizzard has published just a few more hotfixes this week, including a fix to a long-running issue with the achievement Insane in the Membrane. They've also made some fixes to ensure that players will properly receive loot from the Lich King and Kael'Thas encounters. They've also removed the Blackfuse Bombling drop from the Spoils of Pandaria encounter, not that this bug was necessarily a
bad
thing, as I'm sure players appreciated the extra opportunity to get the pet! The Blackfuse Bombling will now only drop from Siegecrafter Blackfuse (as expected).
5.4.7 Hotfixes
+ Show
April 14
Raids, Dungeons, and Scenarios
Siege of Orgrimmar: Blackfuse Bombling should no longer be incorrectly awarded from the Spoils of Pandaria encounter.
Icecrown Citadel: Resolved an issue that could prevent players from being able to loot The Lich King if NPCs dealt fatal damage to him.
The Eye: Added additional safeguards to the Kael'thas Sunstrider encounter to address issues that could cause him to sometimes not grant loot if he's defeated too quickly.
Achievements
Insane in the Membrane: Resolved an issue where Exalted status with the various Steamwheedle Cartel factions, as well as Honored status with the Bloodsail Buccaneers faction, were not properly being credited if those reputations subsequently decreased. Players should now be able to earn this achievement if they have ever brought those five reputations to the required levels.
Azeroth Choppers Episode 1 Released
The first episode of Blizzard's new webseries, Azeroth Choppers, has been released! Watch Sam Didier's Team Horde and Chris Metzen's Team Alliance battle it out to create the ultimate chopper. Check out the first episode on
YouTube
!
New Warlords of Draenor Alpha Content Datamined
Our friends over at MMO-Champion have posted a hefty handful of spell changes, data strings and new models from the latest Warlords of Draenor alpha build. Significant new models include a creepy baby hippo, a molten elemental and an assortment of new weapon models. They've also previewed a large amount of new boss abilities and spell changes, mostly detailing the removal of Hit and Expertise rating as set bonuses and assorted class spell mana cost adjustments. Check out the latest datamined Warlords of Draenor Alpha content in
this MMO-Champion post
.
Heroes of the Storm: Brightwing the Faerie Dragon Spotlight
Blizzard has published a massive spotlight on one of the latest heroes to be added to the
Heroes of the Storm
roster,
Brightwing the Faerie Dragon
! This support hero hails from the World of Warcraft universe, and Blizzard has created a massive spotlight for him, including an extensive background and history, hero details, quotes, fanart and more! You can check out Blizzard's extensive "Brightwing Hero Week" feature in
this official blog post
!
Huge World of Warcraft Art Gallery Update
Blizzard has updated a ton of galleries across their website with new art, including new pieces to their
Trading Card Game art gallery
, concept art to their
World of Warcraft: Mists of Pandaria Art gallery
and even their
costume gallery
with some of the best in Blizzard cosplay!
Battle.net Gift Card Available at Retail Stores in EU
Players in the EU region can now purchase physical Battle.net gift cards in €20/£15 increments at major retailers across Europe. These cards are perfect for loading up your Battle.net balance or giving as a gift redeemable for awesome Battle.net store items, such as in-game mounts and pets in World of Warcraft or Hearthstone digital card packs! There has not been any announcement just yet on how long it will be before these cards are available in US regions, but I hope we'll see them soon! View the
full post
for more details, and check the full list of retailers below!
United Kingdom: GAME, Grainger Games, ASDA
Germany, Austria, Ireland, Finland, Denmark: Gamestop
Belgium, Netherlands: Bart Smit, Game Mania
Sweden, Spain: Game, Gamestop
France: Micromania