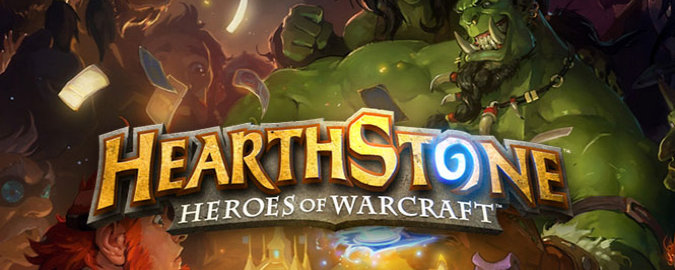 It's definitely been a more exciting week in Hearthstone news, with the iPad version of the game getting a full launch in all regions! Blizzard is celebrating the release with real-life Hearthstone events (and a new card back!) and a poster contest! There's new information on the Curse of Naxxramas adventure along with a great Hearthstone developer interview. Read on for this week's Hearthstone news!
Hearthstone on iPad Launch
Hearthstone sees a full official iPad launch this week, available in all region App Stores! You can download the game for free and access all of your cards, decks and friends across both PC and iPad devices! The tablet version features all of the same in-game store offerings. Players will be rewarded with a
free Expert pack
upon launching the game and logging in to your Battle.net account on the iPad for the first time! You can view and download Hearthstone
in the App Store
today! iPhone and Android versions of Hearthstone are still in development and are scheduled for release in the second half of 2014.
Hearthstone Fireside Gatherings (Earn an Exclusive Card Back!)
In celebration of Hearthstone's release, Blizzard has added a new reward for getting out and getting social with Hearthstone! Fireside Gatherings are non-sanctioned real-world events where players can meet up and play Hearthstone on their favorite device.
As an incentive for playing Hearthstone in this setting, Blizzard has added a special "Fireside Friends" card back, which can be unlocked after playing three matches against another player on the same network using the following criteria:
At least three people (including yourself) must be logged into Hearthstone on the same subnet.
Each match must be played against a player that is playing on the same subnet as you.
These matches can be played against your friends or using the Player Near Me feature, as long as the above two criteria are met.
Sounds easy enough to earn, and not entirely unreasonable to earn without having to go to one of these events. Players can all use laptops, and despite celebrating the iPad launch, there does not need to be an iPad connected to the subnet. The card back will become available starting
Saturday, April 26th
and will be available for a limited time! You can find a full list of current Fireside events on
LiquidHearth
or on
Blizzard's website
, which also features promotional downloads for hosting your own event!
Curse of Naxxramas Content Preview
Blizzard has updated their Hearthstone website's game guide with an In Development "Sneak Peek" at the Curse of Naxxramas adventure! Included in this preview is the new Naxxramas playing board and a preview at five new cards! There's a whole lot of Deathrattle going on!
Baron Rivendare (

Legendary

): 4 Mana / 1 Attack / 7 Health - Your minions trigger their Deathrattles twice.
Shade of Naxxramas (

Epic

): 3 Mana / 2 Attack / 2 Health - Stealth. At the start of your turn, gain +1 / +1.
Nerubian Egg (

Rare

): 2 Mana / 0 Attack / 2 Health - Deathrattle: Summon a 4/4 Nerubian.
Dancing Swords (Common): Deathrattle: Your opponent draws a card.
Undertaker (Common): 1 Mana / 1 Attack / 2 Health - Whenever you summon a minion with Deathrattle, gain +1 / +1
You can check out the full preview
on Blizzard's website
.
BlizzPro PAX East Hearthstone Developer Interview
BlizzPro has posted a great interview from last week's PAX East event, in which their Hearthstone site manager, Stephen Stewart, spoke with Hearthstone Game Director Eric Dodds and Production Director Jason Chayes! The developers answer some great questions about the upcoming Curse of Naxxramas adventure and provide insight on Hearthstone design process, game balance, and upcoming/desired features!
Check out the
full developer interview on BlizzPro
.
Hearthstone Poster Contest
Blizzard is hosting a Hearthstone poster content in celebration of the game's iPad release, and is asking players to design a Hearthstone on iPad propaganda poster that best captures the essence of the Hearthstone tablet experience!
Hearthstone Poster Contest
+ Show
Participants must design and create their own poster, themed to promote Hearthstone on the iPad in a funny, serious, or other attention-grabbing way—it's up to you! Poster submissions need to be at least 1024x768 and no bigger than 5MB. Entries limited to one per person. The contest will run from April 17, 2014 to May 15, 2014, and top selections will be made by a panel of Blizzard judges. These top entries will then be uploaded to the Hearthstone Facebook page, where the player community will get to decide which poster they think has the most Hearthstoney goodness. The top three posters with the most "Likes" at the end of the voting period will win an iPad Air™!
This contest is open to both US and EU regions. Check out the full contest details and submission information on
Blizzard's Hearthstone blog
.