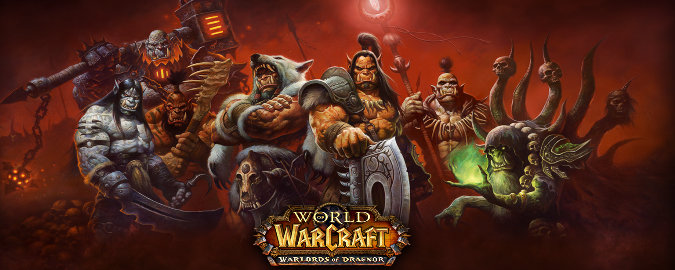 It's been an eventful week in the World of Warcraft! The in-game Noblegarden celebration began on April 20th (ending on April 28th) and this year's BlizzCon convention has been announced for the weekend of November 7th and 8th. BlizzCon tickets will go on sale on May 7th and 10th. Blizzard has also posted new live hotfixes and a brand new interview in their WoW Source series, spotlighting upcoming PvP changes in Warlords of Draenor. We also wanted to mention the accomplishment of Хируко of Razuvious-EU who has earned every achievement (currently) in-game! Who says there's nothing do while you wait for the new expansion? Read on for the full details of this week in World of Warcraft news!
Noblegarden Has Begun! (April 21 - April 28)
It's that time of year again, where we battle to the death for

Brightly Colored Egg
in the hopes of securing fancy clothes and fuzzy little bunnies! The Noblegarden in-gane event started on April 21st and will be available until April 28th, giving players a week to collect the few items offered. This holiday has not been updated from previous years, so the rewards are all the same and the

Swift Springstrider
and

Tome of Polymorph: Rabbit
are still the "best" items you can get. Be sure to check out our Noblegarden guide for full details on the achievements and rewards!
Noblegarden Guide @ Icy Veins
BlizzCon 2014 Announced! (November 7 - November 8)
Blizzard has announced the eight BlizzCon convention for the weekend of November 7th and 8th, 2014. The event will be held at the
Anaheim Convention Center
as it has in past years and ticket prices have been increased to $199 USD. Tickets will go on sale in two batches, Wednesday, May 7 at 7 p.m. PT and a second on Saturday, May 10 at 10 a.m. PT on the
EventBrite website
. So far, Blizzard have only mentioned the Starcraft II and Hearthstone World Championships events, but it is likely that we may see another WoW Arena Tournament just before Warlords of Draenor. This Blizzcon will fall just a month before Warlords of Draenor's projected release, so there should be a ton of coverage and previews of near-finished features. Be sure to get your tickets and get ready for another great BlizzCon! Check out Blizzard's BlizzCon posts below for more information about the event!
Latest 5.4.7 Hotfixes Posted
Blizzard has released another small handful of 5.4.7 hotfixes, including a few bugfixes to Siege of Orgrimmar encounters and another older raid encounter loot issue fix. Blizzard has also reduced the amount of gold found in the

Plundered Treasure
gathered while under the effect of
Potion of Luck
, presumably to further lower the efficiency of farming gold with this potion.
5.4.7 Hotfixes
+ Show
April 23
Classes
Shaman

General

Healing Stream Totem no longer incorrectly heals itself.
Quests
Scourge Tactics: Increased the spawn rate of Webbed Crusaders.
The Embalmer's Revenge: Resolved an issue where Stitches was not resetting correctly.
Raids, Dungeons, and Scenarios
Siege of Orgrimmar

Malkorok

Resolved an issue where Ancient Miasma effects were able to persist after the encounter ended.

Garrosh Hellscream

During the Garrosh Hellscream encounter, Word of Glory no longer generates threat during stages 2 and 3 to address an issue that was making the encounter more difficult than intended for raid groups with Protection Paladin tanks.
Unstable Iron Stars now Fixate on players for 12 seconds (up from 10 seconds) during stage 4 of the Garrosh Hellscream encounter on Heroic difficulty.

The Eye of Eternity: Resolved an issue that could prevent players from being able to loot Alexstrasza's Gift after defeating Malygos.
Items
Potion of Luck: Reduced the amount of gold found in Plundered Treasures.
Warlords of Draenor PvP / Class Update Developer Interview
Blizzard has brought back their WoW Source series with a brand new developer interview! There hasn't been a new video since an early chat about
the Warlords of Draenor reveal
back in November of 2013. The latest interview features Lead Encounter Designer Ion Hazzikostas, Lead Class Designer Kris Zierhut, and Senior Game Designer Brian Holinka talking about the upcoming PvP and class updates coming in the new expansion. The developers also preview the upcoming PvP zone
Ashran
.
Warlords of Draenor Datamining Reveals Upcoming Tier Sets
The latest finds from the Warlords of Draenor Alpha have been a bit exciting, revealing "work in progress" versions of the Paladin and Warrior Tier 17 armor sets! The latest Alpha build has also included a number of changes to damage amounts for spells, which
@Celestalon
explains are damage tuning changes in a "wild ballpark" range. Don't get too excited that your favorite spell is getting buffed, as Blizzard has simply adjusted these spells for testing purposes.
Russian World of Warcraft Player Unlocks All Achievements
There's bit quite a bit of buzz around the internet about Russian player
Хируко
of Razuvious-EU, who has "beat the game" by completing all of World of Warcraft's 2,057 achievements (and subsequentially earning all 21,995 achievement points). According to WoWProgress'
Achievement Points Rankings
, while he sits at the top there are still another 6 players just 10 points away. The players right below him on the list still need to earn the

Prideful Conquest
achievement, which requires earning 27,000 Conquest Points achievement in Season 15.
Check out Хируко's
announcement post on MMO-Champion
!
Blizzard's Latest Episode of 'Azeroth Choppers'
Blizzard has posted episode 2 of their
Azeroth Choppers
series and a cool
Meet Teams Alliance and Horde
blog in which we get to know the guys competing to make the best hog in all of Azeroth! Blizzard has also mentioned that the bike that wins the competition will be added to WoW as a
free
mount, so don't forget to vote for your favorite when it's all over!