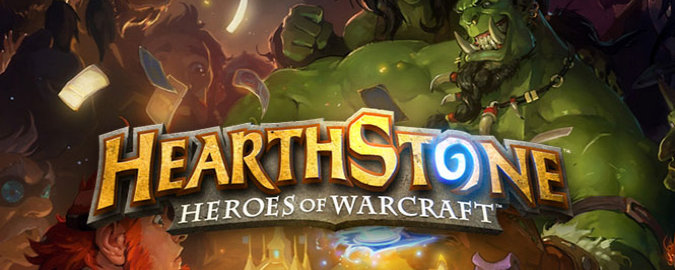 It's been a very exciting week for competitive Hearthstone play! This week brings the end of Ranked Play Season 1 and the start of Season 2 (with the new month). Blizzard has revealed the Season 2 card back reward, and players who have reached Rank 20 within the last month should have received the special Season 1 Pandaria card back. They have provided a list of the top 100 players of Season 1 in the Americas region. The top 16 players from this list will qualify to participate in the Hearthstone Americas Qualifier Tournament to decide the four players who will represent the region at BlizzCon!
Blizzard has also showed off some fancy new Hearthstone branded items, including the best throw pillow ever! We also want to spotlight the ridiculously awesome play that allowed Andrey "Reynad" Yanyuk to emerge victorious! Check out this week's Hearthstone recap!
Hearthstone Ranked 2 Play Season Begins, Black Temple Card Back Revealed
It's a new Hearthstone Ranked Play season! Season 2 began on May 1st, and Blizzard has revealed this season's awesome card back. As with last season, this new Ranked Play card back will be rewarded to any players who manage to reach Rank 20 by the end of the month. It will be interesting to see if Blizzard plans to add new rewards for reaching higher ranks. Some players are showing concern that reaching rank 20 is "too easy" and they are hoping for rewards for reaching higher (though Pre-Legend) ranks. As a reminder, players who reach the rank of Legend will also receive a special card back (check out our
Ranked Play article
for more info).
New Curse of Naxxramas Card Revealed
Blizzard has posted another card preview from the upcoming Curse of Naxxramas set to
the Hearthstone Twitter
! The new card, Avenge, is a Paladin Secret and offers a pretty powerful minion buff!
Blizzard Reveals Ranked Play Season 1 Final Rankings
With April (and Ranked Play Season 1) ending, Blizzard has revealed Season 1's top 100 Hearthstone Legend players in the Americas. The top 16 Legend players of each season will qualify for participation in the
Hearthstone Americas Qualifier Tournament
for their chance at representing the Americas in the Hearthstone World Championships!
Ranked Play Season 1 Final Rankings
+ Show

Rank BattleTag
1 Imamurgl
2 hyp3d
3 hyped
4 Admirable
5 mitjdw
6 Alchemixt
7 Failfellow
8 BoLiN
9 BwaMu
10 Abaporu
11 prodigy
12 backspace
13 LuigEzz
14 Realz
15 Firebat
16 Freshca
17 Akogare
18 bma
19 puffin
20 Strelzik
21 Chakki
22 kitkatz
23 Kolento
24 Hafu
25 Xixo
26 DeVoTeD
27 Snape
28 Vinses
29 Stoyven
30 Sa10
31 zRusheR
32 Ðart
33 StrifeCro
34 LuckerDog
35 Specter
36 Imkirok
37 heroux
38 Bounds
39 playet
40 SilentStorm
41 Strider
42 mackerel
43 TheCatsMeow
44 Razor
45 NotoriousBIG
46 Dennis
47 DestructEv
48 B4llzDeep
49 Ignite
50 Ssambas
51 Ekiminus
52 TrojanPanda
53 Lotusx
54 BestKappaNA
55 ImmortalLion
56 absurdist22
57 Ace
58 GODEYES
59 beastwrathof
60 eXoTriGGeR
61 bobosstupid
62 Konti
63 Draven
64 D8HiddeN
65 ieyasu
66 PPCmaster
67 xXAzureXx
68 Chimera
69 Darklumiya
70 Mangodreads
71 javasocute
72 Kurenai
73 Zansetsu
74 TrentD
75 Yseros
76 Blackacre
77 Eigenket
78 Ethan
79 Decoherence
80 LemonM
81 Ender
82 LeWizard
83 Firenova
84 AsianPDF
85 Conquest
86 PeRFeCK
87 Seahorse
88 SirBuckeye
89 Yamafuda
90 SlickJames
91 FallinSky
92 QQueenBee
93 kalince
94 Azuresky
95 TerawakuJP
96 GoBLiN
97 Fleshpound
98 Xenocide23
99 Narchon
100 Alce

Reynad's Epic Play Takes DreamHack Bucharest Win
DreamHack Bucharest 2014 came to a close this weekend and their NESCAFE 3in1 Hearthstone Tournament ended with an excellent play at the hands of Andrey "Reynad" Yanyuk. If you haven't already heard about it, I'm not going to spoil it! Watch the video below for the play that completely changed the game and rewarded Reynad with an epic victory!
I recommend
this article
written by
Cody Collins
, which extensively reviews the match and provides great insight into the future of Hearthstone as an esport. Considering everything we've seen so far, there looks to be no way that Hearthstone won't manage to have an impressive competitive play scene. Not too shabby for "casual" game you can play on the iPad!
Hearthstone Products Now Available in Blizzard Gear Store
Home is where the Hearthstone is! After the Hearthstone Throw Pillow received a warm (and soft!) reception at PAXEast, Blizzard has decided them available in the
Blizzard Gear Store
! They've also added Hearthstone coasters, a Hearthstone Swirl Mug, Hearthstone Screen Cleaner and two different Hearthstone shirt designs! Personally, I'm holding out for a Hearthstone iPad case (are you listening, Blizzard? ;D) but this stuff is definitely cool! Check out
Blizzard's gear spotlight
on the new additions!