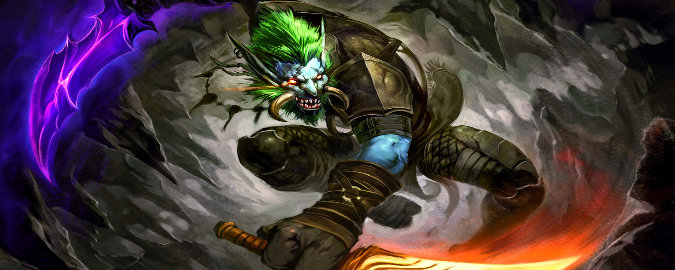 The Warlords of Draenor Alpha patch notes have been out for a few weeks now and millions of players have already voiced strong opinions of the direction Blizzard is headed with the game in this coming expansion. Some class changes have received overwhelmingly positive feedback, while others have left many a player scratching their head. A few changes have even caused a substantial outcry of rage!
We've invited a handful of our class MVPs to share their opinions on the changes made to their respective top class. For this patch notes analysis topic, we have requested feedback from our resident experts on the projected changes being made to the Rogue class. For our final patch notes analysis topic,
Fierydemise
has been kind enough to share his thoughts on the upcoming Rogue changes!
Fierydemise
is the main author of
Rogue Chat
, a prominent theorycrafting blog for Rogues.
Rogue WoD Alpha Changes
+ Show
Ability Pruning
Disarm Trap has been removed.
Fan of Knives is no longer available to Combat Rogues.
Redirect has been removed.
Rupture is no longer available to Combat Rogues.
Shadow Blades has been removed.
Crowd Control and Diminishing Returns
Dismantle has been removed.
Paralytic Poison has been removed and replaced by Internal Bleeding.

Internal Bleeding: Causes successful Kidney Shots to also apply a periodic Bleed effect for 12 seconds, with damage increasing per combo point used.
Buffs and Debuffs
Expose Armor has been removed.
Mind-numbing Poison has been removed.
Swiftblade's Cunning now provides a 5% increase to melee, ranged, and spell Haste to all Party and Raid members (instead of a 10% increase to only melee and ranged attack speed).
Raid Utility Balance
Smoke Bomb now reduces damage taken by 10% (down from 20%).
Facing Requirements
Ambush no longer requires the Rogue to be behind the target.
Backstab can now be used on either side of the target, in addition to behind the target.
Class Changes
There are a number of Rogue changes listed under Ability Pruning, but there are a few additional changes to note. The biggest of which is a fundamental change to how Combo Points work. They're now shared across all enemies; you can swap targets and you won;t lose your Combo Points.
First, in our efforts to reduce cooldown stacking across the game, we chose to remove the damage increase from Tricks of the Trade. And second, we decided to loosen the weapon requirements on Assassination. It's important to note that we still intend for daggers to be the optimal choice for Assassination Rogues, but this change will help Rogues who want to try out Assassination but don't have two daggers.
Combo Points for Rogues are now shared across all targets. You no longer lose your Combo Points when switching targets.
Tricks of the Trade now has no energy cost and no longer increases damage caused by the target by 15%.
Assassin's Resolve no longer requires daggers to function.
Dispatch can now be used with fist weapons or one-handed swords, dealing 331% weapon damage (instead of 480%) when used with those weapons instead of a dagger.
Mutilate can now be used with fist weapons or one-handed swords, dealing 137% weapon damage (instead of 200%) when used with those weapons instead of a dagger.
Sinister Strike now deals 188% weapon damage when used with a dagger (instead of 130%).
Bandit's Guile is an interesting mechanic that is important to Combat gameplay, but wasn't working out quite as well as we think that it could. In particular, there's basically no way to adjust when you're going to be in Deep Insight, other than stopping your rotation (and thus wasting energy, combo points, temporary effects, cooldown time, etc.). So, we're making an adjustment to Revealing Strike and Bandit's Guile. The intention here is that you can use Revealing Strike in place of Sinister Strike when you want to delay Deep Insight (such as to line it up with a specific upcoming fight mechanic), and have little lost damage besides the overall Deep Insight uptime. We don't expect this nuanced rotation adjustment to be used by all Combat Rogues, but having a little more control over the pace of your rotation will be useful to some.
Revealing Strike now deals 20% more damage, but no longer advances Bandit's Guile.
Among some other changes to improve Rogue AoE damage, we made a couple of baseline changes, and added a few Draenor Perks that impacts their AoE.
Blade Flurry can now trigger poisons.
Seal Fate now also grants a combo point for area attacks that critically strike the Rogue's primary target.
Honor Among Thieves is an extremely powerful ability, but has the downside that it adds significant disparity between character power while soloing and while in a group. We made this change to bring up the soloing Subtlety Rogue, without having a significant impact on their performance while in a group.
Honor Among Thieves can now also be triggered by critical hits from the Rogue's melee Auto Attacks.
A couple of Rogue abilities do periodic damage, but don't have an intended alternative if that periodic is already on the target. We made these abilities roll remaining damage from their previous effect into the new effect, so that it's still ideal to use them again in these cases.
Crimson Tempest's periodic damage now has rolling periodic behavior, meaning that remaining damage from the previous application is added into the newly-applied periodic-damage effect.
Hemorrhage's periodic damage now has rolling periodic behavior, meaning that remaining damage from the previous application is added into the newly-applied periodic-damage effect.
Subterfuge has proved too powerful, and frustrating to play against in PvP, so we decided to reduce its defensive capabilities, while preserving its offensive power. We changed the Subterfuge period to allow the use of stealth abilities without actually stealthing you, similar to Shadow Dance.
Subterfuge now allows you to use abilities that require stealth for 3 seconds after leaving Stealth, instead of actually staying stealthed for 3 seconds.
1. What is your overall impression of Blizzard's changes to the Rogue class?
Fierydemise:
The changes are a very good starting point for iteration. The changes fix a lot of the major complaints about the rogue class this expansion especially shoring up the major spec weaknesses for subtlety and adding additional depth and complexity to assassination and combat. These new mechanics should also help with the spec distinctiveness issues that have plagued the class all expansion. Blizzard also left completely intact the top notch survivability toolkit that makes the rogue class so powerful in raiding today. This is a good general class niche for raiding and I'm glad to see Blizzard preserving it. While there are still a number of potential problematic points these changes give me a lot of confidence in the direction Blizzard is taking the class.
2. Which changes do you think are the best and why?
Fierydemise:
For combat the change to revealing strike which will allow the player to control bandit's guile for the first time since the mechanic was introduced. This should add a lot of depth to playing combat well. The Envenom related perks should help make assassination a less brain-dead spec. While the changes do not increase the somewhat low assassination skill cap they do lower the distressingly high skill floor of the spec which is greatly needed. Unlike the other two specs subtlety had a very well designed rotation but was handicapped by positional requirements and very poor AoE. Both of these issues have been addressed to varying degrees, the removal of positional requirements from ambush and loosening for Backstab and fan of knives perk should make subtlety a much more powerful general purpose raiding spec.
On a general class level the removal of the tricks of the trade damage buff removes a generally boring mechanic although I think the whole ability could be removed at this point. Combo points on the rogue is a change that has been a long time coming. I don't think it will be a hugely consequential change given the current glyph of redirect but it's a good modernizing and quality of life change for the class.
3. Which changes do you think are the worst and why?
Fierydemise:
The GCD reduction perk for combat is very worrying, the 0.5 second GCD was a mess during T15 for combat and I really don't want to see that coming back. WoW really isn't designed for a GCD that low. It may be that players are never intended to saturate the 0.5 second GCD like we did in T15 however the very fact that we have this substantially reduced GCD during AR worries me on several levels.
The rogue level 100 talents are another major concern. Venom Zest seems like a solid, if somewhat boring talent but the other two talents have some big potential issues. Death from Above really doesn't seem to fit well into a rogue rotation, it makes very little sense for assassination given the envenom centric nature of the rotation and hitting a finisher on a relatively short cooldown seems very awkward given the current design combo points. Shadow Reflection may be an interesting talent depending on the exact mechanics of the talent but the general idea of a "burst" talent that doesn't provide any benefit for 8 seconds and full benefit for a full 16 seconds seems off.
4. How would you alter any of the existing changes?
Fierydemise:
Fully remove the positional requirement from Backstab. I don't understand Blizzard's insistence on keeping Backstab with a limited positional requirement. The full removal of positional requirements from ferals also makes this change baffling. It's possible that this will make more sense after we have some exact numbers or tuning targets but currently this seems like an unnecessary limitation.
While I like the having revealing strike used to control bandit's guile I think its other effects should simply be baselined and bandit's guile should become a durationless aura so combat rogues aren't undulling hurt during long down time phases. Since bandit's guile is moving to a new central pseudo-resource system for combat it should be treated as such mechanically. Relatedly I'd like to see bandit's guile have better UI support. Needing an addon to track the progress toward the next BG stage is problematic with the new increased importance of the mechanic.
5. What changes would you like to see in WoD?
Fierydemise:
Revisit all rogue talent tiers. While Blizzard has done an admirable job during MoP making the current talent tiers more interesting than they were at launch each tier has at least one effectively dead talent for both PvE and PvP and T30 and T75 offer basically nothing interesting for PvE rogues. T90 has its own slightly different problem, anticipation provides a powerful quality of life in addition to a DPS increase making it very hard to beat even if a talent provides comparable or better DPS increase.
Vendetta remains one of the most boring cooldowns in the game with absolutely no rotational interaction. The proposed perk to give it the already boring (and very weak) Cold Blood effect doesn't really solve the problem. With the removal of shadow blades assassination really needs vendetta to be more interesting as assassination's only cooldown.
Patch Notes Last Updated - 23 April 2014