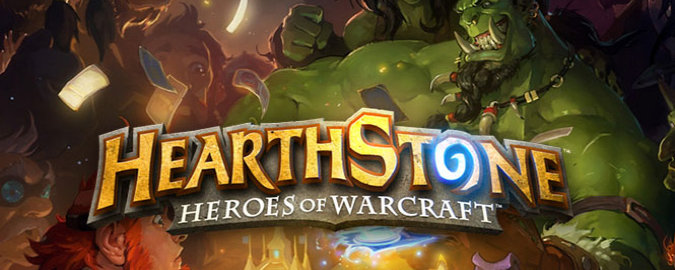 All has been mostly quiet on the Hearthstone front, as we eagerly await announcement of the Curse of Naxxramas adventure release date! Blizzard has instead teased us with another new card from the set, revealed on the the Hearthstone Twitter. Blizzard has also published a mid-season list of the current top 100 players in Ranked Play, and have spotlighted some excellent community content! Plus check out an epic fan-made Hearthstone crossover set!
New Curse of Naxxramas Rogue Card Revealed
Blizzard has shared another card on
the Hearthstone Twitter
from the upcoming Curse of Naxxramas adventure, a Rogue card with Deathrattle! As we've already seen with previously released cards, many of the cards in the upcoming set will feature this mechanic!
Blizzard Recognizes Current Top Ranked Players
We're halfway through Ranked Play Season 2, and Blizzard decided to spotlight the current top 100 players! Remember, the top 16 Legend players of each season will qualify for participation in the
Hearthstone Americas Qualifier Tournament
for their chance at representing the Americas in the Hearthstone World Championships! Check out the current top players -- we'll see who will remain on the list at the end of the season!
Ranked Play Season 2 Current Rankings
+ Show
Ranked Play Season 2 Current Rankings

Rank BattleTag
1 StrifeCro
2 hyp3d
3 Tarei
4 hyped
5 Sender
6 reynad
7 Cyru
8 Strelzik
9 CountChocula
10 bma
11 yottiy4
12 rain
13 Neghr
14 Kurum
15 Staz
16 Failfellow
17 Thachzor
18 suuiche
19 IEATKITTENS
20 Sommer
21 Chance
22 Muirhead
23 Owatonka
24 Lotusx
25 Axtius
26 Bowles
27 Bounds
28 LennyFoulds
29 Vastuish
30 DuckWingFACE
31 AllHailMatt
32 SirBuckeye
33 Lifecoach
34 Razor
35 LiquidDiego
36 Revelaxion
37 Ironhead
38 Khymera
39 Ðart
40 surpass
41 allandang
42 Mandraxhair
43 Alleria
44 Coglorin
45 Blackacre
46 durr
47 Decoherence
48 Darkbunny
49 Haritsuka
50 puffin
51 skiLtor
52 koyuki
53 andrewC
54 jejune
55 Ghost
56 Lazy
57 winpo
58 Ratisil
59 Jesse
60 G37
61 Poisty1991
62 dog
63 TGO
64 Neobility
65 Hafu
66 hoodrych
67 Gertzferd
68 Kadu
69 Darklumiya
70 Kyle
71 Puree
72 Kageno
73 TONY
74 tarquin
75 FoSk
76 Kokobeast
77 unholy
78 Cleanner
79 yuri
80 muzzy
81 fizdarth
82 Proff
83 Gigaduckman
84 RAGESAUCE
85 DarkAngel
86 Sirslim
87 krypto9ite
88 sunshift
89 Freohr
90 EnergySeeker
91 Invoker
92 Jules
93 Beldareaver
94 Peter
95 Siky
96 ThaLucky1
97 Imamurgl
98 SofM
99 Brad
100 Rngezus

Hearthstone Community Roundup - May 16th
Check out the latest Hearthstone podcasts, webshows and epic plays in Blizzard's Hearthstone Community Roundup, which spotlights the best moments from the past week of community content!
Hearthstone Community Roundup - May 16th
+ Show
Check Out This Game of Thrones / Hearthstone Crossover
Reddit user
randomnate
has created the best Hearthstone expansion we'll never see: a cross-over of
Hearthstone
and
Game of Thrones
! Fans of the show will definitely appreciate the references in the card mechanics. Check out his full set of cards in this
Imgur album
and great discussion in the
Hearthstone subreddit
!
What Is It Like To Open 40 Packs?
As someone who hasn't spend a dime on Hearthstone, I've definitely wanted to know what it would be like to just open a
ton
of packs. Recently, a Kotaku author wondered the same thing, and decided to go easy with the $49.99 40 Expert Packs bundle, the largest single bundle that can be purchased. Of course, you can always get lucky and walk out with multiple legendaries but two Kotaku writers broke down the cards received in the purchased bundle in this YouTube video. Of course, your mileage may vary but it's definitely an interesting breakdown!
Want more? Check out
tons
of other pack opening videos on
YouTube
including one featuring a whopping
600 packs
!