Tyrael Abilities
Table of Contents
General Information
Below, we give you a brief overview of the abilities that Tyrael has access to. You should read these ability descriptions before reading further, because the other pages of the guide assume that you have a basic knowledge of Tyrael's abilities.
The other pages of our Tyrael guide can be accessed from the table of contents on the right.
About the Author
KendricSwissh is a Master League Warrior and Support player in Hero League. He has been playing Heroes of the Storm since the early stages of the Alpha version and has mastered a large number of Heroes. He is also creating Heroes of the Storm related content on YouTube, most notably his series called Epic Plays of the Week, which focuses on video clips submitted by his viewers. He is also a streamer on Twitch where he will gladly answer all of your questions about the game.
1. El'Druin's Might
El'Druin's Might
(Q)
Tyrael
Mana:

50

Cooldown:

12 seconds
Deals 242 (115 + 4% per level) damage to enemies within target area, slowing them by 25% for 2.5 seconds. Reactivating will teleport you to the blade and slow nearby enemies again.
El'Druin's Might causes Tyrael to throw his sword, damaging enemies within a target area and slowing them. After Tyrael has thrown his sword, El'Druin's Might gets replaced by Angelic Flash. Within the next 6 seconds, re-activating the ability will teleport Tyrael to the sword's location and slow nearby enemies.
El'Druin's Might is a gap-closer, which allows Tyrael to cover great distances by directly teleporting to his sword. One of the greatest advantages of this ability is the fact that you will not be impaired by obstacles, such as walls or trees. El'Druin's Might can be used offensively to slow down fleeing enemies and catch up to them by quickly using Angelic Flash. By the same token, Tyrael can rely on El'Druin's Might in order to get out of dangerous situations by throwing his sword in the direction he wants to escape and using Angelic Flash immediately after. One thing to keep in mind, however, is the 6 second time frame that comes with El'Druin's Might. If you fail to use Angelic Flash within that period of time, Tyrael will lose the ability to teleport, which is why you always want to make sure to avoid getting disabled by any form of crowd control before that window closes.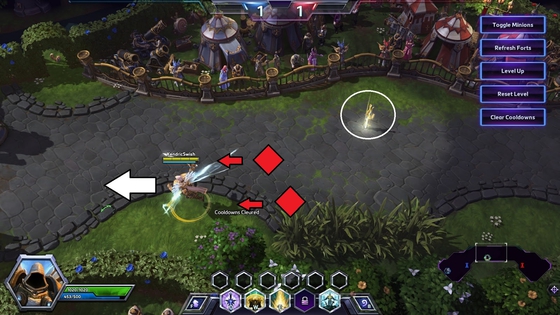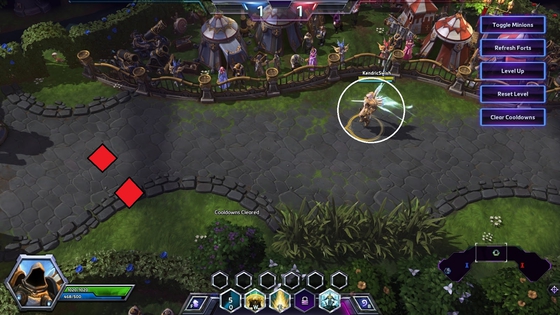 In the images above, you can see that a good way to trick your enemies (red diamonds) while trying to escape from them is to juke them with the help of El'Druin's Might. This can be achieved by running in the opposite direction (white arrow) from where your sword is currently located (white circle). Once you notice that the enemy Heroes start chasing you (red arrows) use Angelic Flash to immediately teleport to El'Druin. The large distance between your opponents and yourself allows you to quickly mount up and escape safely.
2. Righteousness
Righteousness
(W)
Tyrael
Mana:

60

Cooldown:

10 seconds
Shields you for 702 (333 + 4% per level) damage and nearby allies for 281 (134 + 4% per level) damage for 4 seconds.
Righteousness shields Tyrael and nearby allies in a small radius around him (Minions and Mercenaries included) for a short period of time.
Righteousness is a very straightforward protective ability that does not require a lot of expertise. Most of the time, you should wait until there is at least one or more allied Heroes near him before casting Righteousness, in order to maximise its efficiency. During the early stages of the game, especially while laning or clearing Mercenary Camps, you can make an exception to this rule. Cast Righteousness on yourself, even if no other friendly Heroes are around, to avoid taking unnecessary damage. This will enable you to stay in lane for a longer period of time, which results in being able to soak more experience for your team. Tyrael possesses several talent upgrades for this ability, however only two of them,
Angelic Absorption and
Imposing Will (both of them are available at Level 13), are strong enough to be viable in competitive play.
Icy Veins Pro Tip — If you find yourself playing against Azmodan who went for
Taste for Blood (which is very likely going to happen, since it is the most popular talent choice at Level 1),
Righteousness can be used deliberately to protect your nearby minions against his
Globe Of Annihilation ability. In doing so, you prevent Azmodan from obtaining the precious stacks that would otherwise improve the damage output of his Globe Of Annihilation significantly throughout the game.
3. Smite
Smite
(E)
Tyrael
Mana:

45

Cooldown:

6 seconds
Rake target area for 316 (150 + 4% per level) damage. Allies moving through the targeted area gain 25% increased Movement Speed for 2 seconds.
Smite causes Tyrael to damage to all enemies in an arc-shaped area close to his current position, and increases the movement speed of each ally unit that passes through the arc by 25%.
Being Tyrael's Basic Ability with the lowest cooldown and Mana cost, Smite is your weapon of choice when it comes to clearing enemy minion waves and damaging enemy Heroes. It can be used both offensively, by damaging enemies and providing a movement speed boost to chasing allies, and defensively, by making fleeing allies run faster. Smite is a great ability to damage your opponents in lane and — unlike
El'Druin's Might, which should never be used to just harass your enemy — bully them out of range of your minions, which can prevent them from soaking experience. Still, we would like to remind you that using Smite too frequently can cause Tyrael to suffer from a serious Mana deficit, especially during the early laning phases of the game. To prevent this from happening, you should use Smite, as well as Tyrael's other Basic Abilities, very reasonably and avoid spamming them at all cost.
Icy Veins Pro Tip — If you happen to lane against Zagara, Smite proves to be an efficient tool to keep her
Creep Tumors in check. Many Zagara players prefer to place them in bushes, so pay special attention to them and clear the area by using Smite in such a way as to cover much of the suspected area as possible. Never use
El'Druin's Might to get rid of Creep Tumors though, as its cooldown and Mana cost are by far greater than the ones on Smite.
4. Judgment
Judgment
(R)
Tyrael
Heroic Ability
Mana:

80

Cooldown:

70 seconds
After 0.75 seconds, charge an enemy Hero dealing 220 (104 + 4% per level) damage and stunning them for 1.5 seconds. Nearby enemies are knocked away and take 110 (52 + 4% per level) damage.
Judgment enables Tyrael to charge at his target, damaging and stunning it upon impact for 1.5 seconds. Nearby enemies take damage as well and get knocked back from the charged target.
Judgment is Tyrael's infamous gap-closing Heroic ability, that will allow you to hit and stun your selected enemy target with great force. Judgment does have a short activation timer of roughly 0.5 seconds, which means that targeting an enemy from maximum casting range may actually cancel Judgment's casting animation if your target runs out of range while the animation is still building up. Another thing to keep in mind is the fact that enemies who possess an innate teleport escaping mechanism, such as Zeratul's
Blink ability or the
Bolt of the Storm talent, can deliberately use these tools to dodge the impact of Judgment. Thus, it is of utmost importance to choose your target carefully, as a misplaced Judgment may sometimes ruin your follow up strategy. To help you choose the right target, especially high priority targets like Supporters and Assassins, it is recommended to keep an eye out for enemy Heroes who have just used their escape abilities, or do not possess any of those in the first place. The Heroes in the list below represent priority targets for your Judgment:
The Heroes in the list below represent risky targets to your Judgment:
Any Warrior Hero (unless they happen to be exposed or very low on health);
Brightwing ( Blink Heal);
Murky (not a valid target to use Judgment on);
Nova (make sure you are not targeting one of her Holo Decoys);
The Lost Vikings (see Murky);
5. Sanctification
Sanctification
(R)
Tyrael
Heroic Ability
Mana:

75

Cooldown:

80 seconds
After 0.5 seconds create a field of holy energy that makes allied Heroes Invulnerable. Lasts 3 seconds.
Sanctification channels for 0.5 seconds and creates circle of holy energy that makes all allied Heroes Invulnerable while standing in it. The circle disappears after 3 seconds.
Sanctification is the ultimate defensive ability. Being capable of single-handedly deciding the outcome of a team fight, it is crucial to know how to use it correctly when playing as Tyrael. We generally recommend using Sactification if:
or
6. Archangel's Wrath
Archangel's Wrath
(D)
Tyrael
When you die, become invulnerable and explode for 1206 (572 + 4% per level) damage after 3.5 seconds.
After Tyrael's Health drops to zero, an invulnerable copy remains active for 3.5 seconds. During this time, the copy can be moved by the player as an unmounted Tyrael, and after 3.5 seconds it explodes dealing damage in an area around it. You can cannot use any abilities, nor can you attack your enemies while Archangel's Wrath is active.
Similar to Uther's
Eternal Devotion trait, Archangel's Wrath allows you to command Tyrael for a short moment after he died. During that period of time, you will not be able to use any of Tyrael's abilities (unless you opt to go for the
Even In Death talent at Level 4, which we do not recommend), but you can still move him towards a target location. Players who are not very experienced with this trait may often find it hard to control and move Tyrael to the selected target while Archangel's Wrath is active. To make things easier for you, we would like to provide some assistance on how to maneuver Tyrael more fluently: As soon as Tyrael's health drops to zero, move your cursor to the target you want to hit with the explosion (preferably an enemy Hero), and click the Right Mouse Button. This will immediately make Tyrael float towards your desired target location and make it hard for most enemies to react quickly enough to dodge the explosion. It is also worth mentioning, that while Archangel's Wrath is active, your movement is not impaired by obstacles, so do not hesitate to follow your target even through walls, structures, or other impassable terrain.
7. ChangeLog
12 Jul. 2016: Added Chromie, Li-Ming and Lt. Morales to the list of good targets for Judgment.
22 Jun. 2016: Added Sanctification's ability description following a general update of older Guides.
18 May 2015: Added Kael'thas to the list of Judgment priority targets.