Mistweaver Monk Healing Rotation, Cooldowns, and Abilities (MoP 5.4)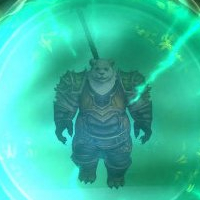 On this page, we list your Mistweaver Monk core abilities and how they should be used together (rotation) in World of Warcraft MoP 5.4. We also explain when to use your various cooldowns. Then, we go deeper and present all the subtleties that you will need to know if you want to excel at playing a Mistweaver Monk.
The other pages of our Mistweaver Monk guide can be accessed from the table of contents on the right.
This guide has been reviewed and approved by unpl, a Mistweaver Monk who raids in Paragon.
1. Spell Usage and Healing Rotations↑top
As a healer, you do not have a strict rotation that you should follow. Instead, you must use your available spells to react most appropriately to the type of damage in the encounter, based on your healing assignment.
As a Mistweaver Monk, you cannot simply stand still and cast your healing spells. You have many actions you must perform, and buffs you must monitor, in order for you to properly perform your rotation.
1.1. Preliminary, Non-Healing Actions You Must Perform
Chi builders. Only use when you are not at maximum Chi

Use Jab to damage the target and generate Chi whenever there is little or no damage.
Use Expel Harm to damage the target and generate Chi. Expel Harm should be used on cooldown.
Use Crackling Jade Lightning when you are not able to be in melee range of any mob, and there is little or no incoming damage. Each tick has a 30% chance to generate 1 Chi.

Chi finishers. Use alongside your heals.

Use Blackout Kick to maintain 100% uptime on the Serpent's Zeal self-buff that it applies. It costs 2 Chi. Only use Blackout Kick when your Muscle Memory self-buff is active.
Use Tiger Palm (which costs 1 Chi), only when your Muscle Memory self-buff is active, to

maintain 100% uptime on the Tiger Power self-buff;
dump Chi and deal damage, when there is little or not damage taken by the raid;
stack Vital Mists on yourself, which reduces the mana cost and cast time of the next Surging Mist (up to 100% reduction at 5 stacks).
Note that in the case of very intense damage, you may have to abandon being in melee range of the boss and using damaging abilities. Instead, you may need to focus entirely on the healing spells we describe below.
1.2. Single Target Healing
It is important to note that, while you are channeling
Soothing Mist,
Surging Mist and
Enveloping Mist are instant cast, do not break the channel of Soothing Mist, and are always cast on the target of Soothing Mist.
1.3. Multiple Target Healing
You have only two multiple target healing spells, the usage of which is rather straightforward.
Whenever there is any raid damage,
Renewing Mist should be used on cooldown. It generates 1 Chi.
When the raid damage intensifies, you should begin cast
Uplift (costs 2 Chi).
Generating sufficient Chi to sustain frequent usage of Uplift is not possible only through Renewing Mist. Therefore, you will have to cast
Surging Mist and
Soothing Mist on single targets, to generate additional Chi.
1.4. Additional Actions to Perform
This section will briefly cover the other actions you must perform, in addition to the above-mentioned:
2. Cooldown Usage↑top
As a Mistweaver Monk, you have a number of cooldowns in your arsenal, which you must use in tandem with your regular rotation.
Thunder Focus Tea should be used as many times as possible during the encounter. It is best to use this spell with Uplift, but it may situationally be preferable to use it with Surging Mist.
Life Cocoon should be used on the tank or another target who is about to sustain a large amount of damage. You should time this in such a way that its effect coincides with dangerous encounter abilities.
Revival is a raid-wide heal, and it could be considered a raid cooldown, in which case your raid leader may ask you to use it at a specific time. Otherwise, just use it when a vast majority of raid members are in need of healing or dispelling.
Additionally, your talents have the potential to provide you with additional abilities and cooldowns. We discuss this, as well as the proper timing and usage of your default cooldowns in a subsequent section.
3. Stance↑top
As a Mistweaver Monk, you must always be in
Stance of the Wise Serpent. This grants you many benefits, which we list below.
4. Statue↑top
As a Mistweaver Monk, you should make sure to always have your Jade Serpent Statue (
Summon Jade Serpent Statue) active. We discuss its benefits below.
5. Optional Read: Mastering Your Mistweaver Monk↑top
The information we provide above will set you on the right path towards healing efficiently as a Mistweaver Monk. Indeed, you can probably perform to a relatively high level just on what we have written above. However, to fully reach the maximum potential of your character, you must understand several subtleties and complexities about your class and spec.
5.1. Important Concepts
There are many mechanics that, together, make up the complex playstyle of Mistweaver Monks.
5.1.1. Chi
Chi is a Monk-only resource. There are several things you need to know about Chi:
Chi is generated by several abilities, the most notable of them being Expel Harm, Soothing Mist, and Surging Mist.
Chi is spent on many crucial abilities, that are part of your rotation.
You have a maximum capacity of 4 Chi (5, if you have the Ascension talent).
Chi decays quickly when outside of combat, but it does not decay while in combat. A natural consequence of this is that, when starting a fight, you will have no Chi.
Generating Chi while you are at maximum capacity will cause the new Chi to be wasted. The only exception to this is the Chi generated thanks to the Power Strikes talent, which spawns a Chi sphere each time your Chi would be wasted. The sphere grants you 1 Chi when you walk over it.
5.1.2. Stance of the Wise Serpent
Stance of the Wise Serpent offers you the following benefits:
It increases all healing done by 20%.
It replaces your Energy resource with Mana.
It grants you hit and expertise equal to 50% of the Spirit that you gain from items and effects. This is crucial, since successfully landing attacks is the cornerstone of your playstyle.
It causes you to have attack power equal to 200% of your spell power. As you will see below, this is also very important to your playstyle.
It causes your Spinning Crane Kick to take into account healed allies in order to generate Chi. Healing 3 allies generates Chi, as does healing 1 or 2 allies together with damaging 2 or 1 enemies, respectively.
Finally, it grants you a passive ability called
Eminence. Eminence causes you to passively heal the nearby ally (within 20 yards) with the lowest health, for 25% of the damage you deal with every non-autoatttack ability.
5.1.3. Jade Serpent Statue
Keeping your Jade Serpent Statue up at all times is not hard, since it has a 15-minute duration and 30-second cooldown. The statue provides its own version of your
Eminence effect, mirroring 25% of the non-autoattack damage you deal, as healing to the lowest health ally within 20 yards of itself. Therefore, you should place the statue in the vicinity of raid members. The two Eminence effects stack, making up for 50% of your non-autoatattack damage being done as healing.
The statue has a secondary effect. When you cast
Soothing Mist, the statue also casts Soothing Mist on an injured raid member, within 40 yards of it, which heals for 50% of the amount that your own Soothing Mist heals for.
As you can tell, the statue performs both of its effects passively, so all you need to worry about is that it is placed near raid members.
5.1.4. Eminence
Eminence is a passive ability granted to you by
Stance of the Wise Serpent. Essentially, it rewards you for dealing damage.
More specifically, the lowest health ally within 20 yards of you is healed for 25% of the damage you deal with non-autoattacks (this mostly applies to
Jab,
Blackout Kick,
Tiger Palm, and
Expel Harm). This results in a steady stream of healing to nearby low-health players.
Additionally, your Jade Serpent Statue also does the exact same thing, healing players for 50% of the non-autoattack damage you deal. The only difference is that the statue heals players within 20 yards of itself.
It is important for you to understand the role of Eminence healing. While it is beneficial, and, depending on the encounter, it may prove to make up a large portion of your healing, it is not something you can rely on. Eminence healing (much like Discipline Priests' Atonement healing) is good for periods of low damage, but it is insufficient for periods of intense damage.
In other words, Eminence healing is a passive benefit that you should be happy to have, but not something to actively rely on.
5.1.5. Muscle Memory
Muscle Memory is a passive ability that causes your successful
Jabs, and your successful
Spinning Crane Kicks (as long as they heal or damage a combined number of at least 3 targets) to make the next
Tiger Palm or
Blackout Kick deal 150% more damage and restore 4% of your mana.
This simply rewards you further for using
Jab, and there is no specific way to use it, other than to make sure to use the buff each time you have it by weaving in Tiger Palm or Blackout Kick between your Jabs.
5.1.6. Tiger Palm, Tiger Power, and Vital Mists
Tiger Palm has three uses to you as a Mistweaver Monk.
It applies a self-buff, Tiger Power, which causes your attacks to ignore 30% of the target's armor. This improves your DPS and, therefore, the healing you do through Eminence.
It stacks a self-buff, Vital Mists, which reduces the cast time and mana cost of your next Surging Mist by 20% per stack. It stacks up to 5 times (making Surging Mist instant cast and free of cost).
It deals damage, which contributes to your Eminence healing.
You must always maintain 100% uptime on Tiger Power, but this is easy and only requires the use of one Tiger Palm every 20 seconds.
Maintaining 100% uptime on Vital Mists is more difficult, and it is not efficient to do as a goal in and of itself. Especially when there is intense damage going on, you cannot afford to waste Chi on Tiger Palm instead of using it on healing spells.
You must, however, always track the number of Vital Mists stacks you have, and if you are at 5 stacks, you should make use of the free and instant Surging Mist right away. When there is low or no damage, you should try to stack Vital Mists to 5, in preparation for more serious damage.
Tiger Palm should only be used when your
Muscle Memory self-buff is active.
5.1.7. Blackout Kick and Serpent's Zeal
Each time you cast
Blackout Kick, you apply a self-buff on you, called
Serpent's Zeal. This causes both you and your statue to passively heal a nearby ally for 25% of the damage you deal with autoattacks.
You must always keep this buff active, which means that you must cast
Blackout Kick at least once every 30 seconds. Blackout Kick is a less efficient way of dumping Chi than Tiger Palm (discussed above), so you should only use it to maintain Serpent's Zeal.
Blackout Kick should only be used when your
Muscle Memory self-buff is active.
5.1.8. Mana Regeneration: Mana Tea
As a Mistweaver Monk, you have a single means of regenerating your mana, outside of the regeneration you gain from Spirit:
Mana Tea.
For every 4 Chi that you spend, you gain a stack of Mana Tea, thanks to the
Brewing: Mana Tea passive ability, stacking up to 20 times. By casting Mana Tea (the active ability), you convert these stacks into mana. Additionally, each time you gain a charge of Mana Tea, you have a chance equal to your critical strike chance of generating two charges of Mana Tea instead of just one.
By default, Mana Tea is a channeled spell, with no cooldown, which restores 4% of your maximum mana for each stack of Mana Tea that you have, at the rate of 1 stack per 0.5 seconds. However, if you are using
Glyph of Mana Tea, then the ability has a 10 second cooldown, but it is instant cast, consuming 2 stacks of Mana Tea with each cast.
As you have probably noticed already, you generate Chi by spending mana, and you then are able to regenerate mana by spending Chi (thanks to Mana Tea). This cycle is mana-negative, however, meaning that the mana you gain from Mana Tea will never fully make up for the mana you have spent to generate the Chi in the first place.
It takes roughly 2 minutes of continuous Chi expenditure to reach maximum stacks of Mana Tea, so you should not worry about capping the resource. The best way to use Mana Tea depends on whether or not you are using the glyph:
With Glyph of Mana Tea, it is ideal to weave in casts of Mana Tea whenever you have spare global cooldowns (when the damage you need to heal is not too brutal).
Without Glyph of Mana Tea, it is ideal to find moments of downtime during the fight, when there is little or no damage, and channel Mana Tea then.
5.1.9. Mastery: Gift of the Serpent
Your Mastery is
Mastery: Gift of the Serpent. It grants you a chance, each time you heal a player, to spawn a Healing Sphere next to an injured ally. The sphere acts just like those generated by your
Healing Sphere spell, but they only last 30 seconds, instead of 1 minute. The Mastery has no interaction with the spheres generated by Healing Sphere.
If a Healing Sphere created by your Mastery expires without having healed anyone, then it will cause players around it to share 50% of the sphere's original heal. This ensures that your Mastery is not entirely wasted if your raid members are not actively picking up spheres.
Additional Mastery Rating increases both the chance to spawn there spheres, as well as the healing that they do.
5.2. Detailed Spell Usage
The list offered at the start of this page offers only a brief glimpse of the proper spell usage you should employ. Below, we cover this aspect in more depth.
5.2.1. Single Target Healing
In terms of single target healing, you only have 3 spells:
Soothing Mist is your go-to single target heal. It is relatively cheap, and, on its own, will only heal low amounts of damage.
Soothing Mist, is, however, useful even when the target begins taking much higher damage, thanks to its interaction with your other two single target healing spells (making them instant cast). It follows logically that, if the target you are healing is taking increased damage, you should simply add Enveloping Mist and Surging Mist to the rotation.
Enveloping Mist is an extremely powerful HoT. It costs 3 Chi, making it rather expensive. Since it is instant cast while Soothing Mist is being channeled, it should mostly be cast in that way.
Surging Mist is a typical "emergency heal". However, since Surging Mist generates Chi, its high mana cost is somewhat compensated. This would be the final step in intensifying your single target healing.
Therefore, we can boil down the single target healing rotation to the following:
Low damage: channel Soothing Mist. Spend the Chi you generate on Enveloping Mist.
Moderate damage: channel Soothing Mist, and use Enveloping Mist on the target whenever you have 3 Chi. Channeling Soothing Mist generates enough Chi to almost be able to keep 100% uptime on Enveloping Mist, but obviously this means you are not using Chi on Blackout Kick or Tiger Palm. Simply cast occasional Jabs or Surging Mists to generate additional Chi. Always make sure to use up your Muscle Memory buff (by using Tiger Palm or Blackout Kick) before you use Jab again.
High damage: channel Soothing Mist, keep 100% uptime of Enveloping Mist on the target, and spam Surging Mist on the target. This will quickly drain your mana, but will provide a great burst of healing. It will also provide you with much more Chi than you can spend, so unless absolutely necessary, we advise throttling down the use of Surging Mist, and weaving in Blackout Kick and Tiger Palm.
It is important to note that instant cast Surging Mists and Enveloping Mists are automatically cast on the target on which you are channeling Soothing Mist.
Finally, you also possess the
Healing Sphere spell, which allows you to place up to 3 Healing Spheres at target locations on the ground. The spell has no cooldown (and only triggers a 0.5 second global cooldown). Players who walk over the spheres are healed, and the spheres are consumed in the process.
The spheres are rather cheap in terms of mana cost, and heal for a moderate amount (more than half of the healing of
Surging Mist, for comparison). The best ways to use healing spheres are:
Place them near your tank(s) or other players who are likely to take damage in the future. This allows the players to move into the spheres when they have taken damage, healing themselves.
Place them under players who are currently damaged that you wish to heal. For single target healing in regular conditions, however, it is preferable to use Soothing Mist.
Use them as a means of doing some healing while you are moving, since they are instant cast.
Pre-place them at a location where you know someone will take damage in the future.
It is important to note that if a Healing Sphere expires without having been picked up by any players, it will do 50% of its original healing, split among players in its close proximity.
5.2.2. AoE Healing
Your AoE or multiple target healing spells are:
Renewing Mist is a HoT, the mechanics of which are a bit peculiar. When you cast Renewing Mist on a player, two buffs are placed on them:
a mere HoT that heals the target over 18 seconds;
a buff with 3 stacks, which lasts 20 seconds and jumps to nearby injured allies, losing a stack with each jump. Each time the buff jumps to a new target, it applies the above-mentioned HoT to them.
Renewing Mist has an 8 second cooldown, and it generates 1 Chi when cast. While there is no theoretical cap to how many targets can be affected by the HoT at any one time, in practice, the number is limited to 8 in normal circumstances (since your haste reduces the duration of the HoT to about 16 seconds). Renewing Mist has an important interaction with
Uplift (and
Thunder Focus Tea), as we will see below.
Uplift instantly heals all targets who have a Renewing Mist HoT on them. It costs 2 Chi. If you use
Thunder Focus Tea (a cooldown that we discuss more amply below), the next Uplift you cast also refreshes the duration of the HoTs from Renewing Mist on all targets. When utilising this combination, you can have Renewing Mist up on a total of 16 targets.
Spinning Crane Kick is a channeled spell that heals all nearby allies (within 8 yards) every 0.75 seconds for 2 seconds. It also damages enemies in the same radius. The spell costs mana and, when it affects at least 3 targets (by healing or damaging them, depending on whether they are allies or enemies), it generates 1 Chi (per cast, not per tick). It has no cooldown, and moving does not break the channel. Therefore, it is ideally suited for AoE healing while on the move.
AoE or raid healing can be summarised as follows:
Low and moderate damage: use Renewing Mist on cooldown. The Chi generated in this way should be used on Uplift. Fill the remaining time with Jab (in the case of low damage), or with single target heals (in the case of moderate damage).
High damage: use Renewing Mist on cooldown, and spam Uplift. To generate the required Chi, use Surging Mist or Jab (or Spinning Crane Kick if you can heal at least 3 allies with it, or more likely heal 2 allies and damage 1 target, the boss or an add). Also remember to use Thunder Focus Tea with Uplift to boost your healing further.

If you are low on mana, you can simply use Jab (and Expel Harm) to generate 2 Chi, and use Uplift. Chi Brew can also be used, if available, to allow you do some more AoE healing when very low on mana.
We would like to remind you once again that you should make sure to use
Tiger Palm or
Blackout Kick to consume your
Muscle Memory buff before using
Jab again.
5.2.3. Other Considerations
To say that your healing will be restricted to either single target or AoE is misleading. In fact, you will spend most of the time juggling between the two, and having to combine the rotations we listed above. Your actual spell usage will differ based on many factors, such as the encounter mechanics and your healing assignment, so it is impossible to map it out here. As you become more familiar with your character and with the encounter, so will your performance improve.
If you have to heal intense damage for a sustained period of time, you will have to abandon meleeing the target, using
Jab, keeping up your
Serpent's Zeal buff, etc. You will instead have to rely on
Surging Mist and
Renewing Mist for Chi generation, and you will give up the benefits of
Eminence in favour of being able to dedicate all your time to healing spells.
This is something you will have to judge based on the damage that is going on in the fight.
5.3. Detailed Cooldown Usage
5.3.1. Thunder Focus Tea
Thunder Focus Tea is an active cooldown that vastly improves your next
Surging Mist or your next
Uplift, cast within 45 seconds. Thunder Focus Tea has a 45-second cooldown, and it costs 1 Chi.
When used with Surging Mist, it doubles its healing. This empowered Surging Mist is a powerful asset in emergency situations.
When used with Uplift, it causes Uplift to refresh the
Renewing Mist HoT on all targets.
Thunder Focus Tea is off the global cooldown. You should make sure to use this spell as much as possible throughout the fight, and it is recommended to use it when its benefit will not go to waste (so, in times of intense damage). It is reasonable to delay using it for this purpose.
5.3.2. Life Cocoon
Life Cocoon is a single target healing cooldown, which places a damage absorption shield on the target, lasting for 12 seconds, or until broken by damage. While the shield is active, the target also receives 50% increased healing from all your heals.
With a 2-minute cooldown, and a rather disappointing amount of damage absorbed, Life Cocoon is quite lackluster. The 50% healing increase, while very appealing, only lasts while the shield lasts, and this is generally no more than a few seconds.
5.3.3. Revival
Revival is a raid-wide heal, which also removes any Magical, Disease or Poison effects from all targets. It can be considered a raid cooldown, in many respects.
In most cases, you should use it for the heal it provides (which is quite powerful, considering the number of targets it heals), but it can also be used as a sort of "mass dispel". The spell has a 3-minute cooldown, and it does not have a range requirement. Instead, it heals all party and raid members "within vision", which shouldn't be a concern on most fights.
5.3.4. Tier 2 Talents
Chi Wave, which essentially acts as a chain heal, is something you can incorporate into your AoE healing rotation, when the damage is low or moderate.
Zen Sphere should only be used for the AoE healing it provides when detonated, since its HoT is very weak. It is especially useful when players often drop below 35% health, as this causes the Zen Sphere to detonate automatically.
Chi Burst has a positional requirement. This is to say, you must be facing your desired target(s) before casting the spell. It is a strong AoE heal, which we believe can provide excellent healing during AoE damage when the raid is stacked together.
5.3.5. Tier 3 Talents
Power Strikes provides its benefit passively, by causing your
Jab,
Expel Harm,
Spinning Crane Kick,
Crackling Jade Lightning, and
Soothing Mist to generate 2 Chi instead of 1, with a 20-second internal cooldown. This is a benefit you should simply enjoy, which will not affect your rotation in any way.
Chi Brew is a minor healing cooldown. The ideal time to use it is when you have 0-2 Chi, and you wish to be able to provide a greater burst of healing, by casting additional
Uplifts or
Enveloping Mists. We believe that it is best used as burst AoE healing, allowing you to basically chain several Uplifts together.
Ascension, should you choose this talent, will also provide its benefit passively, by giving you a larger Chi pool, and higher maximum mana. It allows you to pool 5 Chi in preparation for heavy predictable AoE damage.
5.3.6. Tier 6 Talents
Rushing Jade Wind should be cast whenever there is a need for AoE healing. Since you do not need to channel it, you can continue to go about your normal rotation as soon as you cast it.
Chi Torpedo is also an excellent way to heal your stacked raid members. You should simply roll through them, as this will heal them.
Invoke Xuen, the White Tiger does not provide healing in and of itself, but it does function properly with
Eminence, resulting in some indirect healing in this way. Its high cooldown implies that you should save it for times when you need a burst of healing.
5.4. Roll
Roll is an ability that allows you to quickly move 15 yards in front of you. It is a useful mobility ability, which you should use extensively for quickly traversing short distances. Here are a few facts about Roll:
Roll has no resource cost and no cooldown. It is based on a charge system.

It has a maximum of 2 charges, and each charge has a 20-second recharge time.
The Celerity talent increases the number of charges to 3, and reduces recharge time to 15 seconds.

Roll is off the global cooldown, but while you are rolling, you are unable to use any other ability.
Roll will always send you in the direction that your character is currently moving (including backwards). If your character is stationary, Roll will send you in the direction your character is facing.
You cannot roll through objects or obstacles. If you encounter an obstacle, your Roll is ended prematurely.
Finally,
Chi Torpedo, a tier 6 talent, replaces Roll with Chi Torpedo. Chi Torpedo is identical to Roll in every way, except that it rolls 5 yards further, and it damages enemies and heals allies in your rolling path.
6. Changelog↑top
31 Mar. 2014: Clarified the issue of Spinning Crane Kick's Chi-generation, namely that healing players while Stance of the Wise Serpent is active causes it to also generate Chi. The number of healed targets is added to the number of damaged targets, and as long as the spell is interacting with at least 3 targets, Chi will be generated (for example, in a combination of healing 2 players and damaging 1 NPC).
08 Jan. 2013: Fixed a mention that incorrectly stated that Spinning Crane Kick generates Chi when healing 3 or more allies (in fact, it only does so when damaging 3 or more enemies).
20 Oct. 2013: Removed a mention of Glyph of Expel Harm, following its removal from the game.
11 Sep. 2013: Patch 5.4 update.

Made several updates to account for the fact that Rushing Jade Wind now replaces Spinning Crane Kick.
Made several updates to account for minor changes that certain abilities and talents underwent, and refined the healing rotations slightly.
Added a mention of the fact that Chi Torpedo rolls 5 yards further than Roll.

20 May 2013: Patch 5.3 update: nothing to change.
19 Apr. 2013: Made several updates.
22 Mar. 2013: Removed mention that having walk toggled on causes you to travel a shorter distance through Roll and Chi Torpedo. While this was the case during Patch 5.1, it appears to have been since removed from the game.
10 Mar. 2013: Patch 5.2 update.