Survival Hunter DPS Gems, Enchants, and Consumables (WoD 6.2)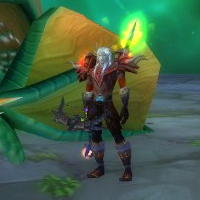 On this page, we present you with the best gems and enchants for a Survival Hunter in World of Warcraft WoD 6.2. We also list the best consumables (food, flasks, and potions) and profession-specific perks.
The other pages of our Survival Hunter guide can be accessed from the table of contents on the right.
This guide has been reviewed and approved by Niix, a top Hunter who raids in Huge in Japan, and whose stream you can watch on Twitch, and by Azortharion, one of the best Hunters in the world, who raids in Danish Terrace. He maintains his own Hunter guide, and you can watch his stream on Twitch.
You should use
Immaculate Multistrike Taladite (better)
Greater Multistrike Taladite (cheaper), or
Multistrike Taladite (even cheaper) in all sockets.
2. Enchants↑top
3. Consumables↑top
3.1. Food
For fights that are purely single-target, you should always eat
Felmouth Frenzy, especially if there is movement involved. The proc of Felmouth Frenzy is RPPM, so it is not affected by movement (it will still proc as often in a movement-heavy encounter), but it does not scale up with additional targets, as stat-based food does. For this reason, this is the food of choice for Fel-Lord Zakuun.
In other situations, you should always eat food that gives you Multistrike. You will be granted:
3.2. Flask
Your flask should be a
Draenic Agility Flask or a
Greater Draenic Agility Flask (better).
3.3. Rune
Your rune should be a
Hyper Augment Rune. Note that you can also use the empowered version with a 1-minute cooldown that you get from Tanaan Jungle:
3.4. Potion
During the encounter, your best choice for a potion will be
Draenic Agility Potion.
4. Changelog↑top
23 Jul. 2015: Felmouth Frenzy + Feast stat attunement update.
22 Jun. 2015: Patch 6.2 update.

Added epic gems.
Added Empowered Augment Runes.