Affliction Warlock DPS Artifact Talents/Traits and Relics (Legion 7.3.5)
Table of Contents
General Information
This page shows you how to level up the Artifact and how to choose the right Relics for your Affliction Warlocks. It is updated for World of Warcraft Legion 7.3.5.
The other pages of our Affliction Warlock guide can be accessed from the table of contents on the right.
About Our Author and Reviewer
This guide has been written by Furty, who has an illustrious history in the World of Warcraft raiding scene and race for World First. He has been a member of guilds such as Serenity, Midwinter, and many more, and is currently raiding in Future. He plays most classes at the highest level. You can follow him on Twitter and watch him play on Twitch.
This guide has been reviewed and approved by Deepshades, a top raider who plays in Method; you can watch his stream on Twitch and follow him on Twitter.
1. Artifact Progression for Affliction Warlock — First 35 Points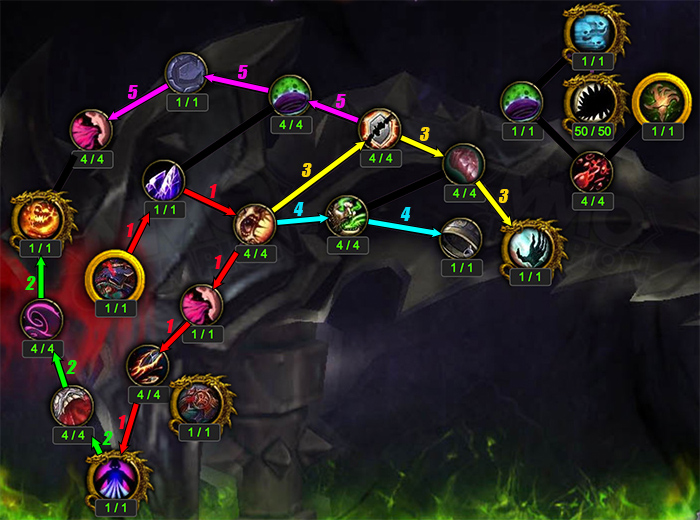 1.1. Early Point Investment
After acquiring the starting trait,

Crystalline Shadows, swing right and pick up

Inherently Unstable. Head down into

Sweet Souls for some extra defensive punch from Healthstones, and continue into

Perdition. Grab your first Golden Trait,

Wrath of Consumption, which is a good all around damage increase and a strong bonus in most situations.
1.2. Second Golden Trait
Head upwards into

Hideous Corruption for additional

Corruption damage.

Shadowy Incantations is a good overall increase. Acquire your second Golden Trait,

Soul Flame, which is exceptional in farming Mythic+ and allows for some bonkers AoE if the situation is right.
1.3. Third Golden Trait
Backtrack to

Inherently Unstable and head upwards, investing into

Inimitable Agony, which is a very strong trait in all situations. Continue down the upper spine into

Shadows of the Flesh for some more defensive utility. Acquire your final Golden Trait,

Harvester of Souls, which is a nice way to round out your primary path.
1.4. Final Point Investment
Final point investment is straightforward. Pick up

Drained to a Husk, which allows you to access

Fatal Echoes. After this, follow the top spine towards the left, starting with

Seeds of Doom. Talent into

Compounding Horror before completing your Artifact traits with your final node,

Long Dark Night of the Soul.
2. Patch 7.2: 35+ Trait Path for Affliction Warlock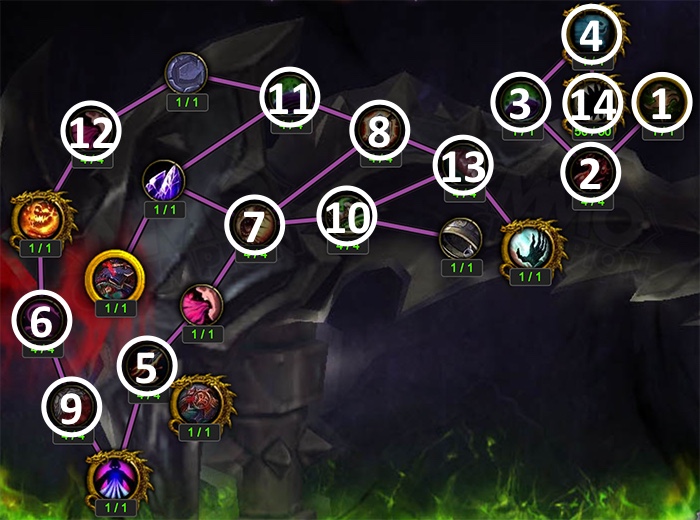 Patch 7.2 has replaced the 35-54 Paragon system with several additional new traits becoming available upon acquisition of the 35th point. All of the previous Relic traits will also unlock a 4th rank, along with a new Paragon system becoming available after all traits have been filled (via

Concordance of the Legionfall) which all additional Artifact Power will be spent on.
Detailed below is our suggested maxing order after 35 traits:
3. Relic Priority for Affliction Warlock
All relics are very close in value for Affliction, and item level should generally be the indicator for value. No trait is worth more than 2 weapon item levels.
4. ChangeLog
13 Jun. 2017: Added further context for artifact relic item levels.
17 May 2017: Updated Relic priority.
27 Mar. 2017: Added path for new 7.2 traits.
13 Jan. 2017: Updated Relic priority slightly.
09 Jan. 2017: Checked and confirmed for Patch 7.1.5.
12 Dec. 2016: Updated Artifact path and images.
29 Aug. 2016: Added.
+ show all entries
- show only 10 entries