Blood Death Knight Tank NetherLight Crucible Relic Paths (Legion 7.3.2)
Table of Contents
General Information
This page will help you choose the right paths on your Netherlight Crucible as a a Blood Death Knights. It is updated for World of Warcraft Legion 7.3.2. For more information, please read our Guide to the Netherlight Crucible.
The other pages of our Blood Death Knight guide can be accessed from the table of contents on the right.
About Our Reviewer
This guide has been reviewed and approved by Volstatsz, a Blood Death Knight theorycrafter and moderator for the Acherus Death Knight community. You can follow him on Twitter.
1. General Optimization Advice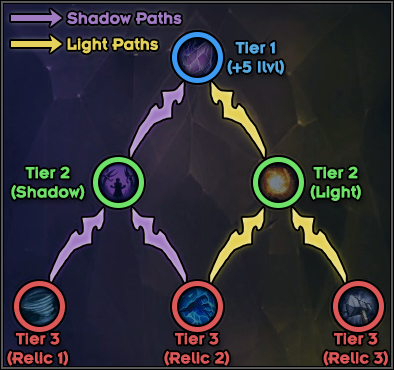 Optimizing through the Netherlight Crucible is straightforward; you are offered 2 initial paths, Shadow and Holy, and you should determine your path contingent on the following suggestions.
2. Path Choices
The Tier 2 Netherlight Crucible traits are all very strong, easily more valuable than the bonus Tier 3 trait provided by a given relic. The strongest trait, defensively, is

Master of Shadows in current content, as the hardest-hitting abilities in Tomb of Sargeras are all reduced by Avoidance.
Very close behind it are

Shadowbind and

Chaotic Darkness. Other acceptable Tier 2 traits include

Murderous Intent,

Torment the Weak,

Light Speed, and

Refractive Shell.
As for Tier 3 traits, continue to prioritise

Carrion Feast,

Dance of Darkness, and

Veinrender, but do not prioritise getting optimal artifact traits over getting optimal Netherlight Crucible Tier 2 traits.
3. ChangeLog
+ show all entries
- show only 10 entries
12 Sep. 2017: Added Netherlight Crucible page for Blood Death Knight.