Fury Warrior DPS NetherLight Crucible Relic Paths and Weights (Legion 7.3.5)
Table of Contents
General Information
This page will help you choose the right paths on your Netherlight Crucible as a a Fury Warriors. It is updated for World of Warcraft Legion 7.3.5. For more information, please read our Guide to the Netherlight Crucible.
The other pages of our Fury Warrior guide can be accessed from the table of contents on the right.
About Our Author and Reviewer
This guide has been written by Wordup, a frequent theorycrafter involved in a number of class communities. He is also an experienced player who has been in the world top 100 since the days of Sunwell, currently raiding in Echoes. You can also follow him on Twitter.
This guide has been reviewed and approved by Archimtiros, one of the best DPS Warriors in the world, who raids in Infinity. You can follow him on Twitter.
1. Optimization between Light/Shadow Tier 2 and Relic Tier 3 Choices for Fury Warrior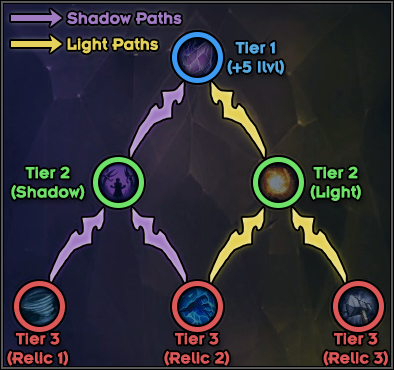 Optimizing around the Netherlight Crucible for Fury is more focused on your Tier 3 options than many specs, so making sure you can gain the most value out of your crucible options by aiming for a rounded relic centred on your T3 options will net the most DPS.
Below, I will be listing the individual values of all of the Crucible traits, so in some fringe cases certain combinations may come out slightly more valuable than would appear obvious, just combine the values together and the number should generally provide a good guide as to how you want to build your relics.
2. Light/Shadow Tier 2 Options for Fury Warrior
2.1. Best
2.2. Good
2.3. Weak
Note that anything with defensive added next to it has additional benefit from through the defensive bonuses they also grant. This has no value for dealing damage, but some players may want to focus on this depending on the content they participate in.
3. Tier 3 Priorities for Fury Warrior
Ideally, you should attempt to take the best Tier 2 trait to lead to the ideal Tier 3 trait listed below, to create the best combination of options. Below shows the relative trait values (assuming the relic does not already have it available) that you should aim for (note that these values are generated with the Tier 21 4-piece bonus, so may be slightly different without it):
The traits not listed here (

Bloodcraze,

Battle Scars, and

Uncontrolled Rage) are very low value traits that are either defensively oriented or provide little to no benefit, and should be avoided wherever possible.
4. ChangeLog
28 Nov. 2017: Updated for Antorus release.
12 Sep. 2017: Added Netherlight Crucible page for Fury Warrior.
+ show all entries
- show only 10 entries