Mistweaver Monk Healing Artifact Talents/Traits and Relics (Legion 7.3.5)
Table of Contents
General Information
This page shows you how to level up the Artifact and how to choose the right Relics for your Mistweaver Monks. It is updated for World of Warcraft Legion 7.3.5.
The other pages of our Mistweaver Monk guide can be accessed from the table of contents on the right.
About Our Reviewer
This guide has been reviewed and approved by Suplift, a long-time Mistweaver Monk theorycrafter who raids in Ego (the guild that resulted from the merger of Lotion and Entropy). You can follow him on Twitter: @suplift.
1. Artifact Progression for Mistweaver Monks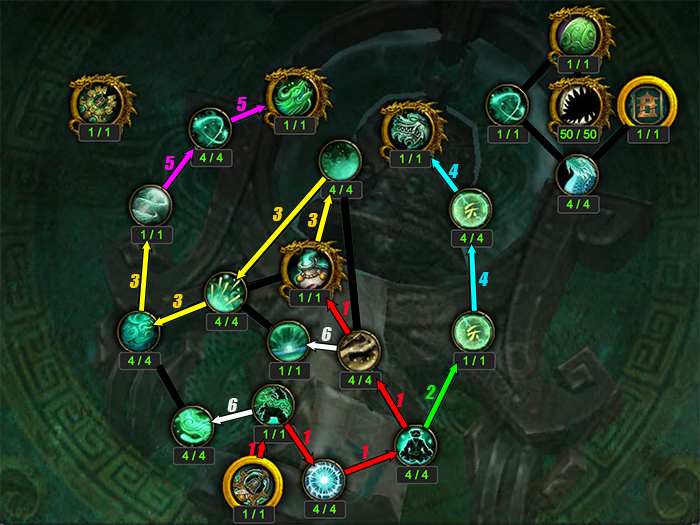 For the first 35 points, the Artifact progression path for Mistweaver Monks is straightforward for a number of traits, after which you will be confronted with a choice between

Dancing Mists and

Blessings of Yu'lon. We recommend Dancing Mists, but Blessings of Yu'lon can be viable.
Regardless of your later choices, the first 15 points should be invested as follows.
At this point, you should either take

Dancing Mists (by taking

Infusion of Life and

Shroud of Mist first), or

Blessings of Yu'lon (by taking

Protection of Shaohao first).
Regardless of which choice you go for, the next step should be to complete the other path. Once you have both Dancing Mists and Blessings of Yu'lon, take

Coalescing Mists on your way to

Celestial Breath, and then take any remaining traits (with

Light on Your Feet being the least valuable one).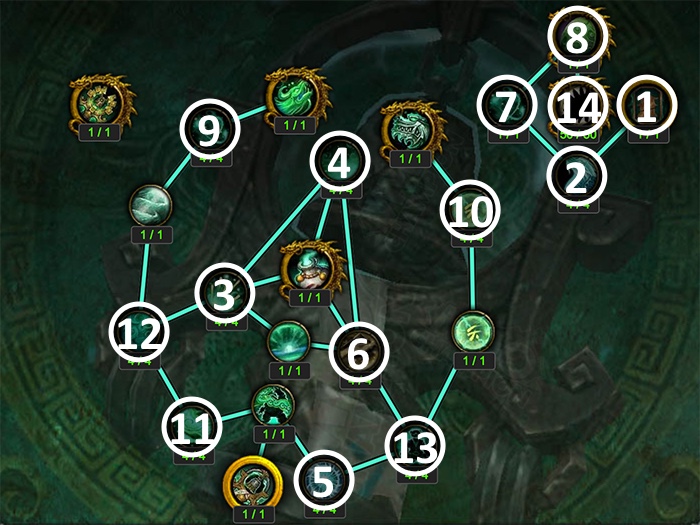 After this, you should take the remaining traits (added in Patch 7.2) as follows.
2. Relic Choice for Mistweaver Monks
Both the item level and trait of the relic can have a huge impact on your choice. Each trait is worth a certain number of item levels in terms of raw performance; below is a list of each trait and how much they are worth in terms of your weapon's item level. When comparing relics, you should compare the combined item level increase provided by the actual relic and the value in the list below, and then choose the relic with the higher combined value.
2.1. Raiding/Fistweaving
Essence of the Mists (+3 item levels)
Extended Healing (+2 item levels)
Infusion of Life (+1 item level)
Everything else (+0 item levels)
2.2. Mythic+
Way of the Mistweaver, Infusion of Life, Extended Healing, and Essence of the Mists (+2 item levels)
Everything else (+0 item levels)
3. ChangeLog
13 Jun. 2017: Updated relic priorities.
27 Mar. 2017: Added path for the Artifact traits added in Patch 7.2.
10 Jan. 2017: Updated Relic recommendations.
07 Sep. 2016: Tweaked Relic priorities.
30 Aug. 2016: Removed mention of first taking 1/3 in Extended Healing before maxing it out; you can now go for 3/3 directly.
30 Aug. 2016: Clarified and improved the Artifact path (no changes to early point distribution).
29 Aug. 2016: Added.
+ show all entries
- show only 10 entries