Protection Paladin Tank NetherLight Crucible Relic Paths (Legion 7.3.5)
Table of Contents
General Information
This page will help you choose the right paths on your Netherlight Crucible as a a Protection Paladins. It is updated for World of Warcraft Legion 7.3.5. For more information, please read our Guide to the Netherlight Crucible.
The other pages of our Protection Paladin guide can be accessed from the table of contents on the right.
About Our Reviewer
This guide has been reviewed and approved by Treckie, one of the best Protection Paladins in the world, who raids in Prime. You can watch his stream on Twitch and you can follow him on Twitter.
1. General Optimization Advice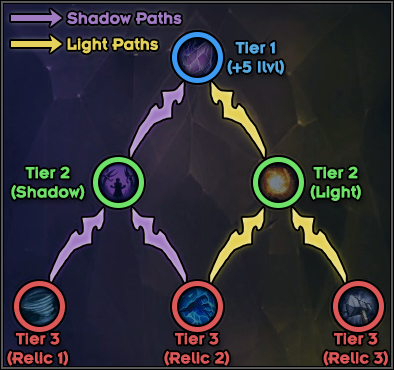 Optimizing through the Netherlight Crucible is straightforward; you are offered 2 initial paths, Shadow and Holy, and you should determine your path contingent on the following suggestions.
Defensively, you should mostly use the highest item level relic you have and simply make the best of the traits it provides you with. The exception to this is

Unflinching Defense, which is a trait you should try to get in all 3 of your relics, if at all possible. If you can combine this trait with

Bastion of Truth or

Resolve of Truth, then that is a very solid defensive relic.
Offensively, you can sacrifice item levels to make sure all 3 relics have both

Consecration in Flame and

Hammer Time.
2. Tier 2 Upgrade Priority
As stated above, you should choose your relics based on their trait or on their tier 3 trait, and then simply choose the best path through tier 2 based on this priority.
Best: Light Speed, Master of Shadows, and Murderous Intent.
Bad: Light's Embrace, Shocklight, Torment the Weak, and Dark Sorrows.
3. Tier 3 Upgrade Priority
The Tier 3 upgrades priority has been discussed at the top of this page.
4. ChangeLog
+ show all entries
- show only 10 entries
12 Sep. 2017: Added Netherlight Crucible page for Protection Paladin.