Restoration Druid Healing Artifact Talents/Traits and Relics (Legion 7.3.5)
Table of Contents
General Information
This page shows you how to level up the Artifact and how to choose the right Relics for your Restoration Druids. It is updated for World of Warcraft Legion 7.3.5.
The other pages of our Restoration Druid guide can be accessed from the table of contents on the right.
About Our Reviewer
This guide has been reviewed and approved by Torty, a theorycrafter in the Dreamgrove Discord server, author of this Restoration Druid spreadsheet, and currently raiding in Pure.
1. Artifact Progression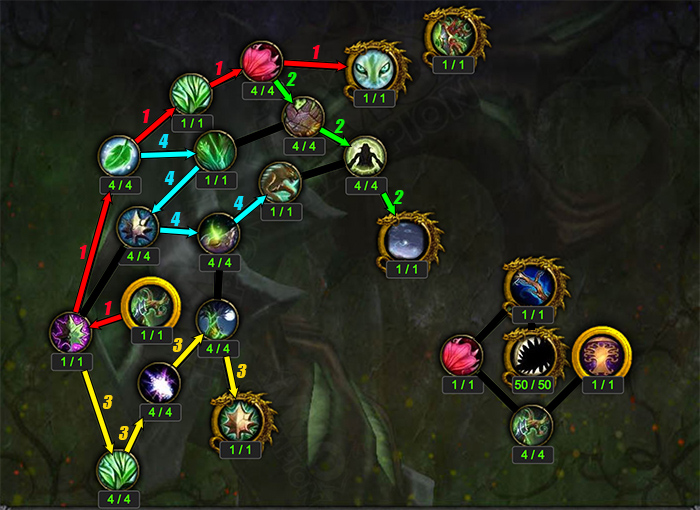 We recommend this path as the default way of distributing your Artifact points. It will increase your throughput and allow you to cast

Tranquility while moving, both of which are very valuable things to go for.
1.1. Patch 7.2 Artifact Points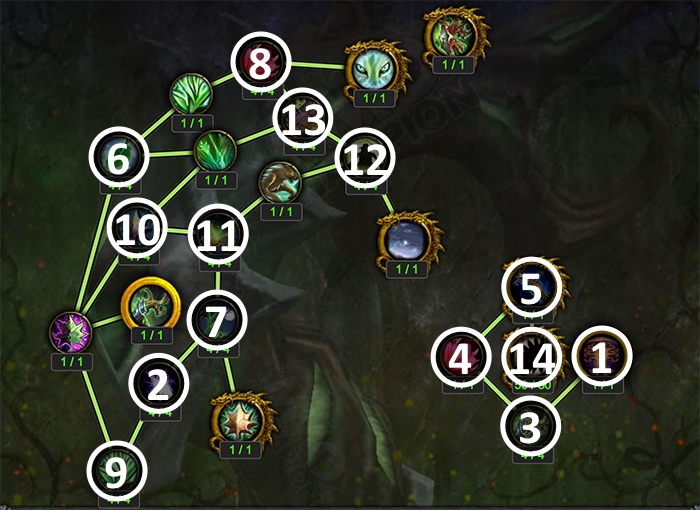 After this distributing your first 35 points, your remaining points should be distributed as follows.
2. Relic Choice
Use the following order to guide you when choosing relics. Only the top 3 relics' effects are worth item levels on your weapon (listed alongside them); for the other relics, simply follow the priority in case of relics of the same item level, and otherwise choose the higher item level ones.
Persistence (+

~

3 item levels)
Knowledge of the Ancients (+2.5 item levels)
Grovewalker (+2 item levels)
Infusion of Nature (+

~

1.5 item levels)
Eternal Restoration (+1 item level)
Essence of Nordrassil (+0.7 item levels)
Natural Mending (+0.5 item levels)
Seeds of the World Tree, Blessing of the World Tree, and Armor of the Ancients (+0 item levels)
3. ChangeLog
+ show all entries
- show only 10 entries
29 Jan. 2018: Made a small update to the Essence of Nordrassil relic weight.
27 Nov. 2017: Made a small change to the item level values of Persistence and Infusion of Nature.
12 Sep. 2017: Updated relic priority slightly.
12 Jun. 2017: Slightly updated the initial artifact path and revamped the 7.2 artifact path. Also updated relic recommendations.
30 Mar. 2017: Changed the 7.2 artifact path to move the Grace of the Cenarion Circle trait to the first position.
28 Mar. 2017: Added path for the artifact traits added in Patch 7.2 and made a slight change to the relic priority.
29 Aug. 2016: Added.