Restoration Druid Healing Artifact Talents/Traits and Relics (Legion 7.2)
Table of Contents
General Information
This page shows you how to level up the Artifact and how to choose the right Relics for your Restoration Druids. It is updated for World of Warcraft Legion 7.2.
The other pages of our Restoration Druid guide can be accessed from the table of contents on the right.
About Our Reviewer
This guide has been reviewed and approved by Gamko, a top Restoration Druid who raids in Serenity, one of the best guilds in the world.
1. Artifact Progression
There are two different Artifact progression paths you can take for your first 35 Artifact points, as a Restoration Druid, and a single path for the remaining points.
1.1. First Path
We recommend this path as the default way of distributing your Artifact points. It will increase your throughput and allow you to cast

Tranquility while moving, both of which are very valuable things to go for.
1.2. Second Path
This path focuses on solving Mana problems at the expense of increased throughput and the ability to use

Tranquility while moving. We do not recommend it as a default choice, but it is a possibility.
1.3. Patch 7.2 Artifact Points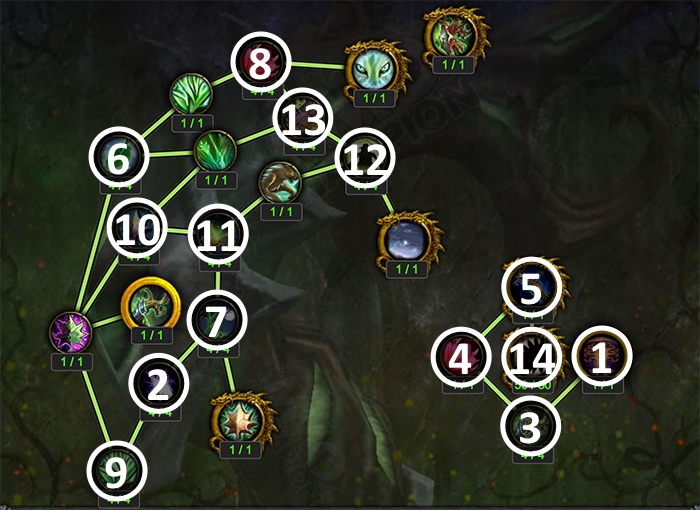 After this distributing your first 35 points, your remaining points should be distributed as follows.
Note that the order of the traits after

Deep Rooted is more or less preference-based, so feel free to modify it. Also note that this path takes the Mana traits first, but if you are not lacking for Mana, you can skip directly to the throughput traits instead (so skip the first 2).
2. Relic Choice
When choosing which Relics to use, always take the one that grants you the highest item level, regardless of the benefit it offers. When having to choose between Relics that grant the same item level, chose based on the following trait enhancement considerations.
Lacking any of these Relics,

Armor of the Ancients and

Seeds of the World Tree provide minor benefits.
3. ChangeLog
30 Mar. 2017: Changed the 7.2 artifact path to move the Grace of the Cenarion Circle trait to the first position.
28 Mar. 2017: Added path for the artifact traits added in Patch 7.2 and made a slight change to the relic priority.
29 Aug. 2016: Added.

CONTENTS


FROM THE DRUID FORUMS


RECENT FORUM POSTS
VISIT FORUMS


POPULAR FORUM THREADS
VISIT FORUMS