If you're looking to defeat Ashava during the Diablo 4 Server Slam to earn the Beta-exclusive mount trophy, here you will find the exact spawn times for the world boss.
Where Does Ashava Spawn?
Ashava spawns in the bottom right corner of the map, as shown in the screenshot below.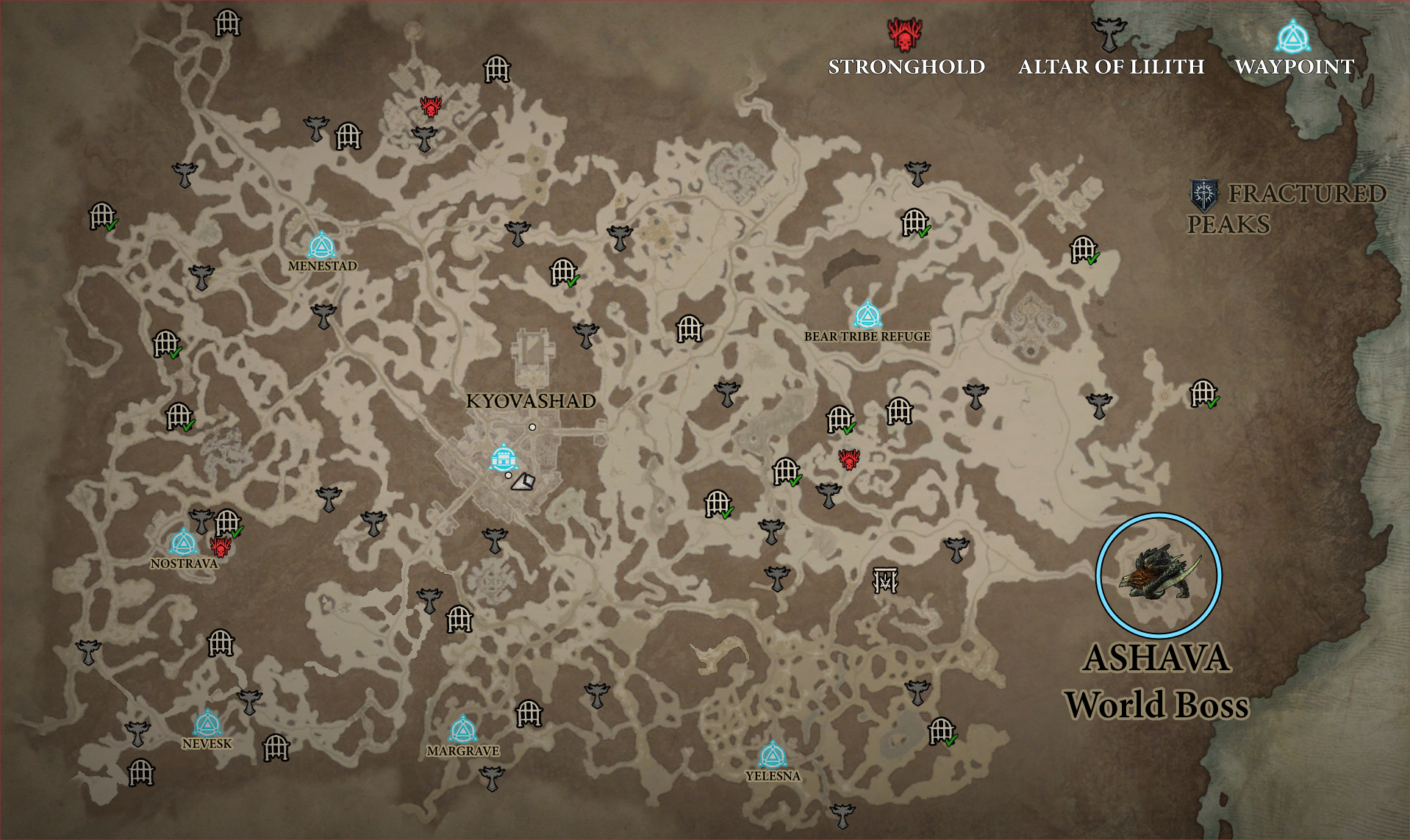 World Boss Ashava Server Slam Spawn Times
The world boss will spawn 9 times during the Server Slam with each spawn being up for 15 minutes. A reddit user has created a useful cheatsheet with localized spawn times for your region.
Pacific Daylight Time [PDT] UTC-7
Saturday, May 13th 9AM | 12PM | 3PM | 6PM | 9PM
Sunday, May 14th 12AM | 3 AM | 6AM | 9AM
Mountain Daylight Time [MDT] UTC-6
Saturday, May 13th 10AM | 1PM | 4PM | 7PM | 10PM
Sunday, May 14th 1AM | 4AM | 7AM | 10AM
Central Daylight Time [CDT] UTC-5
Saturday, May 13th 11AM | 2PM | 5PM | 8PM | 11PM
Sunday, May 14th 2AM | 5AM | 8AM | 11AM
Eastern Daylight Time [EDT] UTC-4
Saturday, May 13th 12PM | 3PM | 6PM | 9PM
Sunday, May 14th 12AM | 3 AM | 6AM | 9AM | 12PM
Greenwich Mean Time [GMT] UTC+0
Saturday, May 13th 4PM | 7PM | 10PM
Sunday, May 14th 1AM | 4AM | 7AM | 10AM | 1PM | 4PM
Central European Time [CET] UTC+2
Saturday, May 13th 6PM | 9PM | 12PM
Sunday, May 14th 3AM | 6AM | 9AM | 12AM | 3PM | 6PM
China Standard Time [CST] UTC+8
Sunday, May 14th 12AM | 3 AM | 6AM | 9AM | 12PM | 3PM | 6PM | 9PM
Monday, May 15th 12AM
Japan Standard Time [JST] UTC+9
Sunday, May 14th 1AM | 4AM | 7AM | 10AM | 1PM | 4PM | 7PM | 10PM
Monday, May 15th 1AM
(Source)
And here's a look at what the exclusive Server Slam mount trophy looks like: