Introduction
Fractured Peaks is the starting zone of Diablo 4 and is a frozen, rocky, mountainous area in Sanctuary, located between Scosglen and Hawezar. It is also home to a mysterious sect of monks (Cathedral of Light). The peaks took inspiration from Victorian Gothic horror, and are based on the Carpathian Mountains.
Zone Map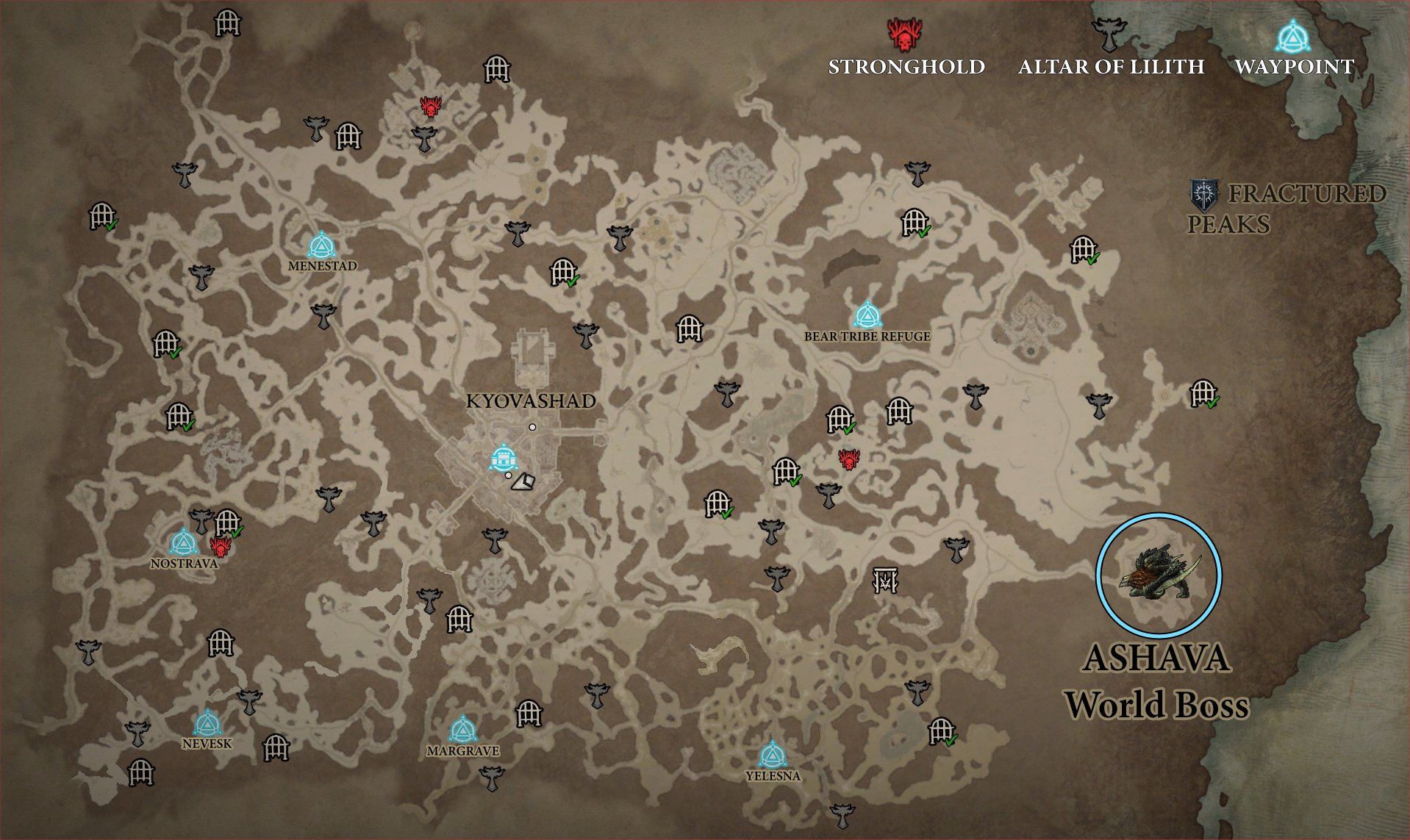 Above is a fully explored map of the zone.
Main Town: Kyovashad
Kyovashad is the biggest hub of the Fractured Peaks and has many NPCs as well as a waypoint for quick travel. Most notable shops such as the Blacksmith, Jeweler, and Occultist are located near the center area of the town.
Reaching Kyovashad will grant new players the title of "Initial Casualty".
Waypoints
There are seven Waypoints located within the Fractured Peaks.
Waypoints make it possible to move through a territory much more quickly than by walking or riding a mount alone. Traveling to World Boss Events, for instance, can be shortened by being aware of important waypoints.
Bear Tribe Refuge – Waypoint inside the town, Northwestern part of Seat of the Heavens.
Kyovashad – Waypoint inside the town, Northeastern part of Desolate Highlands.
Menestad – Waypoint inside the town, Western part of Sarkova Pass.
Margrave – Waypoint inside the town, Southwestern part of Dobrev Taiga.
Nevesk – Waypoint inside the town, Southwestern part of Desolate Highlands.
Yelesna – Waypoint inside the town, Southwestern part of Galle Valley.
Nostrava – Waypoint inside the Stronghold. This can be accessed once the Stronghold has been cleansed of evil.
Unique Materials
The Biteberry herb is unique to the area and can only be found inside the Fractured Peaks region.
Renown and Completion
One of the most effective ways to increase your power is through Renown! The Fractured Peaks have a lot to discover and explore. Either through doing side Dungeons, collecting Altars of Lilith, liberating Strongholds and more.
Here is a list of all known Fractured Peaks Renown activities:
Waypoints: 7
Strongholds: 3
Side Quests: 35
Side Dungeons: 23
Altars of Lilith: 28
Areas that can be discovered: 77
You can always check your region progress by opening the Map and then decide how many Side Quests and Dungeons you still need, in order to collect all available Skill Points, Potion Charges and Paragon Points.
We have a separate page that lists all of the Altars of Lilith in this zone, as well as their rewards.
Altars of Lilith in Fractured Peaks
Renown Rewards
Completing Renown activities throughout the Fractured Peaks will unlock the following rewards:
| Stage 1 | Stage 2 | Stage 3 | Stage 4 | Stage 5 |
| --- | --- | --- | --- | --- |
| +Bonus XP | +Bonus XP | +Bonus XP | +Bonus XP | +Bonus XP |
| +3,000 Gold | +10,000 Gold | +25,000 Gold | +60,000 Gold | +150,000 Gold |
| +1 Skill Points | +1 Potion Charge | +1 Skill Points | +80 Max Obols | +4 Paragon Points |
Here is a short summary of things to do within the Fractured Peaks to gain Renown as quickly as possible:
Explore the entire region and discover all available Waypoints for quick travel.
Remember to check your Renown progress by opening the Map.
Clear out all three Strongholds, so that the areas become friendly.
Complete all (blue) Side Quests and Dungeons
Pick up Biteberry herbs on your way.
Collect all Altars of Lilith.
Strongholds
Strongholds are event areas that are marked by a red skull on the mini-map. They are occupied by different enemies which must be cleared out in order to unlock the area as a friendly part of the Region. In most cases, a Stronghold becomes a player-friendly town after it has been purged of enemies, however it can also become a dungeon.
Each completed Stronghold also grants 100 Renown and experience. Waypoints and Dungeons will only become unlocked after successfully purging the Stronghold. In total, there are three Dungeons and one Waypoint that can be unlocked by completing all three Strongholds in the Fractured Peaks.
Kor Dragan – Located in the Northwestern part of the Region.
Malnok – Located in the Eastern part of the Region.
Nevesk – Located in the Western part of the Region.
World Boss: Ashava
Ashava the Pestilent is a massive world boss located within an area known as The Crucible, at the bottom right region of the Fractured Peaks. Check out our dedicated guide.
Ashava the Pestilent Guide
Ashava is dangerous to both melee and ranged players. She breathes poison onto her enemies and even extends her enormous wings to sweep across the battlefield, dealing Physical damage to anyone in the way. Ashava's attacks are insanely powerful and can kill unwary players in one swing.
However, It is worth sticking around and fighting together, as world bosses can drop a special item called Scattered Prism, which is used to add sockets to certain slots of gear.