The World of Sanctuary
Fractured Peaks Overview
Scosglen Overview
Dry Steppes Overview
Hawezar Overview
Kehjistan Overview
This page provides an overview of all five Diablo 4 zones, containing information about everything that is known at this time. Where available, we direct you to the more relevant and detailed guides for each zone.
Unlike previous games in the series, Diablo 4 offers a fully open world. Players can seamlessly travel through five distinct zones as they explore Sanctuary. Each of the Zones has a very unique feel, with different weather, and enemies to face.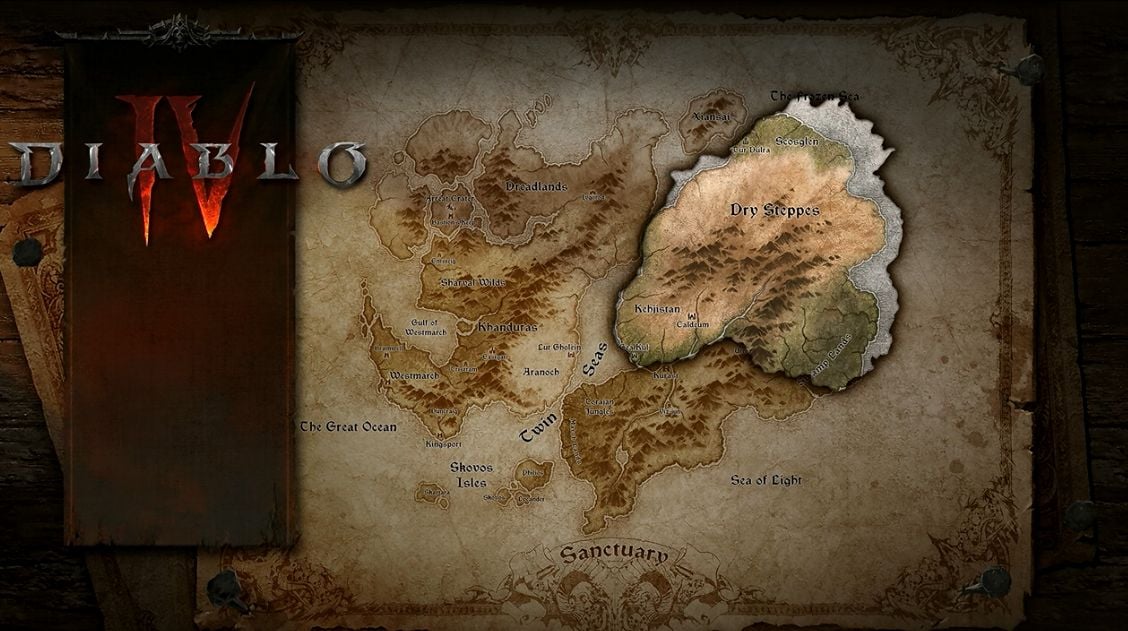 The image above shows the highlighted area that contains the 5 regions that will be playable.
The image below, on the other hand, shows said area in more detail. Those parts of Sanctuary, that players get to discover throughout their Diablo 4 journey, are vast.
Altars of Lilith in Fractured Peaks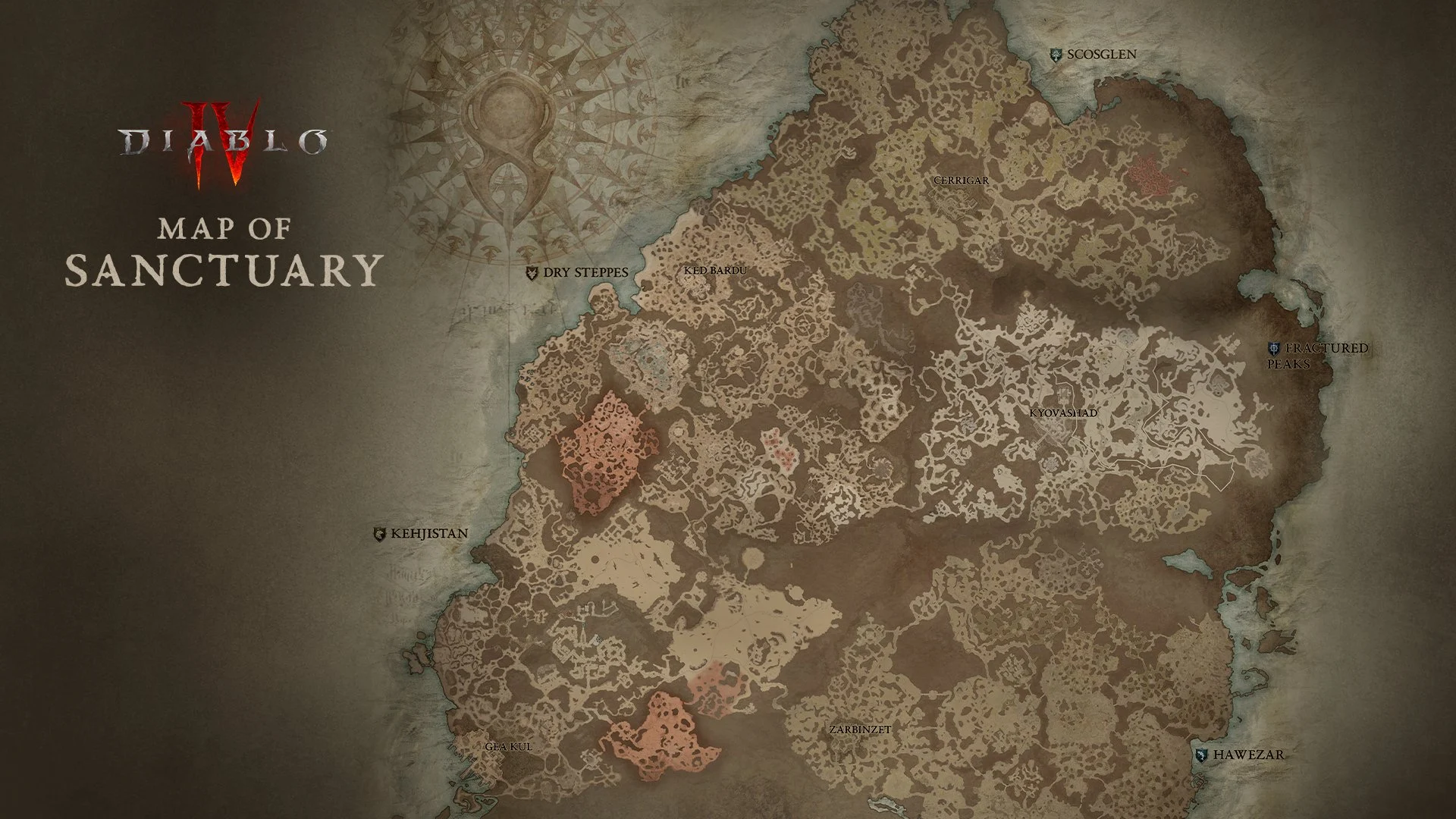 As always: to see a bigger picture of the image, please click on it.
Fractured Peaks
Fractured Peaks is the starting zone of Diablo 4 and is a frozen, rocky, mountainous area in Sanctuary, located between Scosglen and Hawezar. It is also home to a mysterious sect of Monks (Cathedral of Light). The peaks took inspiration from Victorian Gothic horror, and are based on the Carpathian Mountains.
Fractured Peaks summary:
Starting Zone
Cold, freezing area with harsh weather
Located Southeast of Scosglen, East of Dry Steppes and North of Hawezar
Main hub: Kyovashad
World Boss: Ahsavar
For a full zone overview, refer to our dedicated Fractured Peaks Zone Guide. We also have a separate page with the exact locations of all the Altars of Lilith in Fractured Peaks.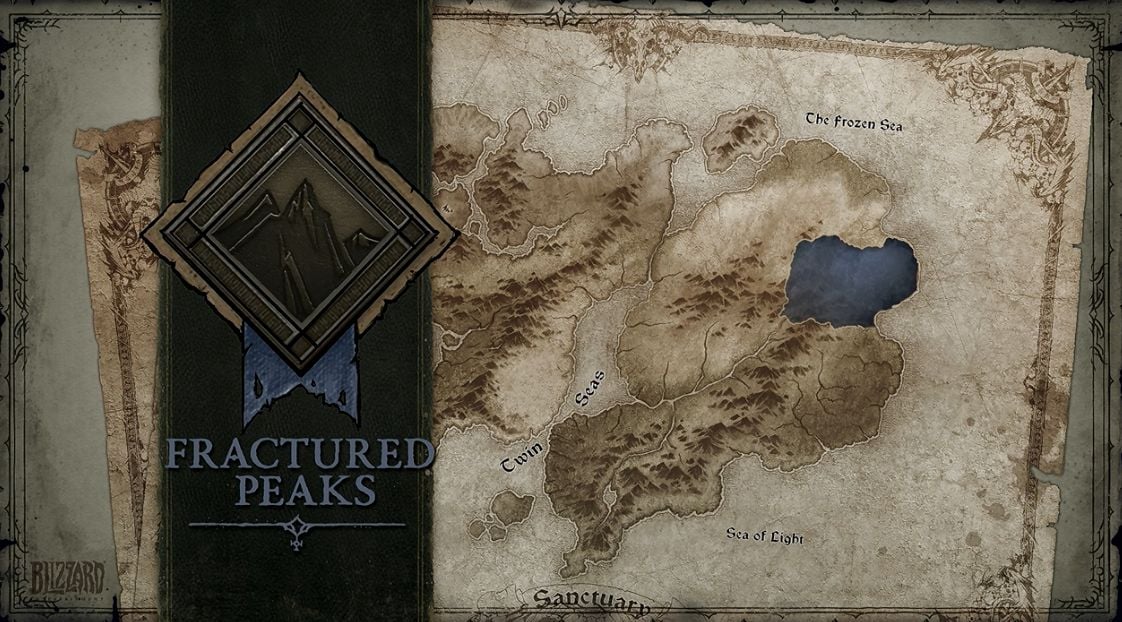 Scosglen
Scosglen is the Druids ancestral home and is also the place where their secrets are kept. The mountains and deep forests of this land make it an untamable, rugged, and beautiful place. But it is also savage and wild, ravaged by werewolves and surrounded by a constant gloomy fog.
Scosglen summary:
Located in the Northeast of Sanctuary
Home to the Druids
The mighty oak tree Glor–an–Fhaidha can be found here
Main hub is located on the coast, inhabited by local fisherman
For a full zone overview, refer to our dedicated Scosglen Zone Guide. We also have a separate page with the exact locations of all the Altars of Lilith in Scosglen.
Altars of Lilith in Scosglen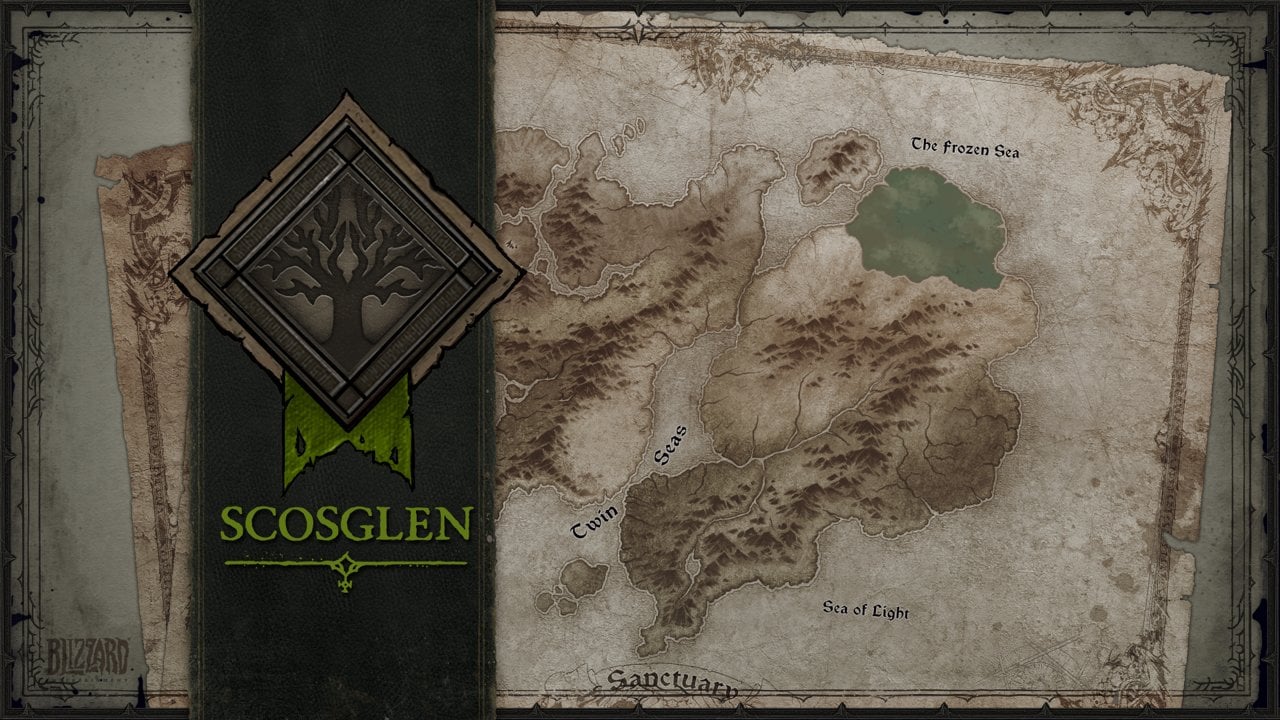 Dry Steppes
The Dry Steppes are a war-ravaged region, with deep canyons and boiling hot water. Different groups fight each other in brutal battles while unrest is starting to rise. To get more power, people even turn to cannibalism. To live in the Dry Steppes, one must either follow a life of ruthlessness or desperation.
Dry Steppes summary:
A desert wasteland
Located southwest of Scosglen, west of Fractured Peaks and north of Kehjistan
Home to Barbarians, Mercenaries, Blood Mages, and Cannibals
The ruins of Qara-Yisu and Orbei Monastery are two main locations inside the Dry Steppes
Altars of Lilith in Dry Steppes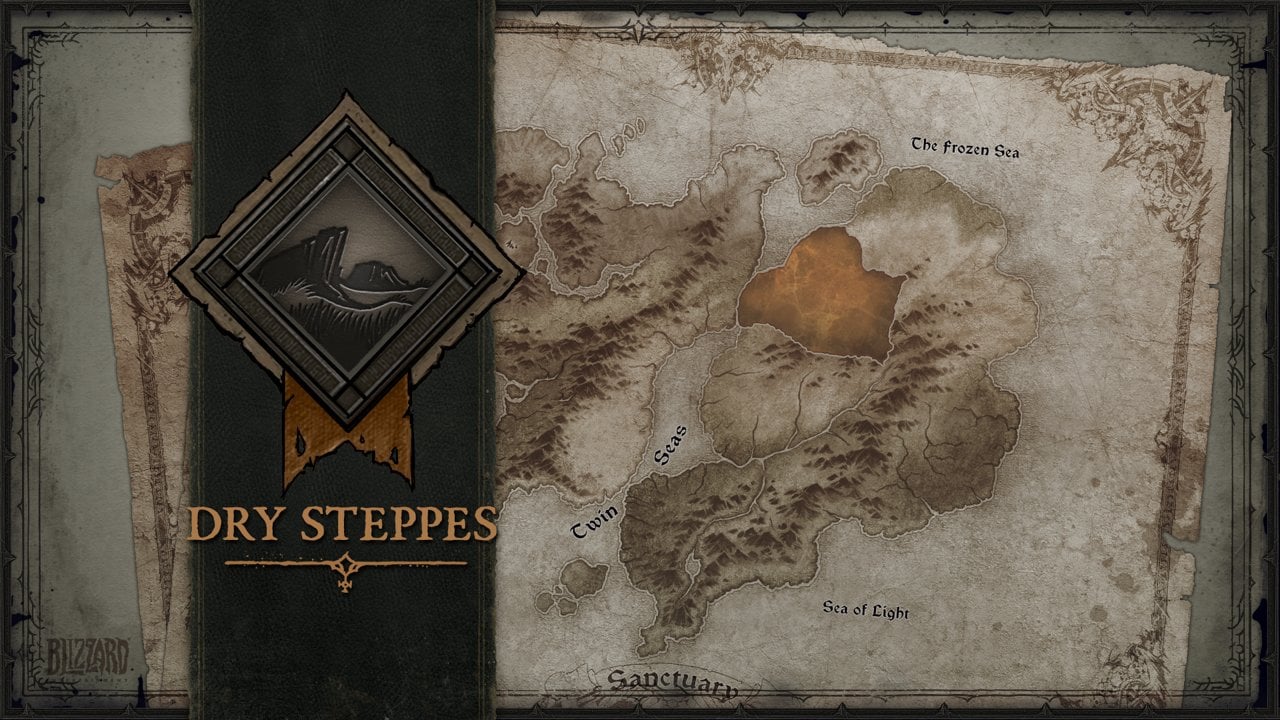 Hawezar
Hawezar is an infested swampland, home to countless threats of witchcraft and zealotry. Disease has spread throughout the region and is deep-rooted in everything from the people to the land itself. Those who enter here do so to be forgotten or to avoid law and order. Only murderers, assassins, thieves, and dark traders would call this their home.
Hawezar summary:
Swamp region
Located south of the Fractured Peaks and east of Kehjistan
A place where criminals and elements of the shadow seek refuge
Home to a cult of dark witches and their snake god
Altars of Lilith in Hawezar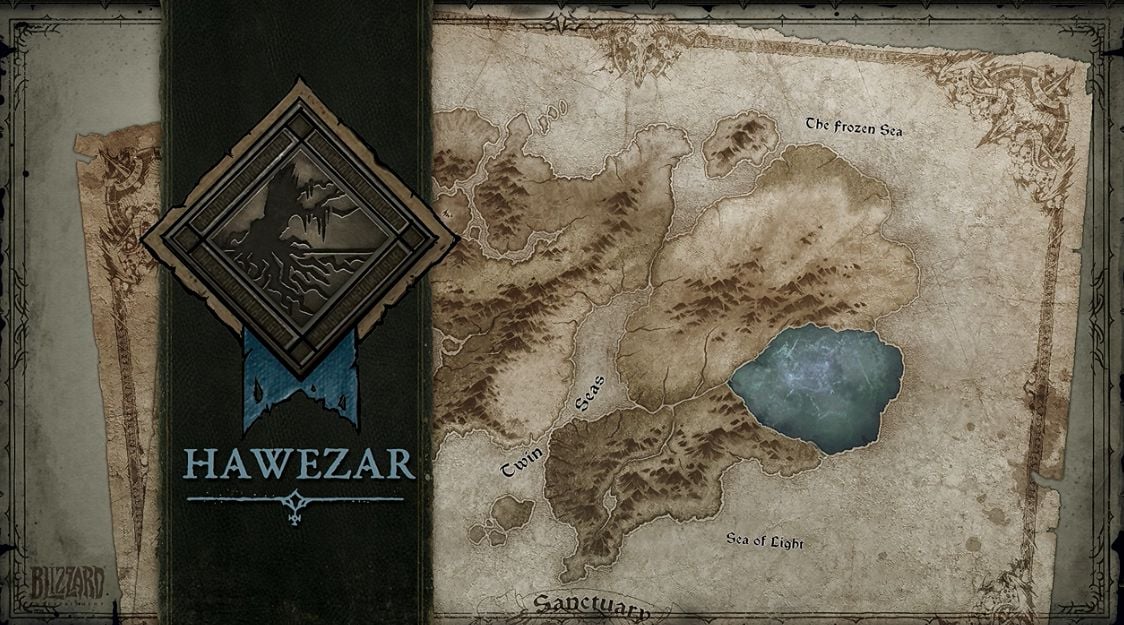 Kehjistan
Kehjistan is the desert region that holds Alcarnus and Caldeum and it is quickly falling into the hands of a group of cultists that have rapidly found great levels of power. As they pillage the ruins of the desert, their newfound power only helps to serve their ultimate goal of returning the Prime Evils to their former glory.
Located south of Dry Steppes and west of Hawezar
Separated into two zones: vast dunes in the north, and a dense rainforest to the south
Last Bastion of the Zakarum
Cultists and Demons rule over this zone
Altars of Lilith in Kehjistan