We recently had a look at the most stingy Butcher ever, dropping literally nothing. But now it's time for the (almost) opposite!
PhoeniX-Skye ran across a particularly giving Butcher, as he shared almost all of his gear with the player!

Both the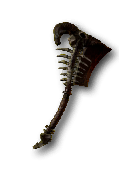 The Butcher's Cleaver and his other cleaver dropped, with only the mount missing! The weapon in particular is actually pretty useful for boss fights with all the stagger it can generate, and the trophy cleaver was recently improved and enlarged as well!
How has your Butcher loot luck been?