EDIT: Mega Bloks will be providing surprise prizes for the winners!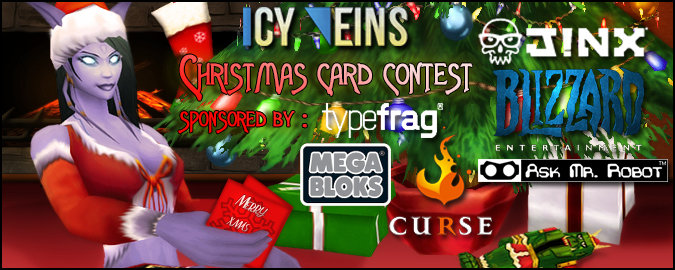 The time has come for you, our dear readers, to vote for your favorite Christmas Cards from among the 20 best sumissions we received! Voting will close on Wednesday, the 25th of December at 22:00 GMT. Make sure to click the cards to see them in full resolution.
We selected these 20 entries from the 159 submissions we received by asking a number of friends what their 10 favorite cards were. Then, we simply retained the cards that got the most votes. The people we asked were: our moderating team (excluding those who had submitted entries), Team Robot, chaud from MMO-Champion, Anne Stickney and Dawn Moore from WoW Insider, Steve DeVries from J!NX, our account manager at Intergi, and Twintop (our Shadow Priest reviewer).