Advertise
Audience
With 4 million readers a month, Icy Veins is one of the leading World of Warcraft websites, and the only one to provide raiders (the core players of the game) with a one-stop shop for all their needs. We also cover other Blizzard Entertainment titles, such as Hearthstone, Diablo 3, Heroes of the Storm, and Overwatch.
Contact
If you have advertising inquiries, please send us an e-mail at [email protected].
Page Layout
All our pages feature 3 ad units (including 2 above the fold):
a 728x90 banner just below the navigation;
a 300x250 rectangle on the right, just below the aforementioned banner;
a 728x90 banner just above the footer.
In addition, on our guide pages we have a second 300x250 rectangle, at the bottom of the right-side column.
Accepted Ads and Reporting Bad Ads
We do not accept intrusive ads, such as interstitial ads, overlay ads, popups, popunders, and ads that play a sound without user interaction.
We wrote a detailed post about our stance on ads on our forums. Please refer to it, if you want to report an ad or simply click the Report Advertisement button that you can find beneath any ad unit.
Note that we do not accept advertising for goods or services that violate the terms of use of any of the games published by Blizzard Entertainment. Please send a mail to [email protected] if you spot any such ad (typically, ads for gold-selling or powerleveling services).
Skins and Takeovers
We accept takeovers, skins and video walls, but they must be promoting something that our audience would be interested in. Below, you will find a list of previous such promotions.
June 2017, Diablo 3 Necromancer: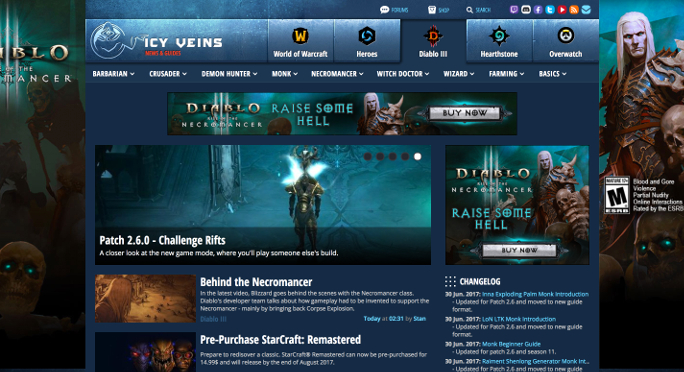 June 2017, Final Fantasy XIV Stormblood: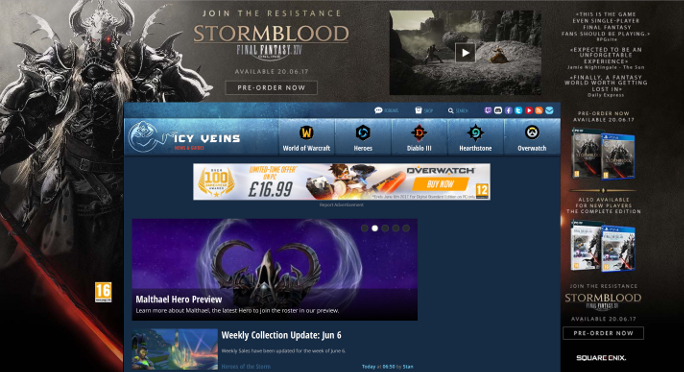 For advertising enquiries, please contact us at [email protected].