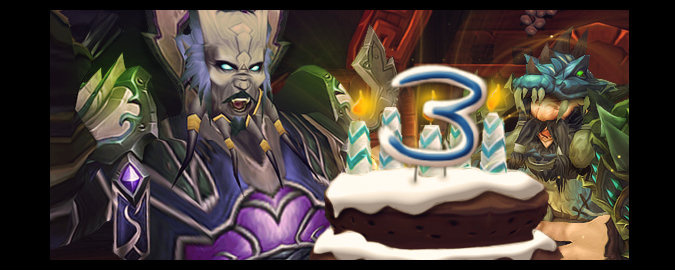 3 years ago, we were launching Icy Veins with a couple of class and raid guides. What initially started as a very modest World of Warcraft fansite slowly evolved into a much more comprehensive resource, to the point where, last year, Vlad and I switched to working full time on it. We still have many plans for the future and I am going to talk a bit about them here.
News
As you may have noticed, we have not really posted anything in the past 2 months. The reason is that our strength lies in writing technical content (guides) for World of Warcraft and Hearthstone, not writing news. So, we kept copy-pasting the announcements published on battle.net, grew tired of it (especially with the emergence of the battle.net launcher, which presents players with all the announcements from Blizzard), and eventually stopped.
The news section will live again soon, but in a different form. We do not plan to provide our readers with news, in the strict sense. MMO-Champion already does that and they do it well. Our goal is to have articles of interest to our readers published on a regular basis. By articles of interest, we mean interviews, world first race coverage, important changes in the way classes are played, important strategy changes after hotfixes, new transmogrification sets, Hearthstone-related stuff, etc. We also want to have mini-guides (professions, farming, etc.) featured in the news section. Finally, we will do weekly recap of the important news from Blizzard and will post a website changelog whenever we feel that we have made enough updates to the website to warrant an article. The idea is to provide readers with articles that have synergy with the rest of the content we have on the website.
Updating the guides on the website and working on new features is already a full-time job in itself for Vlad and I, so we hired Miyari, former Content and Community Manager at Wowhead (from 2008 to 2011). This is pretty exciting news for us and we hope that the first articles will be released next week or the one after!
Hearthstone
In early November, right before BlizzCon, we published a few basic decks for Hearthstone to see if they would attract new visitors. The experiment was very successful and we decided to keep publishing more guides and decks. Eventually, we reached the same situation that we reached early last year with WoW when we started having all our class guides reviewed by top players. We realised that we needed someone with a lot of experience in online card games to help us make sure that the Hearthstone content we were providing was of the highest quality.
At the time, we were looking for a new Protection Warrior reviewer (Sco no longer had the time), so we reached out to Poyo, Guild Master of Envy. It turned out that he is a former Magic the Gathering player and that he competed in many international tournaments, so we started collaborating on Hearthstone content. This collaboration has proved very fruitful and Hearthstone now accounts for 25% of our traffic.
Other Projects
In the near future, we are going to busy ourselves with 3 things mainly. First, we are soon going to release profession guides for WoW that will blow your mind. Second, we intend to cover Heroes of the Storm as soon as the beta starts. Third, we are pretty excited about Warlords of Draenor and we cannot wait to start writing about it.
Thanks
Keeping Icy Veins going would be incredibly difficult, if it were not for everyone who helps us on the forums and the support we get from our visitors and the WoW Community Team at Blizzard. We also have very healthy relations with other WoW-related websites, such as MMO-Champion (and the folks over at Curse, in general) or Ask Mr. Robot.