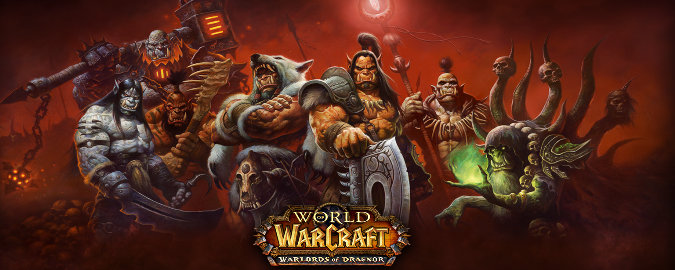 This week's World of Warcraft Recap comes with new video and screenshots of upcoming Warlords of Draenor zones The Spires of Arak (courtesy of Blizzard) and Frostfire Ridge (courtesy of MMO-Champion)! In addition, Blizzard has provided additional details of upcoming Patch 6.0 (pre-Warlords launch) changes including adjustments being made to Siege of Orgrimmar achievements and drops. There's also a new episode of Azeroth Choppers and the competition is really starting to heat up!
Siege of Orgrimmar Changes in Patch 6.0 and Warlords of Draenor
As with every pre-expansion patch before it, Blizzard plans to implement a portion of game changes in the patch preceeding the release of the expansion. The stat squish detailed in the
Warlords of Draenor Alpha Patch Notes
will go into effect Patch 6.0. Also, Siege of Orgrimmar will see some changes, including renamed/changed achievements and change in drop rates for Heirloom weapons off Garrosh. The following changes will go live with the release of Patch 6.0, in the weeks prior to the release of Warlords of Draenor, and with it will come the following changes:
Patch 6.0 Changes
Flexible Raid difficulty will cease to exist as it does now, and will be removed from the raid queue interface. The new Normal difficulty of Siege of Orgrimmar will offer a similar experience to that of Flexible Raid.
The new Group Finder tool will be available, designed to help players create and find groups for Normal and Heroic Siege of Orgrimmar and other cross-realm group content.
Siege of Orgrimmar achievements will be relabeled according to the new difficulty structure (e.g. "Heroic: Malkorok" will now be "Mythic: Malkorok"). Credit for these will be retroactively awarded to players who earned them before Patch 6.0.
The Garrosh Hellscream "Ahead of the Curve" and "Cutting Edge" Feats of Strength will cease to be obtainable.

This means that the Kor'kron War Wolf, awarded by the "Ahead of the Curve" Feat of Strength, will also cease to be obtainable upon release of the pre-expansion Patch 6.0.

With the release of Patch 6.0, the drop rate of the Heirloom weapons from Garrosh Hellscream on Normal, Heroic, and Mythic difficulties will be significantly increased.

Players who have yet to get any Heirlooms will have a 100% (guaranteed) chance of getting a spec-appropriate Heirloom when defeating Garrosh on Normal difficulty or higher.
The chance of receiving additional Heirlooms beyond the first will also be increased.
Once Warlords of Draenor has been released, the following changes go into effect:
Post-Warlords of Draenor Changes
Garrosh Hellscream will no longer drop Heirloom weapons.
The Kor'kron Juggernaut mount will cease being a guaranteed drop from Mythic Garrosh Hellscream, and will instead become a rare drop (like Invincible's Reins, Mimiron's Head, etc.).
Warlords of Draenor: Frostfire Ridge Preview
Our friends over at MMO-Champion have posted an epic
five hours
of gameplay footage of a new zone coming in Warlords of Draenor,
Frostfire Ridge
! Check out the awesome
video playlist
below, and view zone screenshots
in this post
! Spoilers, of course!
World of Warcraft Arena World Championship at BlizzCon
Blizzard has revealed some details of the upcoming World of Warcraft World Championship that will take place at this year's BlizzCon event! In order to participate in the North American (including SEA/ANZ) and European online qualifiers, teams must have an individual 3v3 Arena rating of 2,500 on the live realms by August 25, 2014 at 2 p.m. PDT. More details will become available on the
BlizzCon website
as we get closer to the qualifiers.
Arena World Championship Details
Eight of the top 3v3 Arena teams from around the globe will compete for a chance to face off in the World of Warcraft Arena World Championship, taking place November 7 and 8 at
BlizzCon 2014
in Anaheim, California.
If you're an Arena competitor, it's time to hone your skills and get ready to fight hard for a spot in the event. We'll be holding online qualifiers for North America (including SEA and ANZ) and Europe in the months to come—in order to be eligible, teams need to have an individual 3v3 Arena rating of 2,500 on the live realm by August 25, 2014 at 2 p.m. PDT. Further details about the qualification process for China, Korea, and Taiwan* will be announced at a later date.
If you're a spectator, you'll be able to catch all of the action live online even if you can't make it to the show in person—stay tuned for more information.
Keep an eye on www.blizzcon.com for more details on the BlizzCon World of Warcraft Arena World Championship as they become available.
*Please note there will be no rating cutoff for China, Korea, and Taiwan. Additional information will be provided to players in these regions in the future.
World of Warcraft Artcraft: Spires of Arak
In a continuation of Blizzard's
Artcraft
blog series, lead environment artist
Gary Platner
has taken the reins to provide a detailed look into the design of one of the new zones coming in Warlords of Draenor,
The Spires of Arak
! The concept art shows a zone featuring massive spikes and haunting forested areas, and while we won't see that much height the zone is still coming along very nicely! Interestingly, The Spires of Arak is one of the few zones that is not currently represented in the Burning Crusade timeline version of Draenor (Outland). The Spires of Arak is home to both Shattered Clan Orcs and the Arrakoa, the bird-like race who can currently be found scattered across Blade's Edge Mountains, Shadowmoon Valley and Terokkar Forest.
Check out the
full preview on the World of Warcraft blog
!
'Azeroth Choppers' Episode 4 Now Available
The latest episode of the
Azeroth Choppers
webseries has been posted! The competition gets pretty intense as both teams decide to make some pretty drastic changes to their bikes, but they're definitely coming along and looking
awesome
. For the ultimate inspiration, the teams get some hands-on experience in the World of Warcraft! Check out this week's episode!