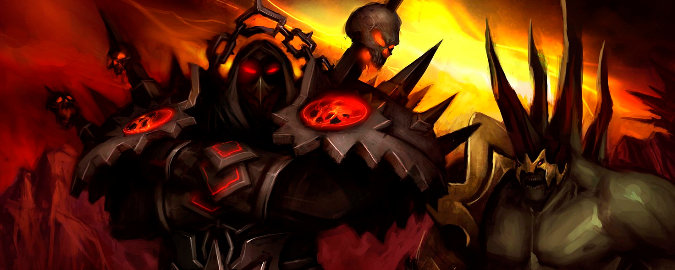 The Warlords of Draenor Alpha patch notes have been out for only a few days, but millions of players are already voicing strong opinions of the direction Blizzard is headed with the game in this coming expansion. Some class changes have received overwhelmingly positive feedback, while others have left many a player scratching their head. A few changes have even caused a substantial outcry of rage!
To see things more clearly, we've invited a handful of our class MVPs to share their opinions on the changes made to their respective class. For this patch notes analysis topic, we have requested feedback from our resident expert on the projected changes being made to the Warlock class. Zagam and Evrelia have been kind enough to share their thoughts on the upcoming Warlock changes!
Zagam is our beloved Warlock specialist, who largely contributed to the success of our Warlock section.
Evrelia
raids in
ScrubBusters
and is one of our Warlock reviewers.
Warlock WoD Alpha Changes
+ Show
Ability Pruning
All of the various Soulburn effects are learned together with Soulburn, instead of at different levels.
Curse of Exhaustion and Curse of the Elements now affect all enemies within 10 yards of the target.

Metamorphosis: Cursed Auras has been removed.
Curse of Exhaustion and Curse of the Elements no longer gain a benefit from Soulburn.
Fire and Brimstone no longer applies to Curses.

Demonic Breath has been removed.

Howl of Terror is now a Level-30 talent, replacing Demonic Breath.

Drain Life no longer gains a benefit from Soul Burn.
Drain Soul has been removed.
Fel Flame has been removed.
Health Funnel no longer gains a benefit from Soul Burn.
Metamorphosis: Void Ray has been removed.
Metamorphosis: Carrion Swarm has been removed.
Pyroclasm has been removed. The altered behavior it granted for Chaos Bolt is now baseline to Backdraft.
Seed of Corruption now replaces Rain of Fire for Affliction Warlocks.
Soulshatter has been removed.
Unending Breath no longer gains a benefit from Soul Burn.
Crowd Control and Diminishing Returns
Blood Horror's cooldown has been increased to 60 seconds (up from 30 seconds) and now shares Diminishing Returns with all other Mesmerize effects.
Felhunter: Spell Lock now only interrupts spell casting and no longer Silences the enemy.
Mortal Coil now shares Diminishing Returns with all other Mesmerize effects.
Observer: Optic Blast now only deals damage and interrupts spell casting. The ability no longer Silences the enemy.
Sear Magic's cooldown has been increased to 30 seconds (up from 20 seconds).
Succubus: Seduction and Shivarra: Mesmerize now have a 30-second cooldown.
Terrorguard no longer casts Terrifying Roar when it dies.
Unbound Will's cooldown has been increased to 2 minutes (up from 1 minute).
Voidwalker: Disarm and Voidlord: Disarm have been removed.
Buffs and Debuffs
As part of a push to combine the different types of Haste in the game as much as possible, we merged Spell Haste and Attack Speed into just Haste, which benefits everyone.
The Cast Speed Slow was a debuff type that mattered almost exclusively to PvP, and made combat much less fun for casters in addition to encouraging the use of instant-cast spells. We decided that it was best to remove casting speed debuffs.
Curse of Enfeeblement has been removed.
Raid Utility Balance
Each player can use a Demonic Gateway only once every 90 seconds.
Healthstones now share a cooldown with Health Potions, separate from other potions.
Class Changes
Warlocks received a number of cut abilities (see Ability Pruning above), but remain relatively unchanged. They saw the most change of any class in Mists of Pandaria, and so were in need of less revision this time around.
We did feel that Warlocks brought too much unique Raid utility, so decided to tone down Healthstones and Demonic Gateway. We moved Healing Potions and Healthstones into a cooldown of their own, and made them usable once per combat. For Drain Life, we reduced the base healing somewhat, but massively increased the effectiveness of the Glyph which increases its healing, so as to help open up more potential Drain Life use in ideal situations. And lastly, we simplified Shadowburn a bit.
Healthstone's cooldown will now not reset until the player leaves combat. Healing from this ability can no longer be a Critical Effect.
Demonic Gateways no longer have charges (up from being limited to 5 charges). Every Party or Raid member can use them once every 90 seconds (up from 45 seconds). The maximum distance apart they can be placed is now 40 yards (down from 70 yards).
Drain Life now heals for 30% less than before.
Glyph of Drain Life now increases the healing of Drain Life by 100% (up from 30%).
Shadowburn no longer generates any mana.
1. What is your overall impression of Blizzard's changes to the Warlock class?
Zagam
: Overall, rather disappointed with the changes with regards to one concept - the removal of snapshotting. Understandably, things got out of control with trinkets, cooldowns, and other such buffs that enabled burst DPS to be out of this world. However, instead of retuning trinkets and cooldowns, Blizzard decided to remove snapshot mechanics of DoTs. This will play a large role in relearning how to play all DoT classes including Warlocks. Snapshotting Affliction DoTs will no longer be the emphasis on play - the emphasis will shift back to a rotation instead of priority spell queueing which, in my opinion, will lower the complexity and challenge of the specialization. The Destruction and Demonology changes have not been too extensive short of the level 100 talents, but the removal of snapshotting will affect both of these specializations as well. While this is not a direct change to the class, it will heavily affect how Warlocks play. The removal of Fel Flame is a mistake and one I hope to see reversed. Fel Flame is too important for lots of reasons including mobility and the removal of small HP objects such as totems and banners.
Evrelia
: We haven't received too many major changes compared to some other classes. I think it's fair that they're toning down Gateway and Healthstones since they're very useful and unique mechanics, which combined with our generally high damage makes us too strong. I am very worried about the fun factor of Affliction being compromised by the removal of DoT snapshotting and general toning down of the spec. I also think that there are one or two spells that have been removed just for the sake of it, rather than for a good reason.
2. Which changes do you think are the best and why?
Zagam
: While it appears to be a nerf to Demonic Gateway, I think the change to the Gateway enables Blizzard to design content where the Gateway isn't an integral part of some strategies. During early Heroic Lei Shen progression, the lack of a Warlock hurt badly for classes without high mobility during Helm of Command. There are TONS of other fights where Gateways were an essential part of a strategy. With the recent changes, I would think that the encounter designers will not put such high demand for the Gateways. This is great because of the current (unintended?) despawning of the Gateways upon moving more than 30 yards away. There weren't a lot of positive changes to the Warlock class and that's ok because we are fine and the fact we got massively overhauled for MoP.
The new empowered abilities gained while leveling from 90-100 sound fantastic and address many of the downfall of abilities in MoP. This includes giving Doom a higher crit chance to proc more Wild Imps, Chaos Bolt having a shorter cast, and Agony ticking up to 12 stacks. All of the enhanced spells sound great - we'll see how they balance out at 100.
Evrelia
: I think it's good that they've done away with the AoE Curse of the Elements for each spec; it's not really fun to have to waste a major class resource on getting your debuffs up. With that said, I am a little surprised they didn't remove Curse of the Elements completely and add it in to one of our other spells, since now Hunters, Rogues, Shadowpriests and Windwalkers can apply it without losing DPS, whereas it costs us a global cooldown. The new Glyph of Twilight Ward now makes an already good cooldown even better, so happy with that. Drain Life generating Burning Embers is interesting, particularly for Soloing, so I'm curious to see how that turns out.
3. Which changes do you think are the worst and why?
Zagam
: Multiple thoughts here...
Removal of Fel Flame. This hurts the mobility of specs and hurts the toolkit of Warlocks to get rid of totems, banners, and other small HP objects during combat.
Removal of Drain Soul. No more on-demand Soul Shard generation. Unclear whether or not Malefic Grasp will pick up the Soul Shard generation during execute that Drain Soul used to do.
Removal of Carrion Swarm (Demonology) hurts the Demonology toolkit. This was a valuable spell interrupt and knockback that no longer exists.
Removal of Soulshatter. Unclear if threat is being rebalanced, but this spell has warranted a binding for myself for many years, particularly in Challenge Modes.
Evrelia
: The removal of Drain Soul. Drain Soul is iconic, it's a part of the warlock class. It doesn't make any sense to remove it and keep Malefic Grasp - a spell that many have expressed a disliking of. Drain Soul has a nicer graphic, a better name, a stronger association with the warlock identity, and has the added benefit of extra Shard generation during the execute and as targets die. Furthermore, the point of an execute is to give you a sense of impending victory; and by baking the execute into our standard filler, you remove that aspect. When you also factor in the removal of DoT snapshotting combined with that, Affliction is literally going to be a case of recasting 3 DoTs every 20 seconds or so and channelling Malefic Grasp, with a few Haunts thrown in when you get procs. Hardly compelling gameplay.
The Fel Flame removal is puzzling too. It's a fairly useful spell when you're not running with Kil'Jaden's Cunning, but by removing it they're pushing us into using a talent that is already overused by many. I use the other talents in the tier often, but I get the feeling Blizzard think they're better than they are. It also means Affliction warlocks have no way to do instant damage to a target, so we have no method of damaging mind controlled players or things like Totems and Banners.
4. How would you alter any of the existing changes?
Zagam
: Multiple thoughts here as well...
I'd re-add Fel Flame for the reasons why its removal would be negative.
Add in a Soul Shard regeneration into Malefic Grasp or make Nightfall procs a more reliable source of Soul Shards.
Re-add Carrion Swarm. No reason to remove it.
Re-add Soulshatter. I'm not the only one who used this button.
There's not really anything else I'd alter. Maybe I'm being bad at letting go of some spells, but I can't justify the removal of those abilities and the keeping of spells such as Eye of Kilrogg.
Evrelia
: I would remove Curse of the Elements and have it baked into one of our other spells like it is for every other class that has it. I would not remove Drain Soul for reasons I've explained above. I'd like to see some changes to the Affliction rotation to account for the removal of DoT snapshotting; more DoTs to juggle or something that requires a higher attention span.
5. What changes would you like to see in WOD?
Zagam
: I'd love to see some announcement of complexity to the Affliction specialization. The removal of snapshotting makes this spec feel very drawn out and boring - almost to the point of a rotation where you just reapply DoTs within your Pandemic appropriate window and using Haunt to line up procs.
For Demonology, I'd like to see Demon Bolt removed as the level 100 talent. It doesn't make sense for Blizzard to want to clean out button bloat and add a new ability. Chaotic Resources needs to be redesigned and give Demonology something a little more flavorable to the spec.
Destruction is fine the way it is. If anything were to be added, I'd like to see a mechanic like the Cataclysm Improved Soul Fire mechanic that facilitated an Imp and had him play an integral part of maximizing your DPS. Instead of waiting for him to crit, however, I'd like to see him build a charge system so that you had to use Soul Fire every 20 seconds, but it would always be available by your Imp having 5 stacks of "Heating Up" or some similar mechanic.
Evrelia
: As a raider in a high-end guild I find RNG extremely un-fun. I'd like to see DPS a lot less dependant on getting the right procs at the right time and having huge fluctuations in damage from pull to pull when playing exactly the same. Some randomness is fine, but there's far too much in the current game. Other than that, for Warlocks each spec has had its time in the sun (Affliction in 5.0, Demo in 5.2, Destro in 5.4), with them being generally well balanced with each other throughout (although admittedly, quite overpowered compared with other specs). Right now Demo is a little behind though, so I'm hoping that Demo at least equals Destro in WoD given the extra effort it takes to play it.
Patch Notes Last Updated - 23 April 2014