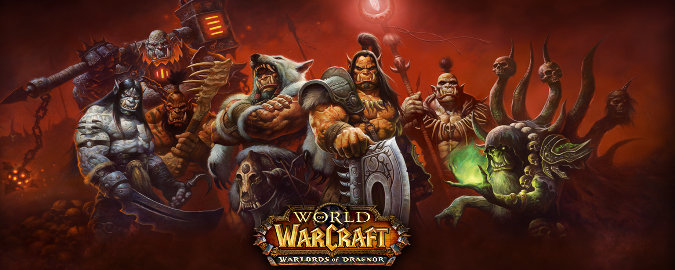 This week's World of Warcraft Recap features quite a bit of new Warlords of Draenor information. Blizzard has posted another great developer interview with Lead Game Designer Ion "Watcher" Hazzikostas detailing their plans for raiding in the upcoming Warlords of Draenor expansion. Also on the Warlords of Draenor front, our friends at MMO-Champion have posted some great new item and quest previews! A new episode of the Azeroth Choppers series has been released as we get closer and closer to our new in-game mount, and Blizzard spotlights a familiar new Heroes of the Storm character, Li Li the World Wanderer! Plus, players can now download free classic Blizzard games on Battle.net! Read on for the full details of this week in World of Warcraft news!
Latest Patch 5.4.7 Hotfixes
Blizzard has posted a few new hotfixes, including some adjustments to the
Garrosh Hellscream
encounter in
Siege of Orgrimmar
. There have also been a few minor bugfixes to battleground and raidfinder queues!
5.4.7 Hotfixes
+ Show
April 28 + May 2
Creatures
Elder Lin and Elder Liao now have significantly more health.
[Requires a realm restart.] Elder Lin and Elder Liao will now respawn much more quickly.
Raids, Dungeons, and Scenarios
Siege of Orgrimmar

The Fallen Protectors

Resolved an issue where movement-freeing abilities incorrectly forced Mark of Anguish to transfer to another player.

Garrosh Hellscream

During the Garrosh Hellscream encounter, Eternal Flame no longer generates threat during stages 2 and 3 to address an issue that was making the encounter more difficult than intended for raid groups with Protection Paladin tanks.
[Requires a realm restart.] Garrosh Hellscream now only targets 2 players with Touch of Y'Shaarj and Empowered Touch of Y'Shaarj regardless of raid size on Flexible difficulty. Previously, the number of players targeted by the ability scale from 2 to 4, resulting in a harsh breakpoint for groups with 17-18 players.
[Requires a realm restart.] Touch of Y'Shaarj and Empowered Touch of Y'Shaarj cast times have been increased to 3.5 seconds (up from 2.5 seconds) on Flexible difficulty.
Battlegrounds and Arenas
Resolved an issue that was causing Battleground queues to report incorrect wait times.
Matchmaking Ratings for Rated Battlegrounds has been increased by 100 for all players. Additional details for the change could be found in the forum thread titled: Rated Battleground MMR Hotfix.
UI
Resolved an issue where players continue to be listed on the Raid Browser after accepting an invite from someone in a Flexible difficulty raid.
Dev Watercooler: Raiding Azeroth Part 3 - Warlords of Draenor
Blizzard has posted the final entry in their latest Dev Watercooler series, which has offered an in-depth developer perspective into the philosophy and development behind raiding in World of Warcraft. This latest entry spotlights the future of raiding and details changes being made in
Warlords of Draenor
. In case you've missed them, be sure to also read
Part 1 - A Look Back
which focused on classic raiding and
Part 2 - From Cataclysm to Today
! Blizzard has also posted a shorter piece regarding the changes made to PVP itemization.
Tons of New Warlords of Draenor Item Sets, Quest Details
Our friends at
MMO-Champion
have had their hands full with the latest Warlords of Draenor data, revealing brand new models for upcoming Raid Finder and questing armor sets! You can check out these sets in 3D on the character model of your choice! They have also posted a huge preview the starting quests leading in to Warlords of Draenor expansion (spoilers!).
WoWDB
has been updated with details of these quests as well!
Azeroth Choppers Episode 3
Blizzard has posted the latest episode of their
Azeroth Choppers
web series! This week we get our first look at the bikes, one of which is going to look epic as an in-game mount!
Heroes of the Storm: Li Li Spotlight / Hero Week
This week's
Heroes of the Storm
spotlight is on another Warcraft hero,
Li Li
the World Wanderer! Chen Stormstout's little niece is a spunky Support hero capable of great healing and offensive ability. With this hero week, they've also revealed a new skin for Li Li,
Explorer Li Li
which features a the young Pandaren in a jungle hat and sporting a huge catching net. The post also includes detailed information, trivia and fan art! You can check out Blizzard's extensive "Li Li Hero Week" feature in
this official blog post
!
Rock N' Roll Racing and Lost Vikings Added to Battle.Net
On a slightly more random note, Blizzard has just added
The Lost Vikings
and
Rock N' Roll Racing
to the
Battle.net Classic Games list
. These classic titles are free to download and play, joining the 1994 title
Blackthorne
which was added in November of 2013. Simply log in to your Battle.net account, click "Games & Codes" and select "Download Game Clients." These games can be found at the bottom of the list under "Classic Games." You can find out more info about all of Blizzard's classic games in
this section of Blizzard's website