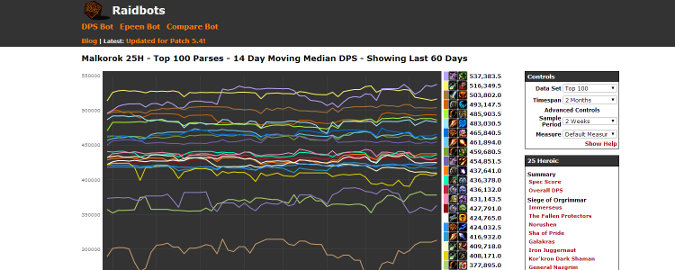 This week, the spotlight is on
RaidBots
, a great website that allows you to analyse your raid's logs in great depth. In addition to its DPS Bot (which is the default front page, and which allows you to look at DPS values by spec), the real meat of the tool is its
Compare Bot
feature. Compare Bot allows you to compare the performances of two or more raid members, which is especially useful when they share the same role (or even the same class and spec). This allows you to see, at a glance, where the differences between the performances of these two players lie. It can of course be used to compare your performance to your own performance from earlier in the tier, as well as to compare yourself to the best players in the world!
Lastly, the website also has an
Epeen Bot
, which allows you to see how you stack up against all the players in the world (provided that their logs are posted on
World of Logs
).
While it is true that RaidBots is probably used by most serious raiders, it is such a useful tool that it would be impossible for us not to recommend it. And if anyone learns about it now, all the better!