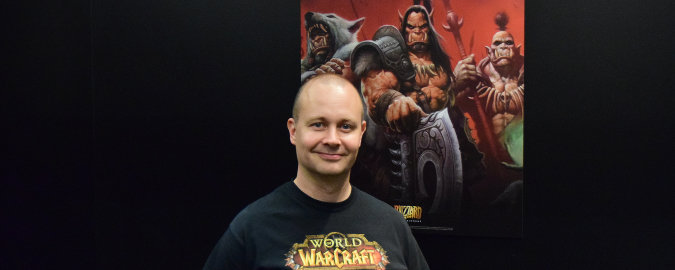 Finding good questions for a WoW interview is always tricky, because Blizzard communicates just so much about this game. Also, with so many other media having interviews with Tom Chilton at GamesCom, we had to find these few questions that we would be the only ones to ask. Here are the results of our brainstorming. We hope that you enjoy the answers we received.
Below, you will find the whole transcript of the interview, but first we would like to present you with the main things that we have learnt. Note that we only had 20 minutes of interview, to share with other fansites, so we did not get to ask a lot of questions.
The delay in the release of Warlords of Draenor caused by massive recruitment on Blizzard side to increase the size of the WoW development team. New employees had to get up to speed first, which slowed things down. Also, Garrisons ended up being much more involved than originally planned.
Zones for the next expansion already in production.
No plans for new subscription methods, like free-to-play or partial content.
The annual pass for Mists of Pandaria was questionable and it is not likely that we will see another promotional offer like that again.
Challenge modes for raids would only be considered if more people engaged in dungeon challenge modes.
Northrend and Outland could one day be made into level 60 to 80 zones, offering a choice to leveling players.
It is unclear what is going to be improved next, after the character models. Physics could be introduced in the game or combat could be made to look better.
The progress race is balanced enough, no need to tweak anything.
Transcript from Interview with Tom Chilton
Q. You announced repeatedly that you would release content faster: "every 6 months", "no more ICC". Obviously, that did not really work out, so we were just wondering what caused it.A.
That is definitely fair criticism. We did a good job earlier in Mists of Pandaria, having the content come at a more frequent intervals, and certainly we had hoped to have Warlords of Draenor out a couple of months ago. The reality is that scaling up the number of people that we have, to work on multiple projects at once has slowed us down. Honestly, it should have not come as a surprise to us. We increased the size of the team by 50% and the majority of those people had never worked on World of Warcraft before or any other MMO, so it is really difficult for them to create content right away, without getting up to speed. So we ended up redoing a lot of the content that we were doing for Warlords to make sure that we would get it at the quality level that we would expect. Also, the garrison feature turned into a bigger thing than we expected it to be. Quality is the most important thing, so if we have to make a choice between getting you something two months ago or getting you a great expansion in November, the choice is obvious. I think we are in a better position now for the future, we already have zones in production for our next expansion. So, if things go well, there will be less of a gap.
Q. Right now, there are a lot of things you can do in the game: pet battles, raids, dungeons, garrisons soon, etc. Do you have any kind of plans whatsoever to have different subscription plans? Maybe for people who do not want to raid or who only want to do dungeons.A.
We do not have any plans for that. It is something that has been talked about along with free to play and things like that. I do not know if this is really the right thing for World of Warcraft. You can never say never. If our players really want something like that, we would consider it more, but this is not something that we hear a lot about. Usually, when people play, they want to experience, or at least the option to experience, pretty much everything or a lot of it.
Q. Another kind-of-businessy question. Any plans to have another annual kind of thing, like you did for Mists of Pandaria and Diablo III?A.
It really depends on whether there is a good opportunity. With the annual pass, at the time, we felt like we had this awesome game coming out and we wanted World of Warcraft players to feel that they got some kind of benefit for a continued subscription, like they would get a really good value and feel like they saved money. We had kind of a mixed reaction to the annual pass. People were very enthusiastic when we first launched it, but after it was all set and done, we looked back on it and asked ourselves "
are our players clearly happier about Blizzard, because the annual pass exists
". It felt like it was questionable, so if that is questionable, it does not seem like something that our players want to see us do lot more often.
Q. Do you think we could have challenge modes for raids?A.
We will see. We feel kind of like our Mythic difficulty raid are already kind of challenge modes for raids, although it is a bit different for challenge modes, because of the leaderboard, which is pretty cool. It is something that we talked about. I think that if we get to the point where more people are using the challenge modes and want to see more of it, then we are more likely to do it. Challenge modes are definitely a very hardcore activity, and so are our Mythic raids. We have to be careful on how much time we spend on just that kind of content.
Q. The leveling experience is a little bit strange. It is definitely good, but the experience requirements for Burning Crusade or Wrath of the Lich King are such that you just fly through the zones, without even finishing the quest lines, and you jump to the next zone. Are there any plans to homogenize that?A.
We have ideas for how we would like to address it, but it would take us a significant amount of time to fix, though. So, it is the kind of things where it is like "
We could have the expansion take longer to come out, but we could fix that!
". For example, we talked about having both Outland and Northrend go from level 60 to level 80. So, you pick if you want to do Outland or Northrend, and each of them would go at half the speed they do now. That way, you would not run into that kind of problems and it would feel that you have more different content options for what to do. It would probably make leveling different characters a little bit more interesting. So, we like that, but it takes so much of our designers' time to go through and fix it and our system designers' time to go through and make that actually work, because it is really very non trivial, changing the rewards and all that kind of stuff. So, it is one of those cool ideas, but when do we spend the time to do that versus trying to finish the expansion faster.
Q. Now that the new character models are finished (or almost finished), do you have idea what is going to be next, in this direction?A.
There are a lot of different things that could be next. Certainly, I do imagine that we are going to continue improving the look of the game, one element or piece at a time. Our environment looks much better now, our character models are about to look much better. I think that other things we could tackle next would be integrating physics in some way, it is also possible that we could take a crack at making combat look better, just like the way we synchronize animations, spell effects, sounds, and stuff like that. We could make things feel cooler without actually changing things mechanically. So, there are a lot of different ways that we could explore that and we just have to see what works within the resources that we have and the features that we are trying to do in the future.
Q. Are you happy with the way the progress race is happening right now? Like, for example the drops that the top guilds get in the first lockout really influences the rest of the race. Any thoughts about balancing the loot drops, at least in the very beginning?A.
To be honest, I am pretty happy with the way it is. You can always identify things that would theoretically make things a little bit more fair. The reality is that in general, the best guilds always find a way to win. Granted, that is not always the case for every single boss or every single raid, but I think the level of competition and how closely the guilds are matched is actually pretty impressive, for something as large and complex as raid balance. I think that this is dangerous to go too far in terms of spending a lot of time to make that race just this much more balanced, when literally nobody else in the world is affected by that. You know what I mean!