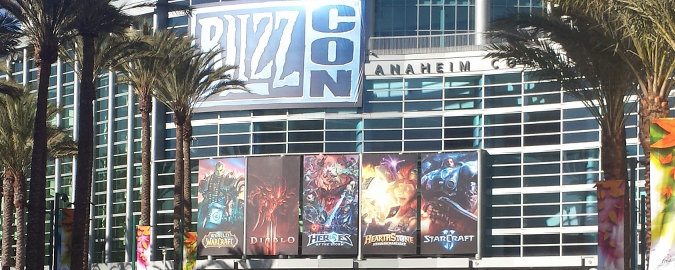 This article is the first in a two to three part series that will be covering everything BlizzCon. Many of us here at Icy Veins went to BlizzCon last year, and will be attending again this year. We'd like to share our experiences with everyone, to help all the first time BlizzCon attendees have the best experience possible.
Also, we know many of you reading this have also been to BlizzCon in the past and some of you may be even more experienced than us. If you have tips you'd like to share we encourage you to post in the comments, and we'll keep the guide updated with all the best, most current information.
Where to Fly to?
John Wayne (SNA) and Los Angelas International (LAX) are both relatively close to Anaheim. John Wayne is the closest and most convenient, and from a few lucky places it is actually cheaper to fly to. I flew into LAX last year because I saved about $40 per ticket. The one thing I would warn about LAX is that rush hour in Los Angeles is terrible. If you're flying there to save money make sure you're arriving mid afternoon, or later in the evening. I'd rather pay $100 more to fly into John Wayne than try to leave LAX at 5pm.
Ontario International (ONT) is also an option. It is about a 45 minute drive from Anaheim, but I have been told by friends in Southern California that it is a very nice airport and not nearly as hectic as LAX.
Rental Cars and Transfer from the Airport
Ok, that's a trick title. If you're going to be in Anaheim just for BlizzCon you don't need a rental car. There is just so much awesome stuff within walking distance of the convention center (including Disneyland, Downtown Disney, and dozens of restaurants), and parking is a major hassle. By all means if you're taking an extended vacation, then rent a car, but even if you have a rental car you won't be using it Thursday through Saturday. For travel from the airport to your hotel and vice-versa I recommend using
Super Shuttle
. Last year, it cost us $15 per person to go one way from LAX. By comparison, a taxi ride from LAX to Anaheim costs $75-$100. Super Shuttle has curbside pickup at LAX, and is very convenient and inexpensive.
Where to Stay?
Anywhere near the convention center is a good choice, but here are a couple recommendations based on where I stayed, and what I heard from places other people stayed at.
The Hilton:
http://www3.hilton.c...AHHH/index.html
The Hilton is BlizzCon Party central. It's in the same plaza as the convention center, it's huge, and there will be 2000+ BlizzCon goers flooding the halls of the Hilton all weekend long. If you hang out at the Hilton bar Friday and Saturday night there's a good chance you'll run into Blizzard Developers, E-sports stars, Zagam, and other internet celebrities. (and C-list internet celebrities like that Storm guy).
Pros:
the center of activity after hours during the convention weekend;
as close to the convention center as you can get;
nice restaurant and bar, a Starbucks, and I think a few shops if I remember right;
huge crowds of Blizzard diehards.
Cons:
one of the most expensive hotels in the area (I've heard around $250 per night);
long lines at the elevators (I literally spent 5 minutes waiting for an elevator to meet up with Zagam on Thursday night).
Other Thoughts:
even if you don't stay at the Hilton, you can still hang out at the Hilton bar and meet people.
The Desert Palms:
http://www.desertpalmshotel.com/
This is where I stayed last year, and probably where I'll stay this year again. The Desert Palms is reasonably priced. The rooms were about $150 a night last year and they have a nice, free, breakfast buffet every morning. It's across the street from the convention center and takes less than 2 minutes to walk there. It will be flooded with BlizzCon attendees the weekend of the convention, but isn't nearly as crazy as the Hilton if you're the type that likes quiet, and doesn't like 5 minute waits at the elevator.
Pros:
$150 +/- per night;
free breakfast buffet (possibly with Storm!);
quieter than the Hilton;
the pool was never too crowded;
bar was also usually fairly quiet, and the bartender was really cool and gave us a lot of good recommendations for food, and places to see while we were there;
you can still walk over and party at the Hilton bar.
Cons:
the only con I can think of is that you won't be at the center of all the action 24/7, but that could be a con, or it could be a pro.
The Marriott:
http://www.marriott....aheim-marriott/
The Marriott is located in the same plaza as the Hilton and convention center. This is where Blizzard gets rooms for all there E-sports athletes, press people, and other VIP's, so maybe you can run into some Blizzard Celeb's here, although I've heard they still hang out at the Hilton even though they stay at the Marriott.
Pros:
rooms start at $109 per night;
maybe have a chance to hang out at the pool with Chris Metzen?.
Cons:
nothing in particular that I can think of, other than my standard non-Hilton response if you want to be at the center of all the action 24/7.
Other Hotel Locations are included on the map below