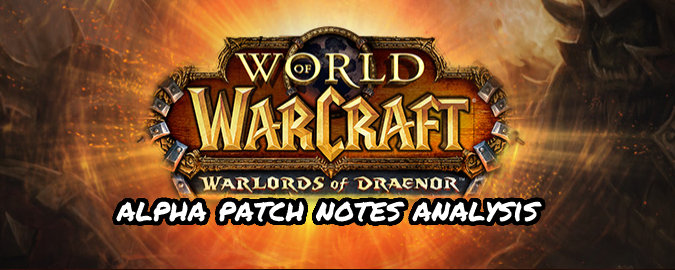 Over the month of April, we have reached out to some of the most talented minds in Warcraft theorycrafting and raiding to assist us by sharing their thoughts on Blizzard's projected Warlords of Draenor class changes. We asked a few simple questions and received great feedback on specific spell and talent changes for every class specialization in World of Warcraft!
With Warlords of Draenor still in Alpha phase, there will certainly be extensive changes to the classes (and, of course, the patch notes) over the next couple of months. Blizzard has received extensive feedback just from the patch notes, so I'm sure that when Warlords of Draenor goes into Beta there will be even more input from the masses of players actually playing with the new changes.
As a finale to our analysis series, we have collected each of the different class posts and have linked them below for your convenience! Please keep in mind that some of the analysis responses were drafted from the first build version of Alpha notes, so some of our reviewers' issues may have already been addressed. We would love to hear what players think about our experts' thoughts on the different class changes, and welcome everyone to share their own opinions on
our forums
!
As always, you can find the latest version of the Warlords of Draenor Alpha Patch Notes on the
World of Warcraft website
! Click a class below to check out that patch notes analysis topic!
Special thanks to all of the great players who helped make these posts possible, including:
Reniat
,
Mendenbarr
of
Elitist Jerks
,
Stenhaldi
,
Arielle
,
Rogerbrown
of
Method
,
Vykina
of
Method
, Kuni,
Sunnier
,
Justmonk
of
Method
, Unpl of
Paragon
,
Shuttle
of
Blood Legion
,
Theck
,
Shibbx
of
Envy
,
Jhazrun
of
Paragon
,
Twintop
,
Fierydemise
, Tickle,
Purge
,
Sonie
of
Method
, Zagam,
Evrelia
, Poyo of
Envy
and
Jalopy
! THANKS!