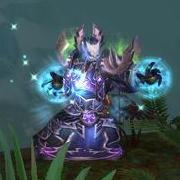 ---
Recently Browsing

0 members

No registered users viewing this page.

Similar Content

By Andefico

Hey guys,
I'm wondering if anyone knows which items would make up a look-alike set for what Hagara is wearing. In case you don't know, maybe we can consolidate information in this thread.
Here's a picture



By Alierya

Currently we are progressing (somewhat) on hagara, and as a guild who's gear/skill level/ability to not stand in stuff isn't as high as some others we like to use slightly odd tactics.
During the lightning phase instead of having 4 groups of 2 (ten man) we go with 2 groups of 2 and have everyone else hide in the middle just before the add dies & get the ranged to finish him off. The groups start at the spawn point and then go in oppoisite directions. A healer has each group as well as aoe healing the middle. Any classes that can help with group healing do. This we robbed of another guild but works really well for us as healing is easier (though over a longer period of time) and as there is only 4 people running instead of 8 there is less chance of mistakes.
The ice phase is our current work in progress. Again instead of running round the ring we pop the first icicle down then move onto the second, stay as a group and 'dodge' the ice wall by side stepping into the center as it passes. This we haven't got quite right yet (a few people forget and run round, others can't deal with avoiding and generally panic) but we are getting there. Thoughts on this... easier to dodge or easier to run round?