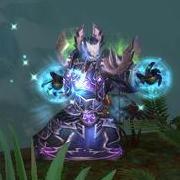 ---
Recently Browsing

0 members

No registered users viewing this page.

Similar Content

By GagD

I'm a troll hunter and thanks to AMR I can stay stat. caped through out every new piece of armor I (still) get in LFR. I think AMR works nothing but GREAT! 
 
But I was wondering about Troll's additional range expertise, 'cause whenever I reforge and end up just below caped (7,50%) it sais the same as it would for anyone: "Chance of being dodged 93/[skull/raid boss] 00,??%". BUT on Method's guide (http://www.methodwow.com/board/showthread.php?11376-MoP-Hunter-Guide/#reforge AND http://www.methodwow.com/board/showthread.php?11376-MoP-Hunter-Guide/#stats) it sais that Troll's cap is 6,5%.
Is this still valid? And IF so, HOW do I work my magic in Ask Mr. Robot's reforge options to keep haste at 6,5 and spend that last percent on something else?
 
Thanks! 


By myrean

For a whiles now I've been reading up on the stat priorities and bonuses for Holy Paladins but lately what I've been seeing that seems to be working best, and has helped out the most for me, is trying to reach the haste breakpoint at 3506 haste for eternal flame, both for the extra tick and because it makes my heals not take too long, and then go for mastery/spirit after that. However lately when I've been trying to modify my stat weights in Mr. Robot to fit that I either end up with a set of reforges/enchants that leave me either dramatically over the breakpoint or dramatically under it. I've been putting in the .825 haste for the softcap but it almost seems that Mr. Robot is ignoring that even when I dramatically unbalance the weights. Does any have any suggestions on how to tweak this or is it just a programming limitation?