Push Game Mode Overview
This page contains everything that is currently known about the Push game mode that is coming with Overwatch 2.
TABLE OF CONTENTS OF THIS PAGE
This page will be updated as more information becomes available throughout BlizzCon and beyond.
Push is a new game mode coming with Overwatch 2 that will see players competing to take control of a robot that pushes a control point between checkpoints.
This game mode will be featured in all game playlists, including Quick Play, Competitive, and the Overwatch League.
The Push maps are symmetrical, meaning the map and path required is the same for both teams.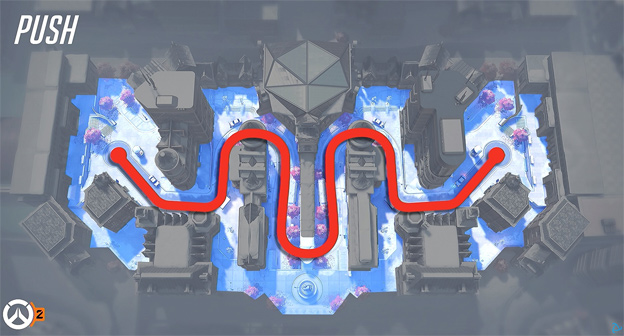 The robot will move between two markers, depending on who currently has control over it. The robot will push the marker towards checkpoints, with each checkpoint reached unlocking a new spawn point for your team.
The team that manages to get the robot to push their marker the furthest will win once the time runs out. If your team's marker reaches the end checkpoint, your team will win instantly.
When the robot is not pushing the barricade and is moving from the enemy's to your team's, he will move faster than when he pushes.
03 Nov. 2019: Page added.
Show more
Show less