WotLK Classic Herbalism Profession and Leveling 1-450 Guide
Herbalism allows you to gather various plants and herbs throughout the world. These herbs are used for a variety of different uses such as creating both flasks and potions with Alchemy. Herbalism can be a great profession for farming gold through raw materials.
TABLE OF CONTENTS OF THIS PAGE
Herbalism is one of the few gathering professions available to players. This profession focuses on collecting resources in the form of herbs, rather than crafting items or consumables for use. These gathered herbs are most commonly used together with Alchemy to create various potions, flasks, and elixirs.
When you have the Herbalism skill, you can use

Find Herbs to track and show the location of nearby herbs on your minimap. Make sure to keep this up whenever you are out gathering or you will have a much harder time finding nodes.
Druids make great Herbalists as they are capable of gathering herbs while in

Flight Form and

Swift Flight Form, saving them the time of having to mount up after gathering each individual herb.
2.
How to Gather Plants in Wrath of the Lich King
When Herbalism is learned as a profession, you will also learn a skill called

Find Herbs that will show nearby plant nodes as a golden point on your minimap. This allows you to see herbs in hidden areas or off-screen so you can gather any nearby plants.
When you approach a herb, you can interact with it to try and gather the plant. However, you cannot gather all plants from the start; you will see different colors representing how hard is it for you to gather that specific plant. These colors represent the skill level needed to gather the plant and are the following:
3.
Training Herbalism in Wrath of the Lich King
3.1.
Apprentice & Artisan
You can learn Herbalism from any Herbalism trainer, which are found in capital cities. When you arrive at a major city, you can ask any city guard for directions and pick the Herbalism trainer option under the professions section. This will mark its location on your map, allowing you to easily find them and get the Herbalism skill.
To train past 300 skill level, you need to speak with a Master Herbalism trainer in either Outland or Northrend. This will allow you to train up to level 375 Herbalism.
To learn Herbalism past 375 skill level you must travel to Northrend and talk with a Grand Master Herbalism trainer found below. This will allow you to max your Herbalism skill out at 450.
4.
Leveling Herbalism in Azeroth (1-300)
To start off you will be gathering

Silverleaf and

Peacebloom in the low-level starting areas. At 15 you can begin to gather

Earthroot to help speed up the process.
Once you have reached 50 Skill in Herbalism, head to your local trainer to learn Journeyman Herbalist, allowing you to progress up to 150 Skill.
To quickly get through these skill levels, focus mostly on

Earthroot and

Mageroyal as they remain the highest chance to grant a skill increase.
Here players will continue their earlier pathing and continue to gather

Earthroot and

Mageroyal. Now you should also prioritize gathering

Briarthorn as it offers a guaranteed skill-up.
You will want to head into higher-level zones here and keep an eye out for

Bruiseweed while still gathering any herbs that offer a skill increase.
You can now gather even more herbs in the area, speeding up this section of leveling.
After you reach 125 Skill in Herbalism, head to your nearest trainer and learn Expert Herbalism.
You can now gather the higher-level herbs in the area, helping you level much faster. Keep gathering any herb that has a chance at giving you a skill increase.
You will need to head into a higher=level zone here and begin picking some more difficult herbs to continue gaining skill increases. These first few skill levels may be troublesome as you can run into quite a few herbs that you cannot yet gather. It may be worth staying behind and gathering some lower-level herbs for a couple extra skill-ups before changing zones.
Before heading into the next section of herbs, head to your nearest city and train Artisan Herbalism, allowing you to progress all the way to 300 Herbalism.
Here we recommend heading into Tanaris as you can get multiple different herbs to skill-up with at the same time.
Here we recommend heading to Felwood as you can find multiple different herbs to help you raise your Herbalism skill up all the way to 300. Western and Eastern Plaguelands is an alternative that may be easier in the early skill levels as Felwood has a high variety of plants.
Herbs to look for:
4.10.
Azeroth Herbs Information
5.
Leveling Herbalism in Outland (300-375)
A few Classic WoW herbs can be found in Outland and used to skill up your Herbalism in both Hellfire Peninsula and Zangarmarsh. Keep an eye out for these as they are a large part of your early skill-ups gained in Outland. Until your Herbalism Skill reaches 325, we recommend staying in Hellfire Peninsula and gathering these herbs:
For these next 25 skill levels Terokkar Forest fits your needs, offering multiple herbs with guaranteed skill increases.
For the final 25 skill levels we recommend gathering in Netherstorm, but you can easily reach the cap in any zone you wish.
5.4.
Outland Herbs Information
6.
Leveling Herbalism in Northrend (350-450)
Be sure to head to a Grand Master Herbalism trainer in Northrend as shown above to unlock Grand Master Herbalism, allowing you to max out your Herbalism at 450 skill level.
Borean Tundra is a decent zone for herbing as it has 3 different plants to pick from and flat, open ground, allowing you to quickly travel from herb to herb. If you are having trouble getting the last few skill-ups in this zone, head to Grizzly Hills at 375 instead.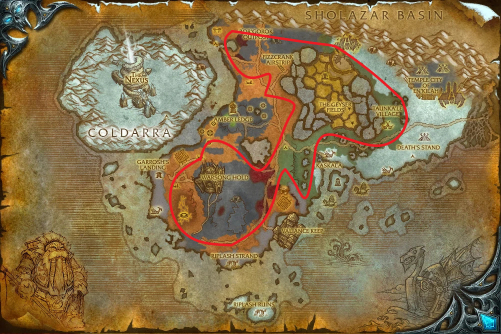 Sholazar Basin is one of the best zones for picking herbs in all of WotLK. You can easily get your last 50 skill points here as there is an overabundance of herbs to find.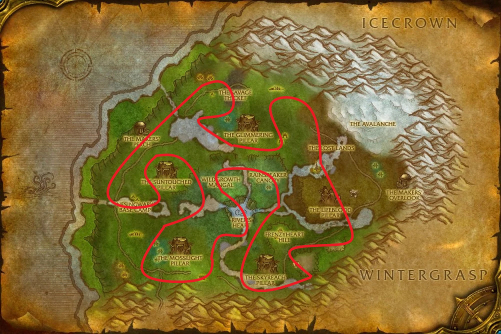 6.3.
Northrend Herbs Information
7.
Noteworthy Herbs in Wrath of the Lich King
Below you will find some of the most commonly used herbs in Wrath of the Lich King. These herbs will be constantly in-demand as they are needed to make end-game consumables for raiding content.
8.
Herbalism Unique Spell in Wrath of the Lich King
Herbalism provides access to a unique, personal spell

Lifeblood. The healing of this spell scales with your Herbalism skill and maximum health, offering you a moderate heal-over-time.
| Buff | Skill Required | Details |
| --- | --- | --- |
| Lifeblood (Rank 1) | 75 | Heals you for 300 over 5 seconds. |
| Lifeblood (Rank 2) | 150 | Heals you for 480 over 5 seconds. |
| Lifeblood (Rank 3) | 225 | Heals you for 720 over 5 seconds. |
| Lifeblood (Rank 4) | 300 | Heals you for 900 over 5 seconds. |
| Lifeblood (Rank 5) | 375 | Heals you for 1,200 over 5 seconds. |
| Lifeblood (Rank 6) | 450 | Heals you for 3,600 over 5 seconds. |
Herbalism is just one of the many professions you may choose to level in Wrath of the Lich King Classic. To learn more about the other options available, we recommend checking out our overviews of all professions and their unique bonuses below.
13 Sep. 2022: Page added.
Show more
Show less