The Obsidian Sanctum Raid Guide for WotLK Classic
The Obsidian Sanctum is one of multiple Phase 1 Raid instances available in Wrath of the Lich King Classic. Here, you will face only one boss encounter whose difficulty can be adjusted depending on whether or not you defeat various lieutenants in the instance beforehand, but you will be rewarded with a guaranteed mount for keeping them all alive!
In addition, this instance is where you will earn the gloves of your unique "Tier 7" armor set. Find more information about how to reach the raid, guides for its sole encounter, and information on its quests and achievements below.
The Obsidian Sanctum is an area of the Chamber of Aspects beneath Wyrmrest Temple that is meant to act as a home away from home for the Black Dragonflight, where they may keep their eggs safe for hatching into new members of the flight. However, a clutch of Twilight Dragonflight eggs has been discovered within, leaving you and your Raid team to investigate at the request of Alexstrasza and the rest of the Wyrmrest Accord.
If you would like to know more about the other main Raid instances of Wrath of the Lich King Classic Phase 1, please see our overviews of Naxxramas, The Eye of Eternity, and the Vault of Archavon as well.
1.
Wrath of the Lich King Classic Obsidian Sanctum Instance Summary
2.
Getting into The Obsidian Sanctum
The Obsidian Sanctum is located within the Chamber of Aspects beneath Wyrmrest Temple in the Dragonblight zone. The nearest flight point for both Alliance and Horde players is also Wyrmrest Temple. Upon arriving, find the crack in the ice at the base of the temple to reach the raid entrance and summoning stone.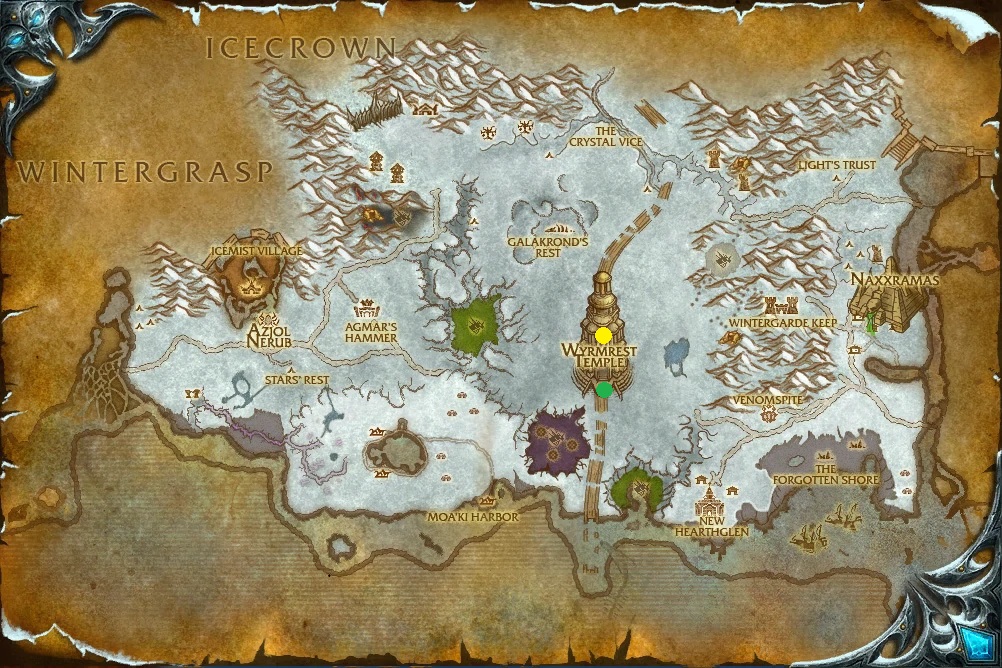 3.
The Obsidian Sanctum Layout and Boss Strategy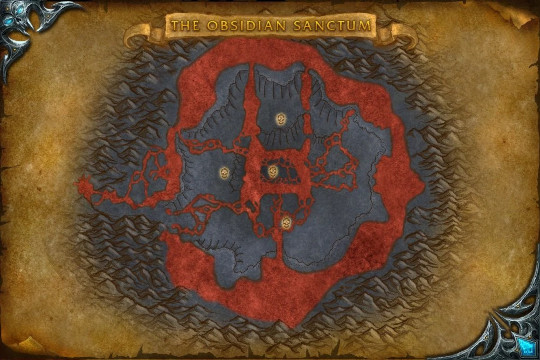 The Obsidian Sanctum is a small instance, containing only one main map and one encounter against its primary boss, Sartharion the Onyx Guardian. However, among the crags surrounding him are three Twilight Drake lieutenants, named Tenebron, Shadron, and Vesperon. If Sartharion is engaged while these lieutenants are still alive, they will each add an extra mechanic to the fight, but your rewards for defeating Sartharion will also increase!
To learn more about how to defeat Sartharion with all or none of the Twilight Drakes alive, see our strategy guide below.
4.
The Obsidian Sanctum Quests
There is only one quest directly related to The Obsidian Sanctum, potentially offered as a weekly objective from Archmage Lan'dalock near The Violet Hold dungeon in Dalaran. When this is the active weekly quest, you will also gain additional Reputation with the Kirin Tor:
5.
The Obsidian Sanctum Achievements
There are 12 total achievements to obtain in The Obsidian Sanctum, split evenly between 10- and 25-player modes. These achievements are:
04 Oct. 2022: Page added.
Show more
Show less