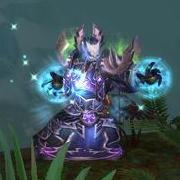 [Archived] S7 Hearthstone Legendary Miracle Rogue Deck [NAXX]
Started by Damien,

---
Recently Browsing

0 members

No registered users viewing this page.

Similar Content

By Ithok

About us...
Geek Squad is a swedish guild that has been around for many years. We are currently focusing on mythic raiding and our goal is to always clear the current content before the release of the next tier. The guild is composed mainly of former hardcore raiders who can't play as much as in our younger days but who still want to play, have fun and have a good progression. Since we raid only 2 days a week we expect our raiders to have a high attendance and to be well prepared for current content. 
Raid schedule...
Thursday 19–22
Sunday 18-22
What do we expect from you:
- Swedish speaker; as the guild solely consists of swedish players we expect you to have a good understanding of the swedish language and be able to communicate on both voicecom and chat.
- Attendance; as we only raid 2 days a week and keep a tight roster of raiders (not more then few on the bench at time) so being there and available even if not selected for certain boss is very important
- Maturity; as the average age in Geek Squad is a bit above most guilds we would prefer if you are as well. We are a bunch of guys with families, jobs and real lives outside of the game and we understand all that comes with it. However if you are to commit to raiding with us we want you to be in it for the long haul. We focus on having fun with the game while also maintaining a competitive attitude, we hope you want to be a part of and contribute to that.
- Social skills; be communicative, enjoy the game, let us know in advance if something is going to interfere with your raiding schedule so that we can plan accordingly. In our own modest opinions we have one of the best guild environments you can be a part of and we want to bring in more people who can positively contribute to that.
- Know your class inside out and how to perform it to its maximum. Be able to take constructive criticism
What can we offer you:
- Stable guild; the guild has been around for a long time and we have no plans to slow down now.
-We always try to bring the players that will give us the most chance of killing a boss on progression fights, this means you will have the same chance as everyone else of competing for a spot.
- Experienced and motivated players; most of our raiders have played the game for a long time (vanilla/tbc) and are still highly motivated to get the most of the raiding time that we have together. If you are to join us we expect you to do everything you can to further those goals.
- Occasional alt raids, not mandatory. Totally optional for people who want a little bit more raiding on side with their alts
PROGRESS:
Emerald Nightmare: 7/7
Trial of Valor: 2/3
Nighthold: 3/10 (10/10 HC farming on off days)
RECRUITMENT:
We are currently looking mainly for range dps classes and a rogue, we don't have an application form as we feel that is an old and inefficient way of doing recruitment. Instead we focus on interviews as well as going through a bit of logs. We dont expect you to consistently parse in the 90% but at least showing that you know your class well.
- MAGE (high)
- BALANCE DRUID(high)
- HUNTER (high)
- WARLOCK(low)
- Shadow Priest(low)
- Elemental Shaman(low)
- ROGUE(low)
If you are interested feel free to contact us.
How to apply:
To apply contact Ithok#2898, Krebb#2944, kebban#21852 or whisper an officer ingame.
Thanks for reading and hope to hear from you soon!


By L0rinda


Iksar has confirmed that the Matchmaking in Legend Ranks has been changed.
As stated in our previous article, Legendary players have been noticing that in the last few days that they have been matched with players much closer to their own rank than usual. There was some confusion regarding this, as Iksar had not been made aware of the changes, but he has now confirmed that there are definitely changes in place.
It is hard to precisely evaluate community feeling on the the new system, especially as I personally think they're a step in the right direction, but there are some players who are not keen on the changes. RayC and Xzirez have been the two highest profile players so far to disagree with the change. The issues that people against it have can be summarised as follows: Counter-Queuing: Many top Legends do not like counter-queuing, which is where you change your deck to try to counter your opponent. With the new system meaning you can often play the same person several times in a row, counter-queuing will become an important part of the game.
Early Legend Advantage: People opposed to the changes claim that it overly favours the players who reach Legend early on. The older system made it easier to catch up at the end of the season.
Win Trading: Due to the increased chance of playing against the same opponent, it is now easier to cover your tracks if you lose to a friend many times in a row to boost their ranking.
There does seem to be a majority of players who support the new system however. The ladder system has been a cause of much debate for a long time now, and these changes, alongside the recent addition of ladder floors, seem to show that at the very least, ladder is currently a high priority for Blizzard to get right.


By Vlad

This thread is for comments about our Menagerie Aggro Rogue Gadgetzan Standard Deck.