Ahn'kahet: The Old Kingdom Dungeon Guide
Ahn'kahet The Old Kingdom can be found in Dragonblight. The recommended level range to run this dungeon on Normal is 73-77. Heroic mode will require Level 80 to enter.
In this guide, we will cover dungeon quests, the layout of the dungeon, tactics for each boss, loot that can be obtained, and ideal group compositions.
1.
Ahn'kahet The Old Kingdom Quests
Before heading into Ahn'kahet The Old Kingdom, we advise you to get all the dungeon quests related to it. To make this process easier, we have written a separate guide for the quests and their chains.
2.
Ahn'kahet The Old Kingdom Entrance Location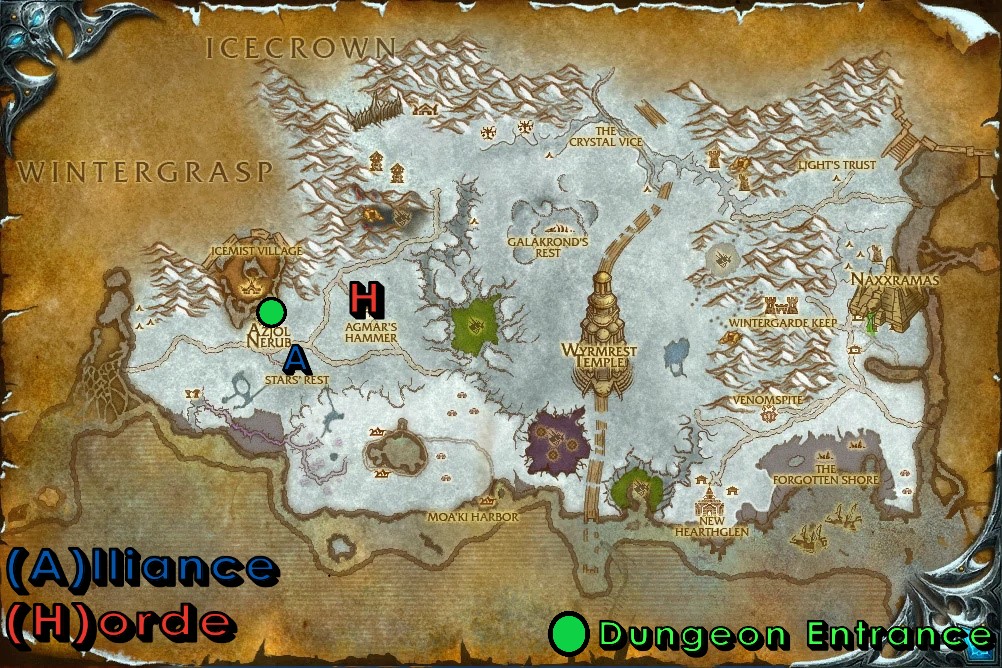 Ahn'kahet The Old Kingdom is found in the bottom of this cave area, directly to the left of the summoning stone.
3.
Overview of Bosses in Ahn'kahet The Old Kingdom
Here we will give you a full rundown of what you can expect from each of the bosses found here on both Normal and Heroic difficulties as well as the items they drop.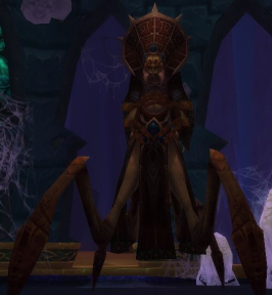 3.1.1.
Mechanics and Strategy
Dispelthe Disease that goes out constantly. Quickly kill the Ahn'kahar Guardians that spawn during the fight, as these will make Elder Nadox immune to damage as long as they are alive.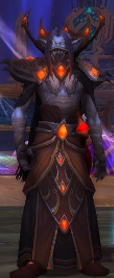 3.2.1.
Mechanics and Strategy
Prince Taldaram will periodically

Vanish, reappearing shortly after and casting

Embrace of the Vampyr on a random party member, stunning them until he takes a certain amount of damage. Prince Taldaram will also summon Flame Orbs during the fight that deal high Fire damage to all party members. Keep the party fully healed while the Flame Orbs move away.
3.3.
Amanitar (Heroic Only)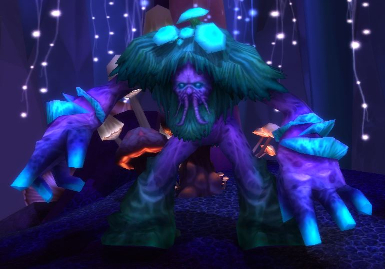 3.3.1.
Mechanics and Strategy
Amanitar can only be fought on Heroic difficulty. This fight largely revolves around the

Mini debuff and removing it by standing on top of a Healthy Mushroom as it dies. Other than that, remove the debuffs whenever possible and avoid killing the Poisonous Mushrooms.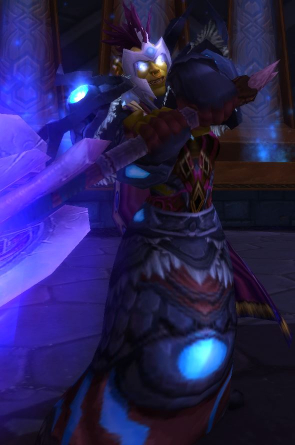 3.4.1.
Mechanics and Strategy
At the start of this encounter, Twilight Volunteers will surround the area, attacking players that try to leave the area. Jedoga Shadowseeker herself is powerful, dealing high AoE damage to all nearby players in melee range. At 50% health, Jedoga Shadowseeker will ascend into the air and call upon a random Twilight Volunteer. This Twilight Volunteer will slowly walk toward Jedoga Shadowseeker, sacrificing itself and granting Jedoga

Gift of the Herald. Quickly kill the Volunteer before it reaches the boss to prevent this buff from going out.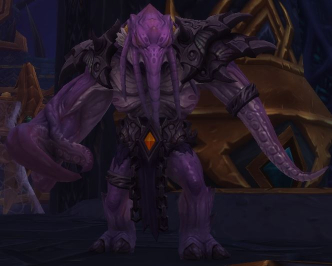 3.5.1.
Mechanics and Strategy
When Herald Volazj reaches 66% and 33% health, he will cast

Insanity. This will phase each player by themselves where they will fight a copy of each member of their party. After a player defeats all images in their phase, they can assist other players in defeating the images. Once all images have been defeated from all members, Herald Volazj himself can be attacked again. Repeat this process until the boss has been defeated.
4.
Ahn'kahet: The Old Kingdom Achievements in Wrath of the Lich King
22 Sep. 2022: Achievements added.
10 Sep. 2022: Page added
Show more
Show less