General Vezax Encounter Guide: Strategy, Abilities, Loot
General Vezax is the twelfth boss of Ulduar. This boss' hard mode is activated uniquely by NOT doing the normal mechanics of the fight and ignoring the Saronite Vapor clouds that spawn throughout the encounter. Do not forget to be aware of the various Raid Buffs and Debuffs as you work to optimize your Raid Composition for this encounter's mechanics!
1.
Overview of General Vezax in Wrath of the Lich King Classic
General Vezax is the 13th boss found in Ulduar, directly before Yogg-Saron himself. This fight has unique challenges for players to overcome as General Vezax will remove players' mana regeneration almost entirely with his

Aura of Despair. This fight has a hard mode that requires players to forgo their mana regeneration entirely.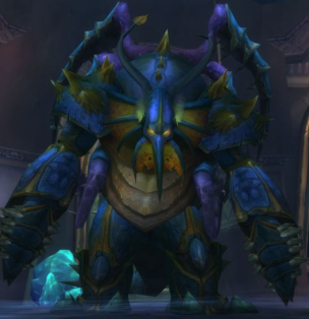 2.
Role-Specific Tips for General Vezax
3.
General Vezax Encounter Abilities
3.1.
General Vezax Abilities
4.
Strategy for General Vezax
The General Vezax fight has a few unique mechanics players must learn to play around, namely the

Aura of Despair that prevents most forms of mana regeneration. Learning to play around this through spell usage and the other available mechanics is crucial to overcoming this boss.
Saronite Vapors will spawn every 30 seconds during this fight. These are attackable gas clouds with low health. If killed, they will great a green puddle on the floor, granting players the Saronite Vapors buff, converting their life into mana. Standing in these green puddles is the only way to regenerate mana on this fight, but it comes at the cost of health. Every 2 seconds you stand in the puddle will double the amount of life taken and mana given, ramping up quickly. It is not recommended to go past about 5 stacks as this damage doubles every stack and can kill you if not topped between or leave you low enough to die to another mechanic. Stepping out of the green puddle will remove your stacks, so dance in and out if you need more mana.
Frequently during the encounter, Vezax will cast

Shadow Crash at a ranged player, firing a large shadow projectile from himself to that player's current location. Upon reaching that location,

Shadow Crash will explode, dealing serious Shadow damage to all nearby enemies and knocking them back a short distance. Since the

Shadow Crash chooses where it will land at the start of its travel, players can quickly move away from the impact location to avoid damage and knockback. All ranged players must be ready to move quickly from the projectiles, as healers must preserve as much mana as possible on this encounter due to the

Aura of Despair.
When the

Shadow Crash projectile hits the ground, it will leave behind a purple pool on the floor, which grants players that stand inside it the

Shadow Crash buff, granting them: 100% increased magic damage, 100% increased casting speed, 75% reduced mana costs and reduces healing done by 75%. This buff is crucial for DPS to maintain as the reduced cost of spells is the only way for mana users to deal damage without running out of mana.
To prevent having multiple ranged DPS constantly moving to avoid the

Shadow Crashs, it is ideal to split your ranged DPS into multiple groups. This will allow more ranged DPS to stand still in the purple pools and maintain the buff while burning down the boss.
Ranged players will also need to be ready to deal with

Mark of the Faceless, which General Vezax will apply to a random ranged player only. This debuff must be immediately moved out of the raid away from all other players, as it will siphon any nearby ally's life and greatly overheal Vezax, making this fight last much longer than it should. Use any movement spells available to your class and quickly move away from your group without walking into other groups. This debuff with almost always heal Vezax at least once or twice, so be sure to keep a

Mortal Strike type debuff applied at all times to cut this healing down.
While ranged players are dealing with the constant

Shadow Crashs and

Mark of the Faceless, melee players will need to be alert and deal with the

Searing Flames casts. This cast must be interrupted at all times and never allowed to go through, or the raid will take a massive spike of Fire damage and your tank's armor will be reduced by 75%, almost certainly killing them. Follow a kick assignment rotation, and keep this cast from going through.
Roughly every minute, General Vezax will buff himself with

Surge of Darkness, doubling his physical damage dealt for 10 seconds. Tanks will need to use a personal defensive cooldown or get an external cooldown used on them to survive this damage.
The hard mode of this fight is engaged by leaving all of the Saronite Vapors alive. This means there will be no Saronite Vapors mana regeneration available, requiring players to utilize the

Shadow Crash buff to defeat this encounter fully. If attempting the hard mode, DPS must also be aware of any Saronite Vapors spawns and avoid accidentally attacking them, as this will prevent the hard mode from starting. After eight Saronite Vapors have spawned, if all of them are still alive, they will merge and form a new enemy, Saronite Animus.
When the Saronite Animus spawns it will place

Saronite Barrier on General Vezax, reducing all damage taken by 99% until it dies. This means you will swap all DPS over to the Animus, but you still must be mindful of Vezax. The Animus does not stop Vezax from using any of his abilities; the

Shadow Crash,

Searing Flames and

Surge of Darkness will still occur and must be dealt with accordingly. This especially means interrupts will need to be on point to stop the

Searing Flames from going through.
The Saronite Animus hits fairly hard, requiring a second tank to grab it when it spawns. Casters, in particular, will need to be ready with any threat reduction or threat drops. It is easy to pull aggro on this freshly spawned mob when the

Shadow Crash puddle buffs your magic damage. This is where you will want to use all major cooldowns to kill the Animus to remove the

Saronite Barrier quickly and return to damaging Vezax himself.
5.1.
General Vezax 10-Player Normal Loot
5.2.
General Vezax 10-Player Hardmode Loot
5.3.
General Vezax 25-Player Normal Loot
5.4.
General Vezax 25-Player Hardmode Loot
General Vezax is just one of the 14 encounters present in the Ulduar raid of Wrath of the Lich King Classic. If you would like to learn more about the other fights and their respective loot, please see our Ulduar Raid Hub page below.
18 Jan. 2023: Page added.
Show more
Show less