Frost Mage DPS Artifact Talents/Traits and Relics (Legion 7.1)
Table of Contents
General Information
This page shows you how to level up the Artifact and how to choose the right Relics for your Frost Mages. It is updated for World of Warcraft Legion 7.1.
The other pages of our Frost Mage guide can be accessed from the table of contents on the right.
About Our Author and Reviewer
This guide has been written by Furty who raids in Serenity, one of the top World of Warcraft guilds. He plays most classes at the highest level. You can follow him on Twitter and watch him play on Twitch.
This guide has been reviewed and approved by Kuni, one of the best Frost Mages in the world, who raids in Midnight Sanctuary.
1. Artifact Progression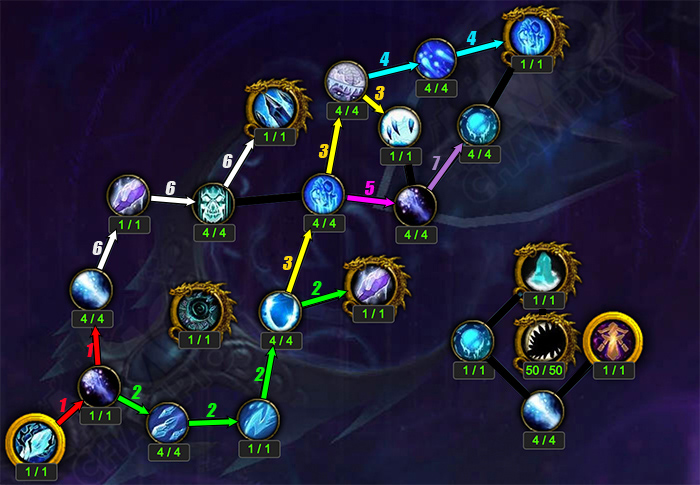 1.1. Early Point Investment
After acquiring the starting point,
Shattering Bolts, take a small foray into the left path and acquire

Let It Go, an essential basic trait. Backtrack through
The Storm Rages and get
Chain Reaction, another power point. Move up into

Jouster, which offers some nice damage reduction, and grab your first Golden Trait.
It's Cold Outside offers good passive damage and the potential for even further

Fingers of Frost, making it a good starting point.
1.2. Second Golden Trait
Continue upwards into

Frozen Veins, an overall potent trait which further enhances the value of crit.

Clarity of Thought is next, offering additional chances to cast

Flurry. Take a detour to the right and put a point into

Icy Hand, an amazing power point which allows for up to 3 charges of

Fingers of Frost. Continue upward into

Ice Age for some free damage and acquire your second Golden Trait,

Chilled to the Core, which is exceptional for burst.
1.3. Final Point Investment
Go down into
Icy Caress for some free filler damage. Return to the beginning of the tree, following up the left path, and grab the
Ice Nine passive.

Shield of Alodi makes for some great defensive utility before snagging your final Golden Trait,

Black Ice, which is even more passive damage. Your final trait will be the extra critical damage from

Frozen Orb via

Orbital Strike.
2. Relic Choice
Let It Go is overall the best/most versatile relic
Frozen Veins ranks for the Icy Veins CDR are also very valuable
Icy Caress for more filler damage
Clarity of Thought for Flurry proc chance
Any remaining damage relics
Any defensive relics
You should prioritize item level over the trait quality if the relic is at least 2+ item levels superior.
3. ChangeLog