Protection Paladin Tank Guide (MoP 5.4)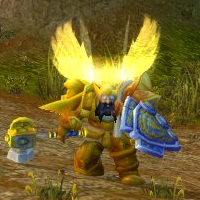 Welcome to our Protection Paladin tank guide for World of Warcraft MoP 5.4. Here, you will learn everything you need to know about playing a Protection Paladin in a raid environment, although most of the content also applies to normal and heroic dungeons.
This guide has been reviewed and approved by Theck (@TheckPhD), the main author of Sacred Duty (a well respected, and arguably the most valuable Protection Paladin theorycrafting resource).
As a Protection Paladin, you can expect to perform the role of a solid and reliable tank. In general, your damage intake will be relatively smooth, with many attacks being blocked by your shield or softened by your strong active mitigation. You also possess strong self-healing and raid-healing capabilities, and bring a variety of cooldowns and utility to a raid group. No other tank class has quite the array of tricks up their sleeve that a paladin does.
Note that this guide focuses on aspects that are specific to Protection Paladins, and general tanking strategies are beyond its scope. If you wish to know more about the tanking role and what you can do to improve, we recommend that you read our tanking guide.
To make it easy to navigate the guide, we have split it into 7 pages:
Latest Paladin Topics
Raid Advice