Marksmanship Hunter DPS Artifact Talents/Traits and Relics (Legion 7.1.5)
Table of Contents
General Information
This page shows you how to level up the Artifact and how to choose the right Relics for your Marksmanship Hunters. It is updated for World of Warcraft Legion 7.1.5.
The other pages of our Marksmanship Hunter guide can be accessed from the table of contents on the right.
About Our Author
This guide has been written by Azortharion, the main theorycrafter of the spec. He is also an accomplished player who raids in Vanguard. You can also watch his stream on Twitch.
1. Artifact Progression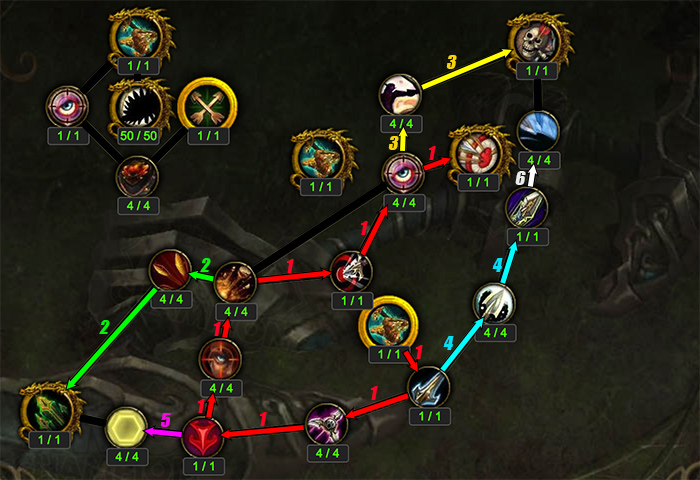 The Thas'dorah artifact leaves you with a number of directions you can head in once you branch out from the base traits. The one above is what is recommended for any kind of raiding.
2. Artifact Ability
The Marksmanship Artifact opens with the active ability,

Windburst. It deals moderate damage on a 20-second cooldown, costs 15 focus, and has a base cast time of 1.5 seconds. With the

Mark of the Windrunner trait that you unlock early by following our path, it applies

Vulnerable to the target.
2.1. Recommended Path
The goal of the path is to reach

Rapid Killing and

Bullseye as soon as possible, as those tie together to make your
Trueshot cooldown extremely powerful.
3. Relic Choice
As you can see in more detail in the Simulation section, item level will almost always determine your choice of relic given two choices, so you should simply pick the relic with the highest item level most of the time.
Your best relic trait choice in a single word is
Quick Shot, and thus your best in slot relics in the Emerald Nightmare are the Quick Shot relics that drop in there. It is difficult if not impossible to quantify the exact value of the trait compared to item level, which is why it is not in the simulations. The second-best relic trait is

Marked for Death.
4. ChangeLog
09 Jan. 2017: Checked and confirmed for Patch 7.1.5.
08 Dec. 2016: Added second-best in slot relic.
17 Oct. 2016: Quick Shot is the best in slot relic - explanation.
18 Sep. 2016: Talk about Precision and Quick Shot.
29 Aug. 2016: Added.
CONTENTS
FROM THE HUNTER FORUMS
POPULAR FORUM THREADS

VISIT FORUMS