Protection Paladin Tank Artifact Talents/Traits and Relics (Legion 7.0.3)
Table of Contents
General Information
This page shows you how to level up the Artifact and how to choose the right Relics for your Protection Paladins. It is updated for World of Warcraft Legion 7.0.3.
The other pages of our Protection Paladin guide can be accessed from the table of contents on the right.
About Our Reviewer
This guide has been reviewed and approved by Treckie, one of the best Protection Paladins in the world, who raids in Nihilum. You can watch his stream on Twitch and you can follow him on Twitter.
1. Artifact Progression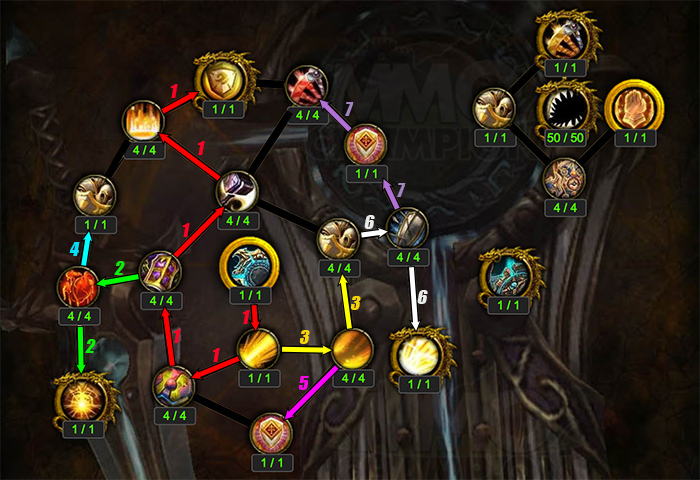 As a Protection Paladin, there is really only one recommended artifact progression path. The idea is to pick up the

Tyr's Enforcer and

Bulwark of Order golden traits, but not to go for the third golden trait,

Light of the Titans, right away, as it is lackluster.
2. Relic Choice
When choosing which relics to use, always take the one that grants you the highest item level, regardless of the benefit it offers. When having to choose between relics that grant the same item level, chose based on the following trait enhancement recommendations.
Generally, for raiding, you should look to enhance your

Unflinching Defense trait, as this allows much more frequent usage of

Ardent Defender.
For 5-man content, we recommend buffing your

Faith's Armor trait.
Your

Scatter the Shadows trait is also decent to buff, and it will increase your self-healing.

Consecration in Flame is the strongest trait to buff for damage output.
3. ChangeLog
19 Sep. 2016: Clarified that Stern Judgment should be taken before Forebearant Faithful in the artifact progression, and slightly tweaked relic recommendations.
29 Aug. 2016: Added.
CONTENTS
FROM THE PALADIN FORUMS
RECENT FORUM POSTS

VISIT FORUMS
POPULAR FORUM THREADS

VISIT FORUMS