Windwalker Monk DPS Artifact Talents/Traits and Relics (Legion 7.1)
Table of Contents
General Information
This page shows you how to level up the Artifact and how to choose the right Relics for your Windwalker Monks. It is updated for World of Warcraft Legion 7.1.
The other pages of our Windwalker Monk guide can be accessed from the table of contents on the right.
About Our Reviewer
This guide has been reviewed and approved by Babylonius, a prominent Windwalker Monks theorycrafter who maintains Walking the Wind. You can follow him on Twitter: @BabyloniusMonk.
1. Artifact Progression
There are two different viable artifact progression paths, as a Windwalker Monk, depending on your goals.
1.1. First Path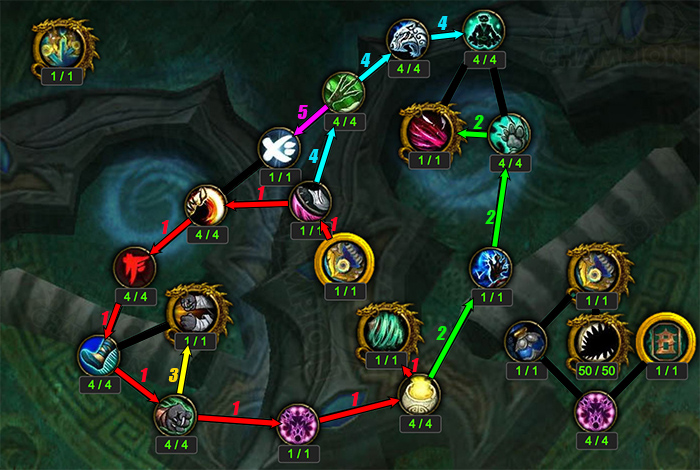 This progression path will maximise your single target damage, but it will result in weak AoE damage potential. This path is recommended mostly if you are trying to catch up after the start of the expansion or if you simply want to be ready to raid in the shortest time possible.
Essentially, you should take all your traits in a counter-clockwise fashion, skipping

Gale Burst until after you get

Crosswinds.
1.2. Second Path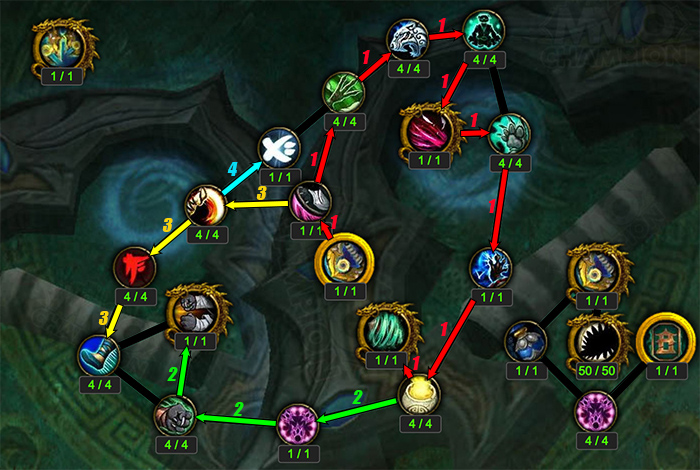 This progression path provides benefits during your leveling and early gearing process, but takes longer to reach the same raid-efficiency as the other path. It has a stronger AoE component due to
Power of a Thousand Cranes trait increasing
Spinning Crane Kick damage.
You should take your traits in a clockwise fashion, but you should stop this after you take
Fists of the Wind and

Gale Burst, and instead pick up
Rising Winds next before the taking the remaining traits.
2. Relic Choice
When choosing which relics to use, always take the one that grants you the highest item level, regardless of the benefit it offers. When having to choose between relics that grant the same item level, chose based on the following trait enhancement priorities.
2.1. Single Target
Fists of the Wind
Rising Winds
Inner Peace
2.2. AoE
Fists of the Wind
Power of a Thousand Cranes
Inner Peace
3. ChangeLog