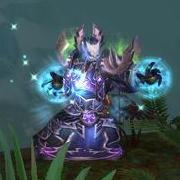 ---
Recently Browsing

0 members

No registered users viewing this page.

Similar Content

By positiv2

This thread is for comments about our Jaina Proudmoore guide.


By positiv2

This thread is for comments about our Battlegrounds Spell Tier List guide.


By OneShotGamingMLG

To all who read,
I am a WoW player and have been since vanilla, I've played several variances of classes through the expansions and this round settled with shadow priest which I ran through the majority of Legion and BfA. I have never written a guide or forum post before but decided I wanted to share my thoughts and opinions and see how other players in the same position feel as well.

I would like to ask people to respect everyone's opinion as this forum topic will be a place for unusual class builds, talent choices, and stat priorities. Everyone plays the game for fun and should be able to build a toon that is effective utilizing a multi style approach. I do believe that the simulators are awesome for checking gear and choices when it comes to specific cases perhaps PvP. That being said though, I feel as though sims are not really a good indicator of a talent choice or gear piece's level of effectiveness. I am by no means a tremendously good player, probably average to be honest, but ask any top tier player and they will tell you very rarely does a pull go "perfect" for their class. these simulations then are only showing if something goes perfect, so I thought why not build a class around what "actually" happens versus the "perfect pull", so that is what I did.
I would love to hear what other players thoughts on the matter are and list what your individual stat priorities are and maybe discuss why!
mine are as follows;
1.) Mastery = Versatility
  (both of these boost damage output but versatility is not limited by number of DoTs so it helps if you are struggling to keep skills on targets.)
2.) Haste (this increases the amount of ticks per cast, when paired with high Vers and mastery you deal large DoT damage which is great if you're in a high movement fight.)
3.) Critical
 This for many reasons is great. First, shadowy app procs, and secondly just plain damage bumps. Lastly, and arguably most important though is the shadow word death damage boost. When we execute (comparing to warrior skill) it deals increased damage naturally to targets below 20% health I believe. When you pair this with high mastery Vers and a decent crit chance you can execute for incredibly high amounts of damage to help that end fight dps chart!