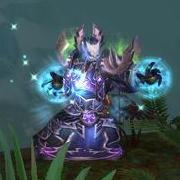 Hearthstone Legendary Dragon Warrior TGT
Started by Damien,

---
Recently Browsing

0 members

No registered users viewing this page.

Similar Content

By KinderHell

Hi,
I've just finished normal with my main 890ilvl (54 points) prot tank and also with my 876ilvl (36 points) druid tank.
My conclusion is the following:
The protection warrior is taking way to high damage from almost all abilities except auto-attacks which are low anyway.
Shield block doesn't work against any of the abilities in nighthold and doesn't help with any magical skills.
Basically our block even with 2 set items, having aprox 65% crit block chance is useless in Nighthold.
The fact that our main reduction ability except our 8k-ish armor is useless for all Nighthold bosses. Demo, LS, SW, SR are ok for stack abilities or strong abilities but they couldn't be frequent enough. The damage taken spikes are crazy...just crazy and I've kept IP 40-60% of the damage and decent 90% + bracket dps.
Paladin tank and warrior tank used to be very similar in damage taken ( normal damage taken ), now paladin is taking 100 millions and warrior is taking 200-400 million on same boss. This is because their damage is percent damage reduction and that works for magical also, but our shield block is irrelevant. Also paladins block spells now.
In regard to my 876ilvl druid, I've done Guldan solo tanking without any stress. I've done rest of bosses without a problem, only keeping 1-2 stack of ironfur up and using rest of my rage for the 30% reduction every 10 sec, and I won't even start with the amount of cds druids have. These runs showed me how warrior is 0 compared to paladin,druid and DK. 
I would place warrior on last place under DK, as Shield Block is an irreleant ability in this raid. You can check logs and compare raids from EN and Nighthold. It seems that to be so-so with a warrior tank you would have to maximize versatility and ignore every other stat :|, maybe then you will start reducing some damage from this raid.
 
I believe that even the first version of warrior tank from start of EN couldn't handle Nighthold as good as paladin,druid can now. They were just op at low level for being able to handle high mythic dungeons at low gear for stacking IP 2 million absorb, but they scaled bad compared to others and that IP would drop in 2 hits on Mythic EN content, making it so-so anywany.
 
Post below if any ideas pop to mind related to the above problem. Thanks ! 
 


By Damien

This thread is for comments about our Value Reno Mage Gadgetzan Standard deck.


By Damien

This thread is for comments about our Burn Reno Mage Gadgetzan Standard deck.