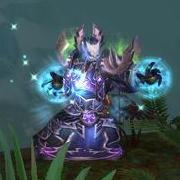 ---
Recently Browsing

0 members

No registered users viewing this page.

Similar Content

By Zadina

Mike Donais appeared yesterday on his daughter's stream, where he played some games and talked about various topics. He may also have inadvertently made a major reveal about two upcoming nerfs.
A private message from Jared Noel, a former member of Hearthstone Analytics at Blizzard, appeared on stream. It was mentioned in it that changes would be made Conjurer's Calling and Extra Arms. The former will be increased to 4 mana, while the latter - even though it was one of buffed cards from The Boomsday Project - will be reverted to 3 mana.

Now, Mike may have been replying "yes" to anything said above, but judging from his reaction this chat log wasn't meant to be shown on stream.
 
The previous day from the stream, the Hearthstone developer had revealed that there will be an announcement on balance changes this week.
mdonais
Hopefully they are prioritizing a nerf patch before the Single Player Content patch
Yep, we will give more info on balance changes this week hopefully. (source)
During the stream, Donais also talked about a lot of other issues like card balance and Wild balance in particular, Arena changes, card design and more. Some interesting tidbits are that for Arena, they will revisit the old system, where you could see powerful cards and weak cards in the same pick - without this necessarily being a permanent change. There's also talk about upgrading Priest's board clears - one of the class's main weaknesses - since the team doesn't want to reprint the same cards.


By Damien

This thread is for comments about our Dono's Top 50 Legend Taunt Warrior Deck.


By Damien

This thread is for comments about our Robot Wizard's Top 50 Legend Highlander Zoo Warlock Deck.