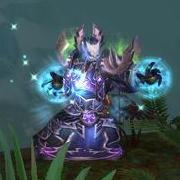 ---
Recently Browsing

0 members

No registered users viewing this page.

Similar Content

By Damien

This thread is for comments about our Habugabu's Rank 4 Legend Highlander Warrior Deck.


By Damien

This thread is for comments about our Zetalot's Highlander Quest Priest Deck.


By Zadina

Right before the news for the upcoming PvE Adventure hits, Blizzard announced some much needed balance changes.
Two card buffs from the May update will be reverted, while three more cards will be nerfed in an update coming next week.
In May, we had the first card buffs in Hearthstone's history. In an occasion like that, it was certain that some of these buffs would be hit or miss. While there were definitely some misses, some of these biffs hit harder than expected and thus they will now will be reverted. These cards are Extra Arms, which will go back to costing 3 mana, and Luna's Pocket Galaxy going back to 7 mana.


Two more cards from Standard are also getting nerfed in the August 26 update. Mage will suffer another big loss, as Conjurer's Calling will now cost 4 mana (up from 3).

Another much needed nerf is that of Dr. Boom, Mad Genius. The 7-mana 7/7 (infinite 7s) meme started from the original card will be no more, as the cost of this heavily used Hero card will be upped to 9.

Finally, a lot of Wild players can breathe out in relief as Barnes' cost will be increased to 5 mana, up from 4. I am not sure if this will be enough to alleviate the frustrations of the Wild community with the Legendary minion, but at least it's a step to the right direction.

You can read about Blizzard's thinking behind these nerfs in the official blog post.