Brewmaster Monk Tank Buffs, Debuffs, and Useful Abilities (MoP 5.4)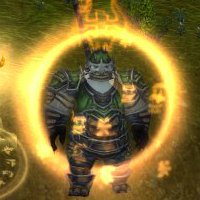 On this page, we list the buffs, debuffs and useful abilities that a Brewmaster Monk brings to a raid in World of Warcraft MoP 5.4. We also list equivalent buffs and debuffs that other classes provide.
The other pages of our Brewmaster Monk guide can be accessed from the table of contents on the right.
This guide has been reviewed and approved by Sunnier, who maintains the most respected Brewmaster Monk resource site: Sunnier's Art of War.
Buffs
Legacy of the Emperor
Increases the Strength, Agility, and Intellect of all party and raid members by 5% — does not stack with Mark of the Wild, Embrace of the Shale Spider, and Blessing of Kings
Avert Harm
Tranfers 20% of the damage taken by allies within 10 yards of the Monk to the Monk. Lasts 6 seconds or until the Monk reaches 10% of maximum health
Debuffs
Keg Smash
-10% Physical Damage dealt — does not stack with Scarlet Fever, Thrash/ Thrash, Demoralizing Roar, Demoralizing Screech, Crusader Strike, Hammer of the Righteous, Earth Shock, Curse of Enfeeblement, and Thunder Clap
Utility
Summon Black Ox Statue
Creates useful damage-absorption shields on random raid members each time the Brewmaster deals a certain amount of damage.
Detox
Removes all Poison and Disease effects from a friendly target (8-second cooldown)
Grapple Weapon
Disarm
Nimble Brew
Removes root, stun, fear, and horror effects, and reduces the duration of such effects by 60% for 6 seconds
Spear Hand Strike
Interrupt with a 15-second cooldown
Zen Meditation
Redirects 5 spells cast against the party/raid to the Monk, and provides the Monk with 90% magic damage reduction, for 6 seconds
Crowd Control
Paralysis
Single-target crowd control, broken by damage
1. Changelog↑top