Destruction Warlock DPS Artifact Talents/Traits and Relics (Legion 7.1)
Table of Contents
General Information
This page shows you how to level up the Artifact and how to choose the right Relics for your Destruction Warlocks. It is updated for World of Warcraft Legion 7.1.
The other pages of our Destruction Warlock guide can be accessed from the table of contents on the right.
About Our Author and Reviewer
This guide has been written by Furty who raids in Serenity, one of the top World of Warcraft guilds. He plays most classes at the highest level. You can follow him on Twitter and watch him play on Twitch.
This guide has been reviewed and approved by Gahddo, a prominent warlock theorycrafter who maintains the Warlock profiles and rotations in Simulation Craft.
1. Artifact Progression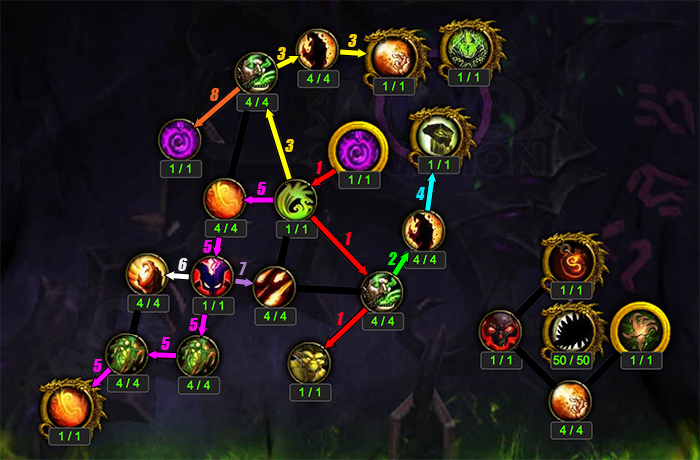 1.1. Early Point Investment
After acquiring the initial starting point,

Flames of the Pit, take the bottom right path into

Eternal Struggle. Though this trait is largely worthless, it spans the centre of two high value traits. Snag

Impish Incineration, an exceptional single point trait for single target. Next talent into

Burning Hunger for the

Immolate Critical Strike chance, which is good for both damage and Soul Shard generation. Backtrack to the start of the tree and take the upper path into

Devourer of Life, which is largely ineffectual as you will not be casting much

Drain Life.

Residual Flames is a great trait, even after the

Roaring Blaze nerfs. Grab your first Golden Trait,

Conflagration of Chaos, which is great for priority add damage and the strongest trait for single target and cleave.
1.2. Second Golden Trait
On the right side of the tree, grab

Lord of Flames, your second Golden Trait. This point is pretty mediocre but since we already have the nearby nodes it is worth grabbing earlier rather than later.

Lord of Flames is useful for pushing damage checks, as it is considerably stronger than
Summon Doomguard on single target when it is off cooldown. It is also useful for sustained AoE or cleave though such scenarios are rare.
1.3. Final Point Investment
From the starting node, head left through

Fire From the Sky and

Demonic Durability into

Soulsnatcher, which is a great single target trait.

Chaotic Instability is a very high value trait for both single target and cleave, and leads into our final Golden Trait,
Dimension Ripper. Though this trait is solid overall, it is a little too far out to be acquired any earlier.

Fire and the Flames should be your next acquisition, before heading up into
Master of Disaster. Finalize your

Scepter of Sargeras with the single point in

Planeswalker.
2. Relic Choice
You should prioritize item level over preferable relics if the disparity is greater than 2 item levels.
Chaotic Instability for Chaos Bolt damage
Burning Hunger for Immolate criticals and shard generation
Residual Flames for Immolate damage
Soulsnatcher for shard refunds
Fire and the Flames for Incinerate cast speed
Incinerate damage from Master of Disaster
Any other damage relic
Any defensive relic
3. ChangeLog